A Unicorn themed bedroom?  Ultimate Magic!
I'm so excited to bring you this post today!
I remember being fixated on unicorns since I first watched the film Legend – remember that dark fantasy with a young tom cruise – back in 1985?  
Well, I do remember being quite frightened by this film in fact, (the bad guy in this is really quite terrifying) but I remember as a child being mesmerised by the Unicorns and how beautiful they looked.

You can actually watch the full length version on YouTube here –I love the fact that I can now share and enjoy the films I loved as a child with my own children too!
In any case, I've been thinking about the potential of a unicorn themed bedroom recently, ever since I first discovered some wonderful unicorn fauxidermy wall heads.
So, this post has certainly been quite a long time coming.
Check out some of these Unicorn related products – and let me know what you think.
---
Unicorn Bedding
Unicrorn duvet – unicorn related beds are hard to come by, (unless you go for custom made).  But you can certainly accessorise using related themed bedding.
There are some beautiful and realistic choices available.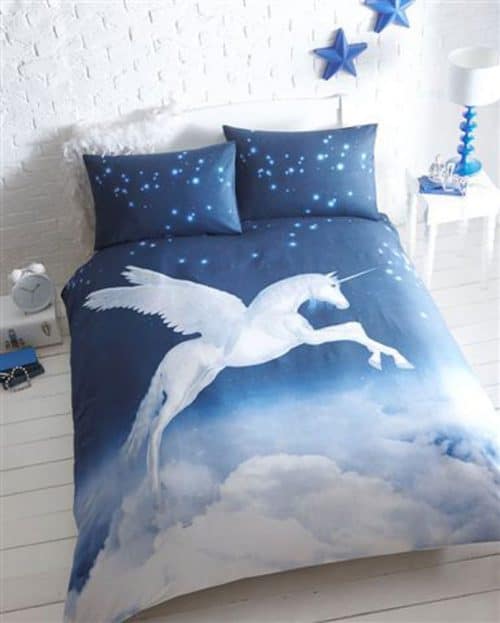 Blue mystical Unicorn duvet – here is a second duvet, with fluffy clouds and stars.
---
Unicorn Cushions
Cushions are a great accessory if you're trying to add more to a themed room – as they don't cost much but can make a big impact.
Here are some of my favourite unicorn cushions that I have discovered…
I love this humorous unicorn pillow with the positive message – extra neat with the sweet heart tattoo!  Super Strong Unicorn pillow here!

Gorgeous colourful, rainbow horned unicorn pillow.  Super cute, rainbow unicorn here.
I couldn't resist this one… part cat, part unicorn!!  I absolutely love this and any combo unicorn and cat lover would surely feel the same. Check out pusheenicorn pussycat unicorn!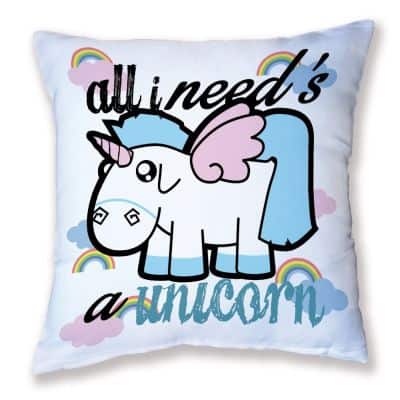 Cute cartoon style unicorn with rainbows and "all I need's a unicorn," written on the front.  All I Need's A Unicorn – Here!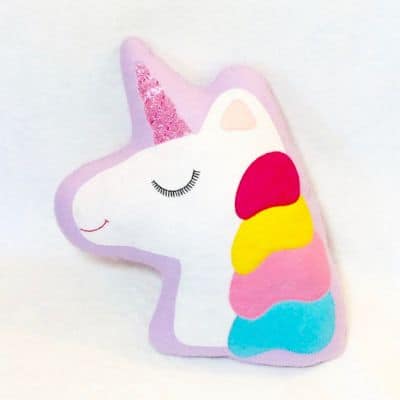 Unicorn head shaped pillow with pink glitter sparkly horn!  I love this one. Unicorn Magical Cushion Here!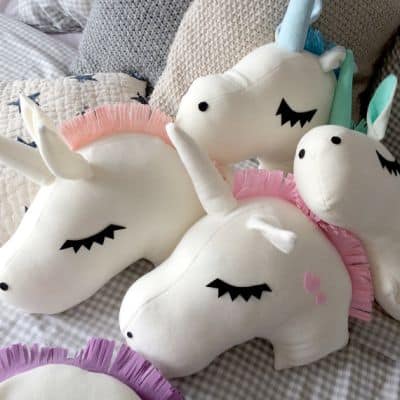 Super cute unicorn head pillows, with different coloured hair available – love the big eyelashes!  You could have a whole collection of these.  Cute Unicorn Head Cushions Here!
Super duper Unicorn pillow, with integrated pretty lights – the lights do not warm up and so are safe to keep on!
It would make a great night light for younger children – or simply a cool cushion light for older kids.  Unicorn Magical Light Cushion Here!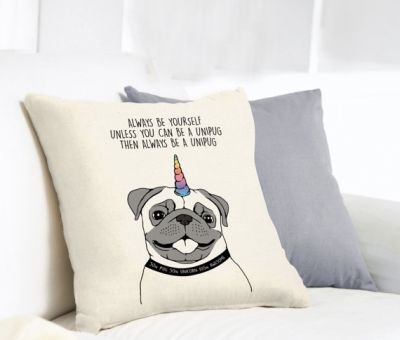 Last but not least – the unicorn PUG pillow!  If you're a lover of both pugs and unicorns, (like I am)- then you can't go wrong with this.
I am also thinking some of these pillows would make great gifts.  Unicorn Pug "Unipug" Cushion Here!
---
Unicorn Faux Taxidermy Heads
From the highly realistic, to just plain comical.  The range of fauxidermy wall heads on offer now is quite extensive.
A while back, I dedicated a post exclusively to some of these fauxidermy toy heads and there are various animals available – but unicorns really work for this!
With my choices, I've gone for the more realistic variety – but ETSY in particular have a very large selection.
Here are some of my favourites….
Unicorn Fauxidermy Heads!
When I first discovered this "fauxidermy," I wasn't completely convinced – but they quickly grew on me and I do really like them now.
You can really find some unique pieces now and their popularity seems to be on the rise.
---
Unicorn Wall Stickers
Don't forget also to think about Unicorn Wall Stickers as a great option for creating a themed bedroom.
Wall stickers are simple to apply and most can be easily removed without leaving any marks.  Some wall stickers can also be reused!
If your child likes to change the style of their room regularly, using wall stickers provides that opportunity, because they're affordable and so easy – yet can make a big impact.
I have a relevant post, so check out my wall sticker categories.
Here is one example…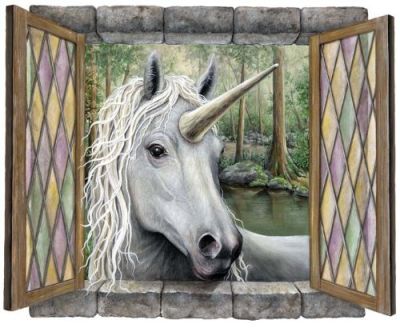 I love these open-effect wall stickers, they can create quite an amazing effect for such little effort and cost.  Unicorn window wall Sticker here! 
---
Unicorn Slippers!
Well… I couldn't resist these.  If you're going to go all out with your unicorn theme…  surely these Unicorn Slippers that LIGHT UP are pretty much an essential item too?
---
Unicorn Lights!
Giant Unicorn Mood Lamp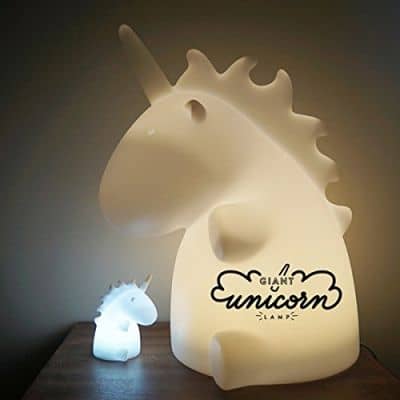 I love these beautiful unicorn lamps – giant and small available.
They can change into multiple different colours and also have alternative settings, such as flash or strobe.  Check out the giant unicorn mood lamp! USA
Only Small available currently in the uk!
Or for something more sophisticated….
Unicorn Table Lamp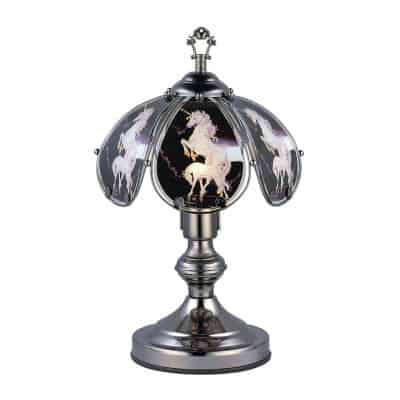 A beautiful unicorn table lamp (US) – that you only have to tap to switch off! 
Unicorn String Lights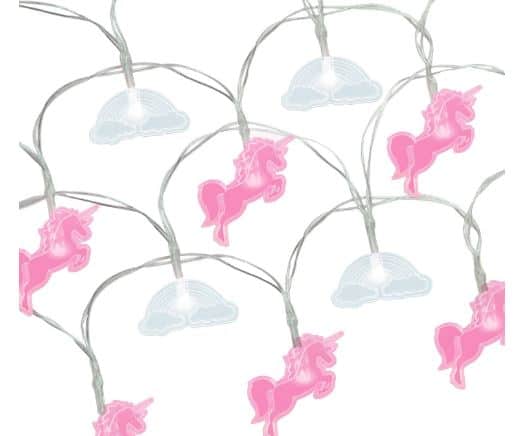 I do love the effect string lights can have in a room, check out these pretty Unicorn string lights here.  I also did a previous post dedicated to string lights here.
---
Unicorn Bed!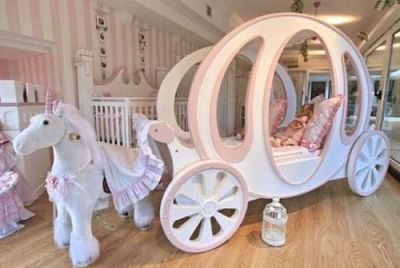 Ok…. so, this one may be a little, (or a lot) over the top.  But it's pretty impressive as kids beds go.   (source)
I'm sure it would be many a little girls dream. 🙂
---
Depending on your child's age, whether preschool or teen, there is certainly scope for creating a unicorn themed bedroom – I hope this post inspired you to get started on your own project.
Are you a big Unicorn fan too, as well as your child?  Then it makes it all the more fun buying things for them doesn't it?
Leave me a comment below and if you enjoyed this post, please share with your friends via the social icons.
All the best…. 🙂

If you enjoyed this post, you may also be interested in reading…