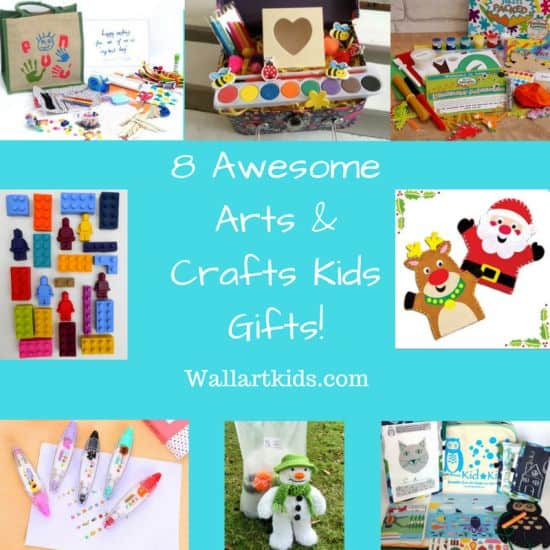 8 Awesome Kids Arts And Crafts Gifts!
Are your kids arts and crafts crazy?…  Are they constantly begging you to recycle vast arrays of household items into unusual art installations around your home?!
Well, my son is just like that.  When my son is creating something, he is really in his element and could quite literally spend all day making things and being creative.
The only downside is, my house is brimming with these creations.  
If I lose something in our home – there is a very high likelihood that I will find it glued to one of my sons new artistic experiments.
Therefore, I am always on the look out for art projects that I can introduce my son to – that don't involve taking my things. 
So, I'm really pleased to be able to able to bring you this arts and crafts gifts post today, to give you some ideas for Christmas!  
I reckon some of these suggestions could keep little ones busy in the festive season and make a lovely gift for them.
This post is completely inspired by ETSY and this is where you'll find all the products mentioned in this post.  What I love about Etsy, is that you can always pick up some unusual and unique gifts – that you couldn't find anywhere else.  
If you're looking for an extra special gift this Christmas – go and check out Etsy's Editors picks page for some inspiration!
Let's get on with the post…. 🙂
---
Kids Art Activity Kit!
This set contains tonnes of activities,  in a portable canvas bag.  This makes it a great option to take on trips.  There are two age ranges these sets are suitable – either aged 3-6 or 7-9!
The kit contains: Chalk board owl with chalk, adventure journal, make-a-scene sticker set, 26 page activity book in a reusable sleeve, erase marker, art matt, reusable bendable wax strings.
Lots to keep your little one entertained for quite some time!  £31.24 + shipping.
Discover Kids Activity Kit!
Mini Christmas Glove Puppets!
Check out these adorable little glove puppets.  These are handmade items and each set contains everything you could need to create your own adorable Christmas character.
Patterns vary between a reindeer, Santa, snowman or a penguin.  Nothing else is required to make these it's all included.  It would make a super stocking filler.   It's also a good way to introduce children to sewing basics.  They could even do a little Christmas puppet show on Xmas day!  £3.99 + shipping.
Discover Fun Christmas Puppets!
---
Mini Suitcase Craft Set!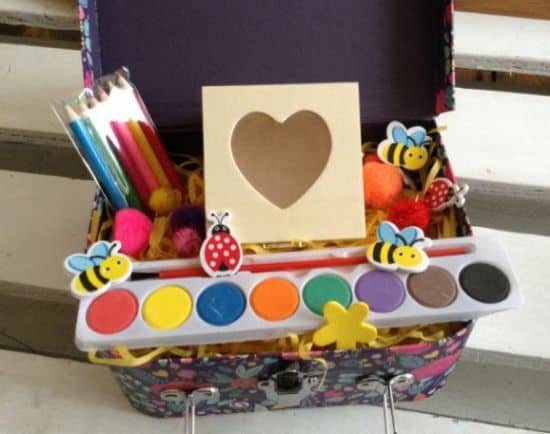 I love this adorable homemade kids craft set – it contains a whole bunch of stuff and is really good value. Including – crayons, paint, paintbrush and decorations.
What makes it extra unique, is that the set itself comes in a gorgeous little wooden box, which can be used to store craft supplies.  Each set sent in a charming mini floral suitcase, which can have multiple uses.  Brilliant value too.  £7.99 + shipping.
Discover Fun Craft Set Here!
---
Snowman Knitting Kit!
How about this adorable little snowman knitting kit – which is suitable for knitting beginners, with just a basic knowledge.
So, if your child has developed a knitting interest and would like to give it a go, this would make a sweet little stocking filler.   If your child is a fan of the Snowman film, then it could make a lovely Christmas gift.  £20 + shipping.
Discover Knitting Snowman Set!
---
Craft Bag For Kids!
Another lovely cute craft set – this one contains tonnes to keep your little one entertained.  Including:  Mosaic tiles, sequins, beans, feathers, tissue paper, pompoms, tracing paper, pens, pencils – and much more!
Something that can definitely keep them busy over the holidays.  £15 + shipping.
Discover This Craft Set Here!
---
Cute Sticker Dispensers!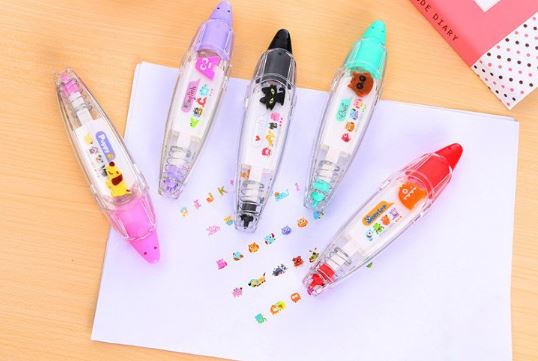 Aren't these uber cute?  They're roll on sticker dispensers – there are five animals that you can choose from.  Cats, puppies, monsters, owls, letters.  Great for any kids into art work, creating, scrapbooking and general crafting!
They also arrive in handmade packaging.  £3.15 plus shipping.
Discover Super Sticker Pens!
---
Lego crayons!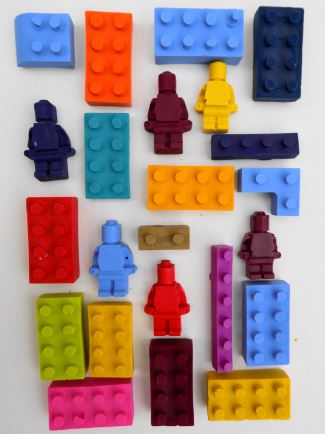 Do you have an artistic Lego enthusiast on your hands?  Then these lovely Lego inspired crayons could be a perfect stocking filler this Christmas!  They come in an array of bright colours.
There are two options – a selection of four (£2+ shipping) or nine pieces, (£4+ shipping)!  They're also handmade to order.
Discover Lego Crayon Here!
---
 Dinosaur Adventure Box!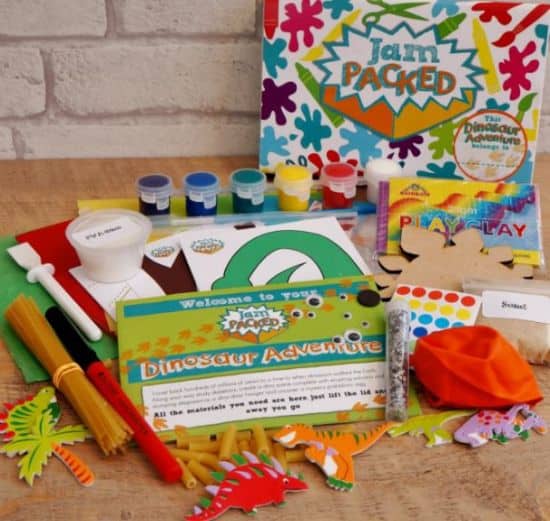 Last but by no means least, is this great Dinosaur adventure box!
The craft set contains a large range of materials for art & craft fun including: paper, glue, paint, wooden dinosaur shapes, play clay, printed Dinosaur sheets, stickers, handwriting pen, Dinosaur toy, pasta picture, sand, scene in a box and card!  A lot of value in a little box!
Great fun for a Dino fan – useful set to take away on trips to the grandparents, school activities, or just for fun over the holidays. £12+ shipping.
Discover Dino Fun Rawwrr!
---
So, that concludes my Art And Craft Etsy post for today…
What sort of crafting does your child love to do?  
Do you think you can keep their artistic little minds entertained this Christmas?
Leave me a comment below 🙂
All the best,