Chalkboard Wall Stickers = AWESOME!
I always wanted a chalkboard when I was a kid – but resulted on drawing on the pavement outside!  But how about a chalkboard wall?!  
That's super cool.  Check out some of these chalkboard wall stickers that you can get….
Chalkboard Wall Sticker
---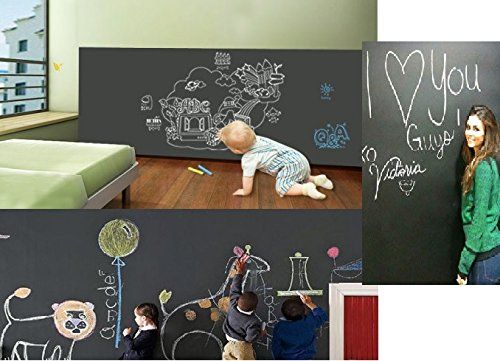 This stuff is awesome – you can create a whole wall with it.  You just peel and stick it to the wall and you're done!  You can also remove it without damaging your wall at all.
Chalkboard Rocket Wall Sticker
---

Great having these chalkboards in fun shapes too, great for adding to a playroom.  A simple and cost effective way to add the fun of a chalkboard to a room without needing much space!
Chalkboard Easel Wall Sticker
---
Well, you may not be able to fit an easel into your child's bedroom – but you can certainly stick it to the wall!  I love this!
Chalkboard Giraffe Wall Sticker
---
This is adorable.  A great way to measure your kids height as they get taller!  You can choose from a variety of colours.
Robot Chalkboard Wall Sticker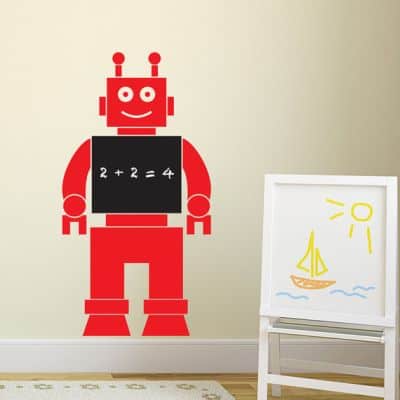 A very cute Robot!   Easy to apply and remove no problem
Chalkboard Mountain Wall Sticker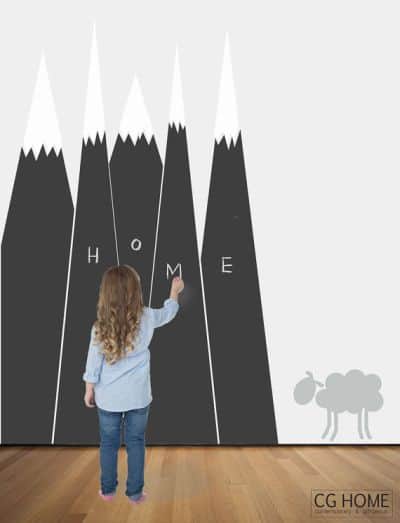 A super sized wall sticker, which would look stunning!
Spaceship Chalkboard Wall Sticker
---

Another spaceship wall sticker, but this one is considerably better!  This would be great in a space themed bedroom.   You should also check out our space wall stickers.
Castle Chalkboard Wall Sticker
---
A gorgeous handcrafted sticker in the shape of a castle!
Cow Chalkboard Wall Sticker
---

A jolly, happy cow – this would make a cute addition to your kids playroom
Tic Tac Toe Chalkboard Wall Sticker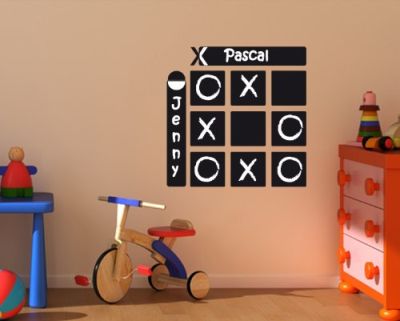 A wall sticker that also doubles up as a game is a great idea.  Our kids love tic tac toe – but we actually call it "noughts and crosses."
---
I will add more chalkboard wall stickers as I find them, let me know if you discover any great ones.