Check out this selection of 15 amazing kids beds below!
To add a real wow factor to your child's room – choosing a fantastic kids bed has to be one of the top things you can do.  While you may want to think carefully about getting a character related bed, (if your child changes their mind often about their favourite) you may opt instead for a more timeless option that you can stick with for a good few years at least.
Then again, if you're a family who like to redecorate often, then anything goes.  Take a look at some of my favourite beds that I've seen online….
---
CABIN BED!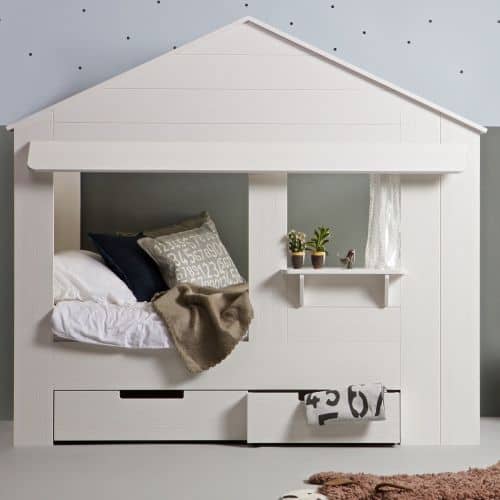 What about this cabin house bed?  This is cute.  I always wanted a little space like this as a kid, how cosy!  A little house within a house. Plus there are drawers underneath for storage too.
---
Kids Tent Bed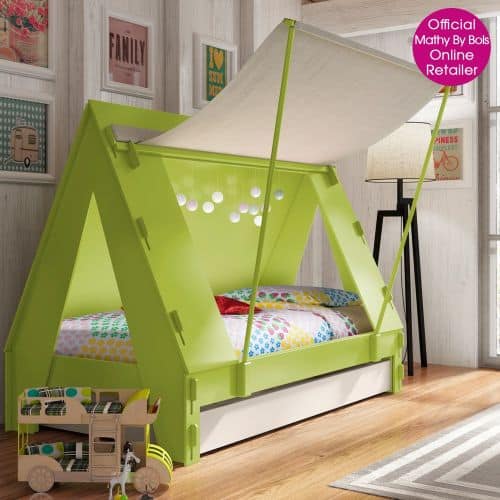 What a gorgeous dream bed.  If your child is a huge camping fan, wouldn't this be an amazing idea for them?  I love the way it has a canopy that can come down and create a cosy camping space.  A stylish design, this bed also has storage space underneath.
---
Carvan bed
Following that same camping theme, an amazing caravan bed.  It comes in 20 fabulous colours too and a little shelf for your child's favourite books or toys.  With a little door, your child can have a super snug and cosy night.
---
Fire truck kids bed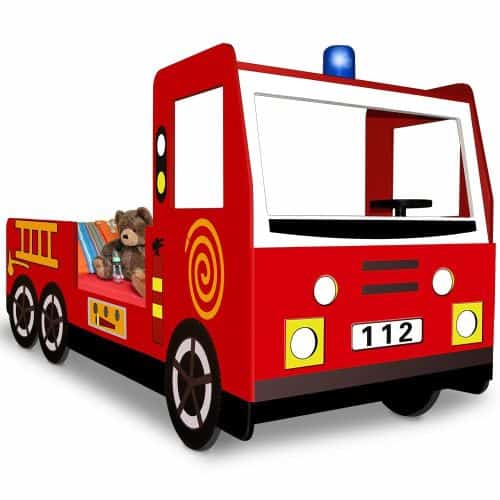 Check out this awesome fire truck bed!  A great way to add a sense of fun and adventure to your budding fire fighter, it even has a little steering wheel at the front.  Perfect for hours of imaginative play too.
---
CARS BED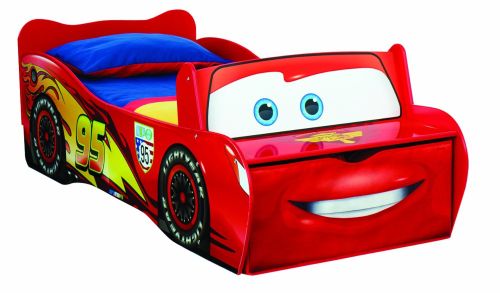 Is your son a lightning McQueen fan?  They'd be pretty thrilled jumping into this super cars bed every night.  Broom Broom!  Next stop dreamsville….  This bed also comes with some great storage space at the front, which can be a neat little toy box.
---
LONDON BUS BED
As bunk beds go, this has to be one of the coolest I've seen.  A great idea for a bunk bed, when you're short of space at home!  Who would be in the  drivers seat?  Beep beep! This bed fits regular sized single mattresses too.
---
PRINCESS CARRIAGE BED
If you're prepared to go all out, having a bed specially designed is an option!  With a designer, you can create something entirely unique and magical just for your child.  This has to be many a little girls dream bed, suitable surely for Cinderella herself.
---
CASTLE BED
Another custom designed option!  This is truly magnificent, certainly this would create surely one of the most impressive bedrooms any child has ever known.  Probably not the best option if your child changes their interests regularly – this one is a keeper!
---
Pirate Ship Bed
Perhaps a little more affordable than the custom made options, but some of these ready-to-buy beds are brilliant and still affordable.  Perfect for your little pirate, check out the mini cannon on the front!  I am sure hours of imaginative play would arise from having this bed.  Ooooh arrggghhh matey!
---
Disney Princess Carriage Bed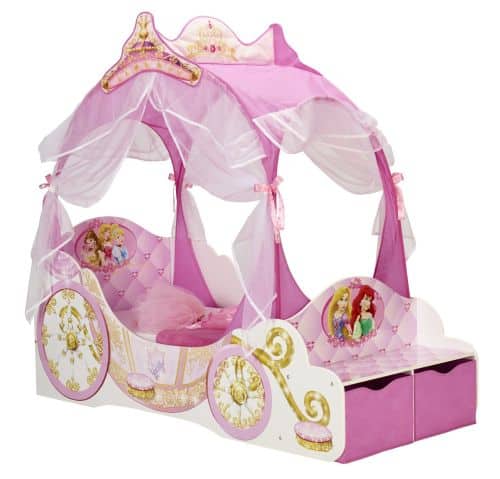 This bed is perfect for a Disney princess fan, your little one can dream sweet dreams while going off to the ball in her princess carriage every night.  There is also some great storage space in the front of the bed too, which is always useful.
---
Star Wars Canopy For Bed
This is not strictly a bed – but a canopy!  Nevertheless, it's brilliant, turns a bed immediately into a themed bed and would be awesome for any Star Wars fan.
 It's a also a good option if your child changes their favourite films or interests regularly, as you don't need to buy a whole new bed for this.  If you have a Star Wars fan yourself in your home, you may also want to check out my Star Wars Themed Bedroom post.
---
Christopher Treehouse Bed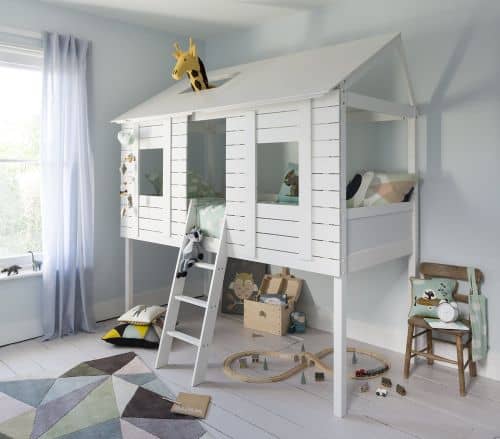 This is a beautiful, original bed.  The design includes cut out windows and even a skylight, (where you can see a little giraffe head peeking out).  
There is a geat space underneath the bed for storage and playtime too.  If your child always wanted to build a treehouse, but never had the opportunity – this could be a good compromise!  I'm sure they'd thank you for it!
---
TEEPEE Bed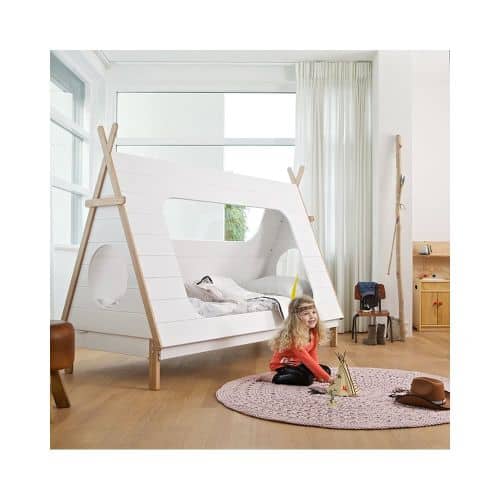 This bed is similar to the tent style bed before, this one is a little different.  You can see a hole at each end that your child can sneak in and out of.  A beautiful, simple design and a great way to bring the outdoors in.  There is also an accompanying bookcase available.
---
Dinosaur Bed
Ok, so you would need certainly need to go through the custom designed route for a bed like this, (unless of course you're awesome at DIY!).  But it certainly would make a big statement to any Dinosaur fan.  For wall decoration – you could check out some Dinosaur wall stickers, which would really bring the whole theme to life.
---
Spaceship Bed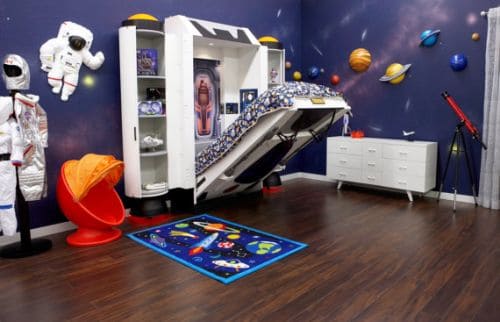 Last but by no means least, check out this awesome spaceship bed!  These are handmade and actually are available to buy.  The bed  pulls out and can push away for east storage, (which then has a spaceship design on the front).  There is also storage shelves each side of the spaceship, (which can also be closed).  Pretty awesome for your future astronaut….
---
So, that concludes my post on 15 Awesome beds for kids!  Which is your favourite?
Don't forget to leave me a comment!
All the best…. 🙂

If you enjoyed this post, you may also find useful….