Dinosaurs are such a massive topic of interest for many kids and I can fully understand why – when I was a kid, I was quite a dinosaur fanatic myself and I actually went to see Jurassic Park at the cinema nine times…that's how obsessed I was.  Here is a selection of some pretty awesome Dinosaur wall art stickers from over the web.  Enjoy!
---
3D Dinosaur Wall Sticker.
How brilliant is this?   Scary!   This Dinosaur wall sticker has a very realistic 3D effect, plus the cracked wall appearance around him, which just adds to the realism of it.  Not sure how a young child might feel waking up to that in the night, but certainly for older children, this would be a cool option in a Dinosaur themed bedroom!  This website, (lightinthebox) also has several other similar styles available with different dinosaurs, so it's worth a look.
---
Fighting Dinosaurs With Cracked Wall Effect Wall Sticker.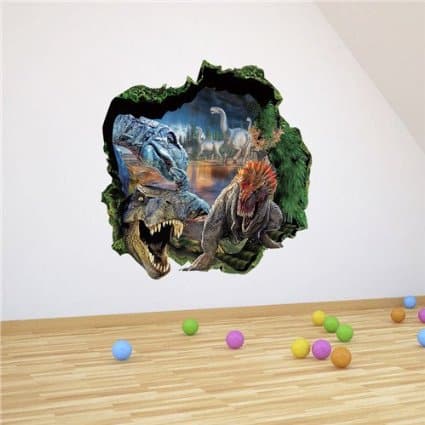 Another pretty scary 3D dinosaur wall sticker – with hole in the wall effect.
---
Giant TREX Open Window Effect Wall Sticker.
EEEEkk…. Trex is coming through the window.
---
Cracked Wall Effect Wall Sticker With Large And Baby Dinosaur. 

Another amazing Dinosaur wall sticker and this one looking as it has a little dinosaur trying to escape into your room! Very cute –  Super detailed and realistic.
---
Cartoon Style Dinosaur wall sticker bundle

Here are some cute decorative dinosaur wall stickers, perfect for a nursery and amazing value – currently on offer for under £7.
---
Large Dinosaur Wall Sticker Selection Variety.
This is a really lovely selection of Dinosaur Wall Stickers.
---
Dinosaur Chalk Board Wall Stickers.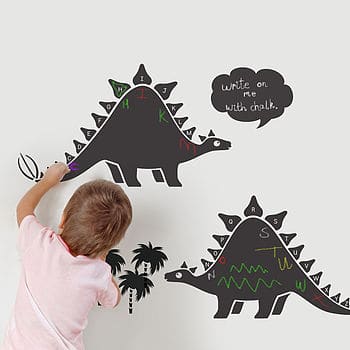 These dinosaur wall decals are pretty special!  Not only do they look great, but they double up as a chalkboard, so your kids can draw on them too.  I do love the whole idea of chalboard wall stickers or wall paper – kids are always keen to draw on the walls, so why not give them some freedom to do so!
---
Dinosaur Wall Sticker Scene With Volcano.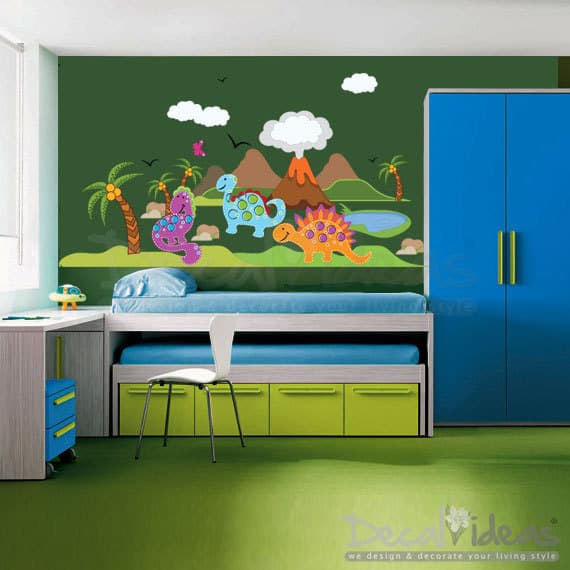 This is a gorgeous Dinosaur wall sticker scene, with a super volcano there right in the middle!  Plenty of individual stickers, so your child can really make the scene their own and be creative with it.
---
Dinosaur Scene With Multiple Wall Stickers and Volcano's.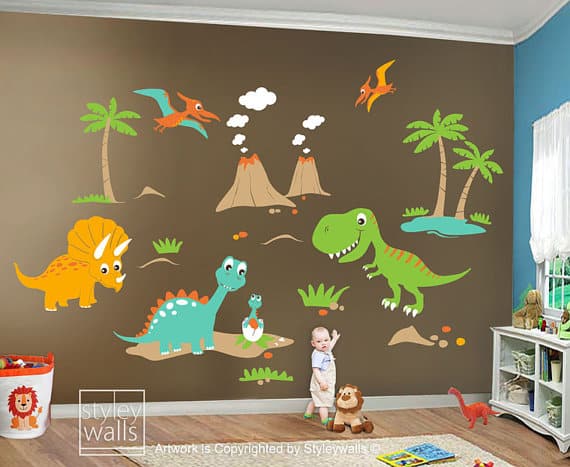 Another really gorgeous Dinosaur wall sticker scene, perfect for a nursery or small child's bedroom.
---
Super Scary TREX Wall Sticker.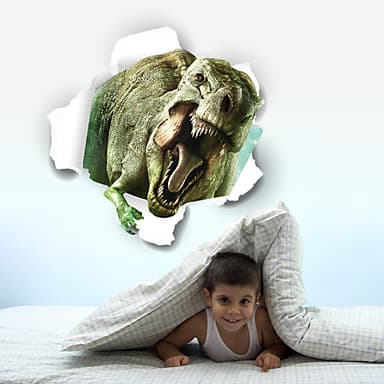 Wow…. this is an especially scary TREX wall sticker.  For those kids who love the SUPER scary dinosaurs, this will be a brilliant one for them.