This post may divide some of you.  perhaps it's a love or a hate kind of a thing – it will be interesting to find out!
When I first saw these Fauxidermy mounted toy animal heads..   I have to admit, I wasn't entirely sure at first….did I like them or was I mildly disturbed?
But the more I actually saw of them, the more they grew on me and the more I got to like them.
Now I am fully decided that they are very special and I wanted to share my discovery with you!  I'd never heard of the term Fauxidermy before discovering these toy head decorations, but I think its a pretty good description.
What do you think?
I am NOT a fan whatsoever of the real thing and I'm not a particular a fan of the regular adult Faux animal head plaques that appear to be very popular now, normally created in metal, plastic or wood!
However, these fluffy creations to me, are of course something different altogether.  Perhaps one reason for this is these Toy heads seem very much alive, they have great character and a friendly warmth to them.
There  are many different animal head plaques to be discovered, a large variation available in different styles – they are certainly unique stuffed animal toys and not something I was aware existed until very recently.  I think they're going to become very popular!
Sheeps Fauxidermy Head
This Home & Glory Fairtrade Felt Sheep Head
  looks pretty content, with a sweet look on his face.  I  adore the fluffy wool detail, it's just perfectly done.  
But it doesn't all end at one Sheep's head, oh no, there are many more of these creations!  Some do seem to get rather unusual….
Spotty Dog Fauxidermy Head
Apparently, this is actually a Spotty Dog
 …I was fairly certain it was a rabbit.
 Not too sure about this.  Do you think it looks like a dog?  It also has a red nose, which reminds me more of Rudolph!  However, there are many more than I find more appealing……
Deer Fauxidermy Head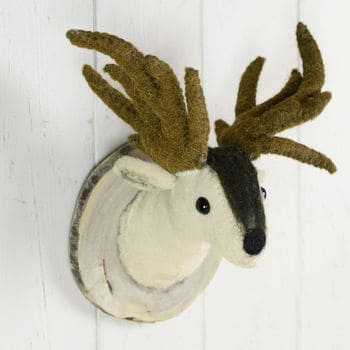 How about this more traditional looking Home & Glory Reindeer Felt Animal Head
– Pretty cute I think?  I love the antlers.  
Whatever you may think of these animal heads, they have been created with some lovely detailing.
Elephant Fauxidermy Head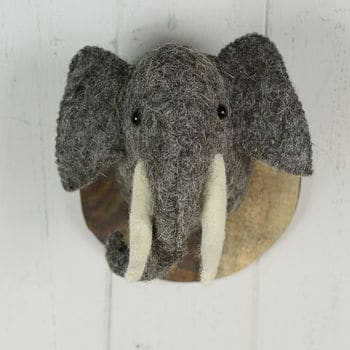 This  is one of my favorites!  The Home & Glory Fairtrade Felt Elephant Head
.
 The Elephant really looks wonderful, the texture of the grey wool and the long tusks with a curly trunk – he does look like a handsome Elephant!
Lion Animal Head
This Diddywear Decorative Animal Head Lion
is absolutely stunning.  This Lion's fluffy mane is beautiful and the detailing in his face is so delicately done.  He has a lovely friendly feel about him.
Dinosaur Fauxidermy Head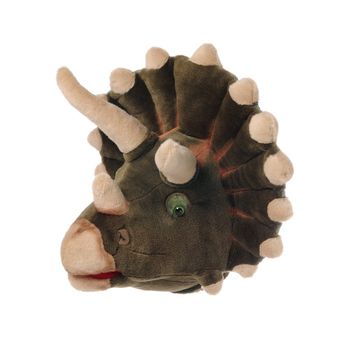 This Diddywear Dinosaur Decorative Animal Trophy Head
 takes it to another level still.  Check out the detail in this guy!  He's absolutely gorgeous and if you're working on a Dinosaur themed room, this would really make a superb feature for the room.
Shark Head
They do get more comical…  This green tulip ethical living Upcycled Shark wall plaque
 is brilliant fun and if you can read the underneath plaque it reads "caught by Rafa"…so, you can customise these, which I think is a lovely touch.
Unicorn Fauxidermy Head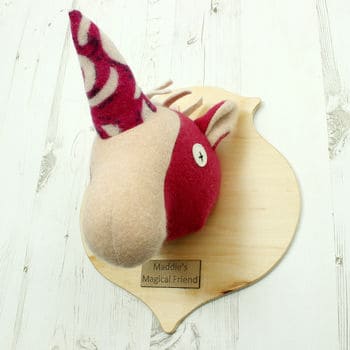 Yes!  It's a Unicorn!  Not only that, but a Unicorn with a pink and swirly horn, I love this design.
 This pink and white wool unicorn toy plaque
 would add a special touch to any Unicorn fanatics dream bedroom.  
Better yet, both this Unicorn and the Shark are made from recycled wool and they are also individually handmade and no two are identical.
Any of these animal heads would certainly make a unique gift, or indeed a unique decoration for your own child's  bedroom!  
There are also other toy animal heads available that are very special too and worth checking out.
The price range varies, but prices range between £16 and £80.  So, certainly a huge variation in price.  However, this also shows that you can pick up a quality product here, whatever your budget.
If you'd like to take a look at the full selection, I found all of these toy animal head plaques  at Notonthehighstreet.com  
However, if you're prepared to up the price bracket a bit and go all out, I did find this truly inspiring Unicorn head…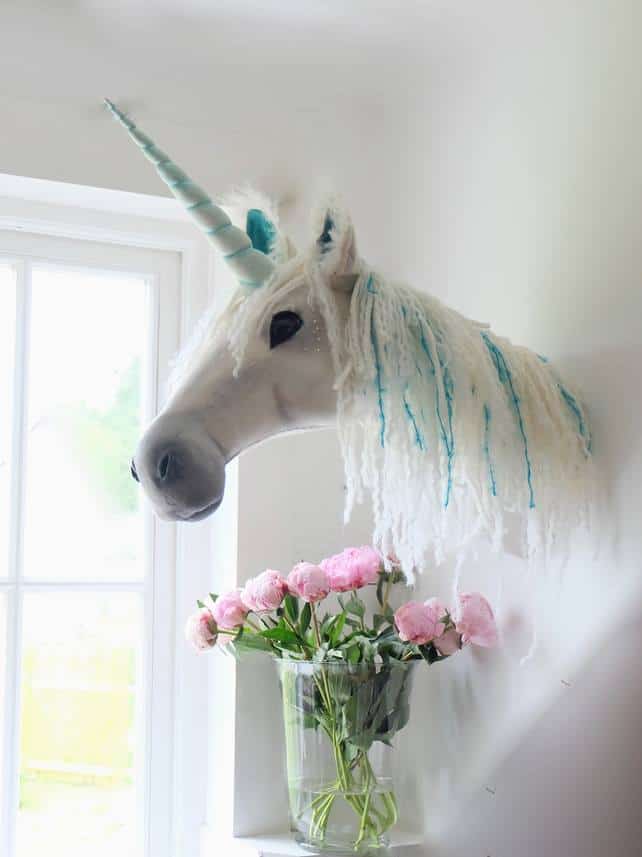 Isn't she magnificent?  She would certainly make many a Unicorn fans dreams come true.
You can purchase this beautiful Fauxidermy Unicorn 
 on the wonderful ETSY platform. 
It's a large piece – measuring 75cm from the top of the horn to the neck!  
You can just see the amount of effort and detail that has gone into her creation and for something extra special, she is certainly worth the price tag, (around £500).
A unicorn wall plaque would work perfectly in a themed room with Unicorn Wall Stickers – Check some out here.
So, which of these Toy Animal Heads, (Or Fauxidermy heads) are your favourite?
Go ahead and leave me a comment!
All the best… 🙂