Super Little Boys Bedroom Ideas!
What do kids love?
Fun, excitement, magic, colour, light!  Bring a little of these things into your kids bedroom and they'll be delighted.
But where do you start?  Sometimes knowing where to start can be the most overwhelming part.
Here are some ideas to get the creative juices flowing…
Start with an interest!
What is your child interested in?  Pirates? Space? Spiderman?  Star Wars?  … or maybe they're just nuts over the colour blue?  Go with an interest first and your way up from there.
Maybe you don't want to go all out with a themed room, but you can still incorporate some of the things your son loves, even if it's as simple as their favourite colour.  Decorating your child's room does not have to cost a fortune.
There are also some really affordable accessories that you can get now that can really add a wow factor at minimum cost – such as some fun lighting and wall stickers.
How about…A feature wall?
Rather than sticking wall paper on every wall, which will be difficult to take down later, why not create a single feature wall?  You can use wall paper to stick to just one side, which will make redecorating later a lot easier.  You can also buy ready made wall paper murals to stick on, check out some of these…
   Left to right…
If you do decide on a jungle or animal theme, the jungle mural above would be a good option – but if you, do NOT miss checking out my toy animal head post, these so-called "fauxidermy" heads look fantastic and add a really fun and unique aspect for a very reasonable cost.
They would make a great edition to a jungle or specific animal themed bedroom.
There are lots of animals available, ranging from sheep, dogs, lions, elephants and even unicorns….  One of my favourites, a very handsome elephant, you can see below.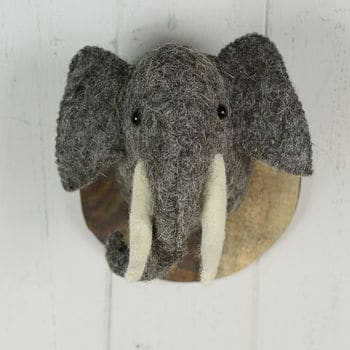 Wall Stickers:
If you're not keen on wall paper… go for wall stickers!  (A pretty realistic dinosaur wall sticker is lurking below….)  
These can be easily removed and changed about easily, so it makes it super easy to change the theme of the room at any time.
Check out my Wall sticker categories for a tonne of ideas – they are so popular now that you can normally find something that will fit in with your child's interests!
Colouring-in Wallpaper:
Alternatively, what about the idea of adding colouring-in wall paper?  I love this idea and it will give your child the chance to do what they've always been told not to do… DRAW ON THE WALLS!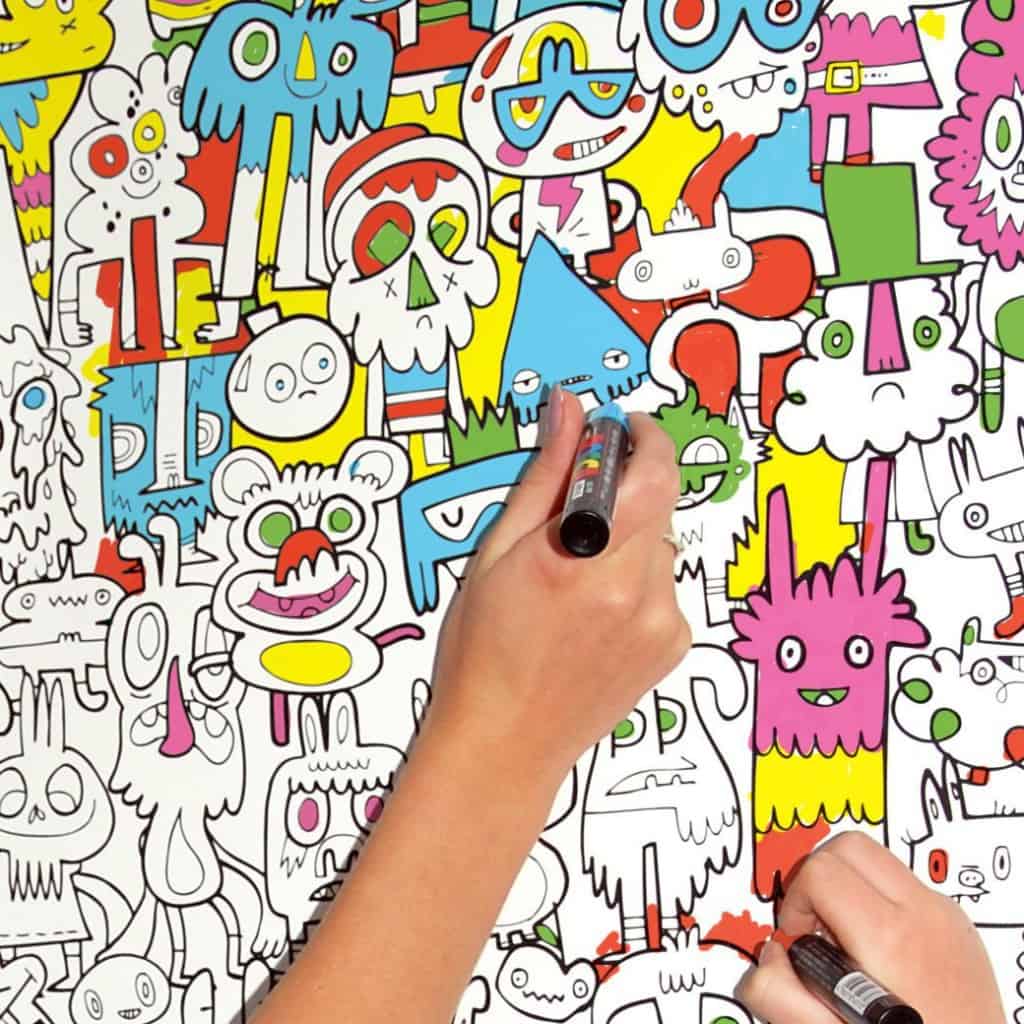 You also can create a colouring-in wall as a feature wall on one side and either just simply paint the other walls, or you can add wall stickers as a combination.
Check out my a great selection of colouring in wall paper here.
An Awesome bed!
If you want to really wow them, go for a themed bed.  What about a boat bed for a nautical or pirate theme?  There are some really great options for this.
Left to right…
If you're going with a themed bedroom, check out the further selection of beds below…  would your child fancy a car bed, a bus, a plane or even a a Tipi tent bed!?  Check these out….
From right to left…
Kids Storage!
Whatever type of bedroom you go for, STORAGE is always key, right?  A sling bookcase, (great for displaying picture books), easy to put away drawers or hanging storage make good options.
Left to right!
For more storage ideas, you could check out my kids storage ideas post.
Kids Lighting!
These days, there are some really fun lighting ideas for your child's room that can really add a big wow factor.  I'm in love with kids wall lights, (see my top 10 wall light post) because they come in various themes, require no plug and are really affordable.
I also love the idea of projector lights.   We currently have a disco bulb at home, you just attach it like a regular light bulb and it creates your very own disco in the room with a flick of a switch.  My two boys love it so much, they just keep it up there permanently.
There are others that will project patterns around the room, a rainbow pattern, stars, the ocean, or other objects.
Another option that really adds a magical touch to a room, is using string lights, which you can easily attach around your child's bed, or to the wall and they look great.
Left to right…
This just scratches the surface for ideas of course and I'll be exploring many more in future posts.
Check the video below for some more ideas for cute little boys bedrooms!
I hope some of these ideas have given you some inspiration for your next room project.
 There hasn't been a better time to find really fun furniture and accessories for kids rooms – and it is something that they will always remember!
Do you remember decorating your room when you were a kid and how did your room differ to the rooms kids have these days?…. Leave me a comment below!  
There weren't so many options that long ago were there?
All the best… 🙂
 
If you enjoyed this post, you may also be interested in….