Girls Bedroom Ideas… Time For A Change!
Decorating your child's room once they're out of the little girl phase can be a lot of fun, because they will have their own identity, interests and passions and now may be extra keen to have a say in how her room should look.
So, what do girls want these days?  
Well, that's going to depend on what type of girl you have!  Is she all about pink and prettiness – or is she a tom boy?
At around 5, I was into dolls and pretty dresses.  But by the age of 10, I'd rarely be seen in a skirt or dress!
 I couldn't stand the colour pink and the idea of being a girly girl, totally repelled me.
So, every girl is different and her room should reflect what makes her unique.
So, top of the list when it comes to creating their new room is to make sure it reflects their personality and tastes.
 Their room should be their own little safe haven, where they can completely relax and be themselves.
In this post, I will first just show you some bedrooms that I think are beautiful, then give some suggestions about products that you may want to include on your list!
I'm going to pick four options for each…. because.. I'm in a four kind of a mood!  Let's go….
FOUR Awesome girls bedrooms, that I love.
BOHO ROOM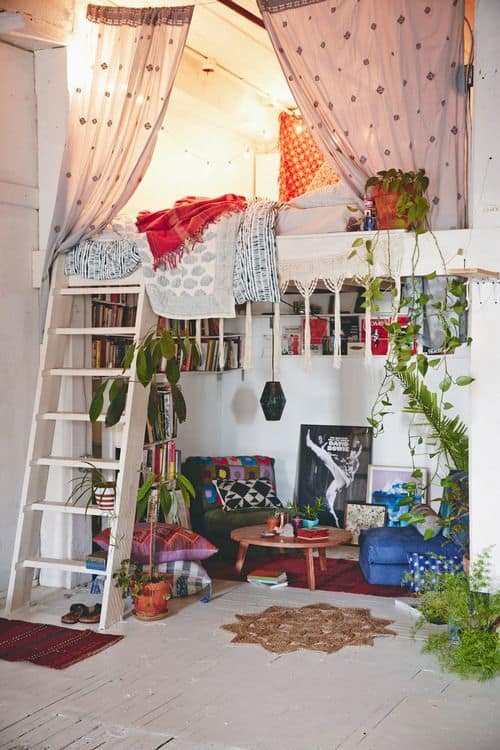 From about the age of 11, I was pretty much a hippy type chick.
I loved anything a bit bohemian or ethnic, so this room above would have been a dream.
Not only is the bed hidden away in its own little space, (very cosy) but there's a great chill out space below where you could hang out with friends or study.
Pretty Alice Room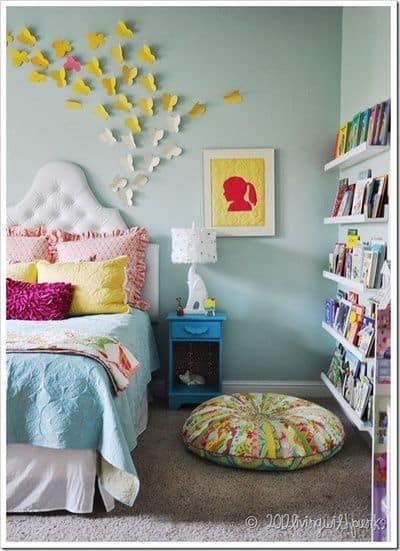 I love the butterfly flower decals on the wall and as well as being able to buy these very cheaply, (see here)
You can also make them yourself out of card. This room has an overall "Alice in wonderland" feel and is pretty, but understated.
Magical Room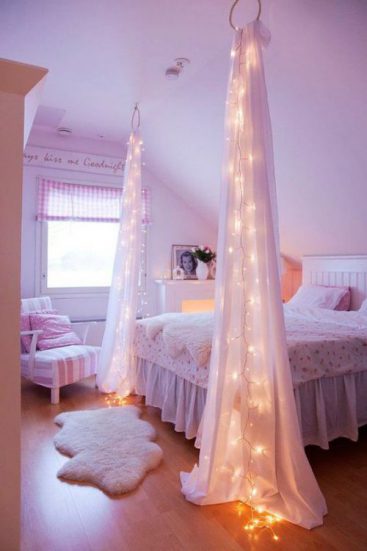 I've always been a fan of fairy lights in a room!  Simple string lights can really transform the atmosphere of a room and make it quickly seem magical.  
The long drapes hanging from the ceiling can be easily created and yet really makes an impact.
Four Poster Girls Room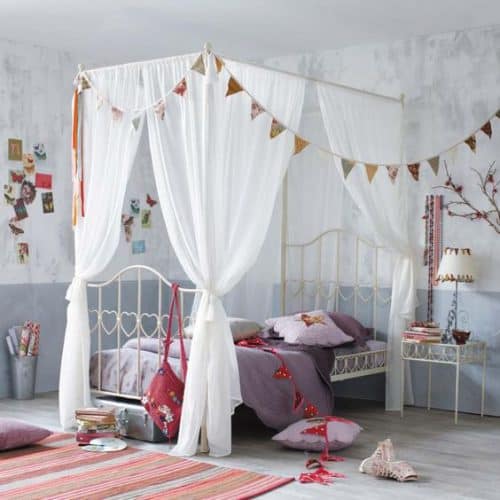 One thing I always did long for as a child, was a four poster bed I dreamed that one day I would definitely have one and I had wanted to put twinkle lights around it.
Well, I am still waiting for that day, as have not yet owned a four poster bed!
If you do have the space however, they can look magnificent.  The one above is very simple, just plain white drapes, which looks really pretty with the bunting hanging there too.
Super Cool Lighting!
You can get some really interesting lighting options these days, that are fun for kids.  (See also, these great kids wall lights)
The rabbit light changes colour and would look great if you're going for an Alice in Wonderland look.
From left to right….
Unique Wall Decor
She may want to make a bit of a statement with some unusual wall decor – whether that be prints, wall hangings or wall stickers.
Check out some of these options.
Quirky Alice Print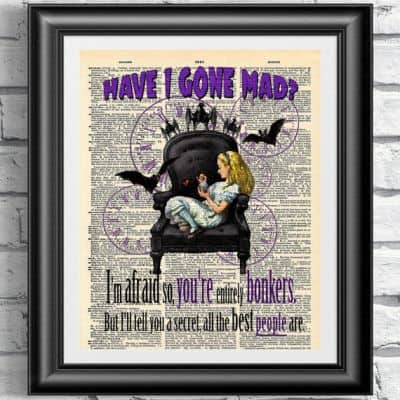 Blossom Tree Wall Decal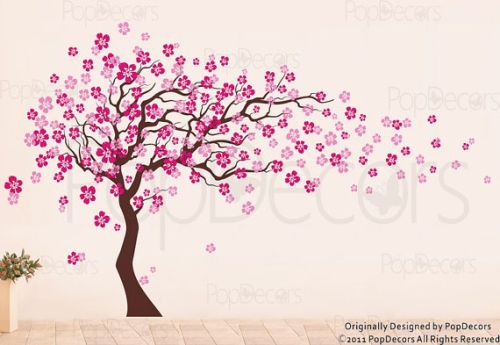 Bohemian Sun and Moon Wall Hanging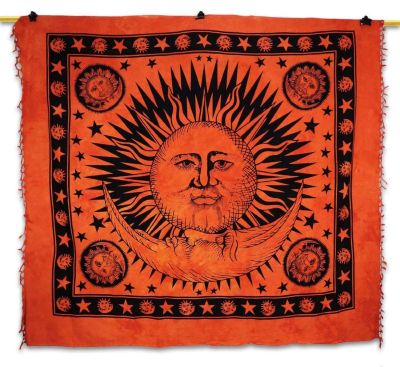 Unicorn faux fauxidermy wall head

Hanging Decor – lights, bunting and wind chimes!
I love string lights – (see string light post here) and thing they can really add an extra magical touch to a room.
But other hanging features, such as bunting or wind chimes also look very attractive.
Literary rose lights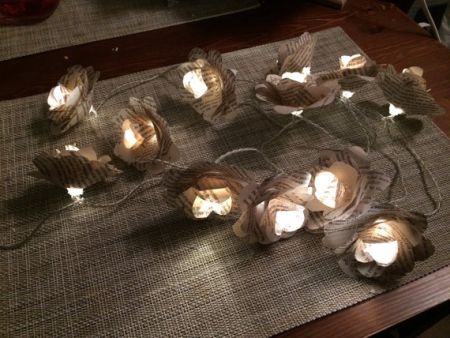 Black Cat And Moon Wind Chime
Floral Fabric Bunting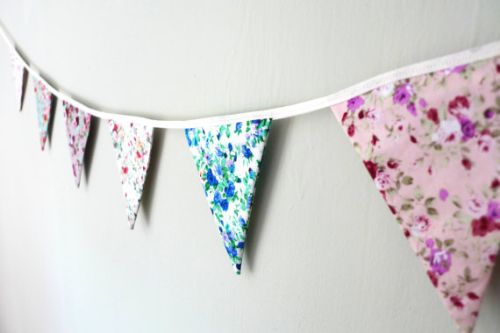 Heart String Lights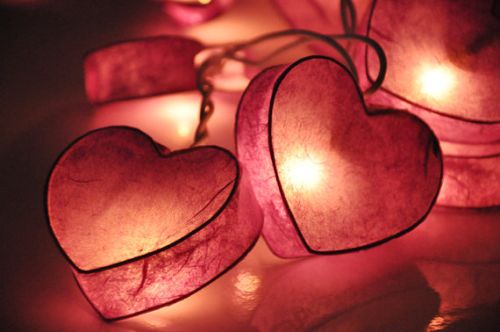 This post has just scratched the surface regarding ideas for your girls bedroom – only your imagination can limit you, as there are so many great products now that can transform any bedroom into something special.
What have you got in mind next time you decorate?  Do you already have a plan?
Leave me a comment below!
I hope you found this post useful,
All the best 🙂

Other posts you may find interesting….