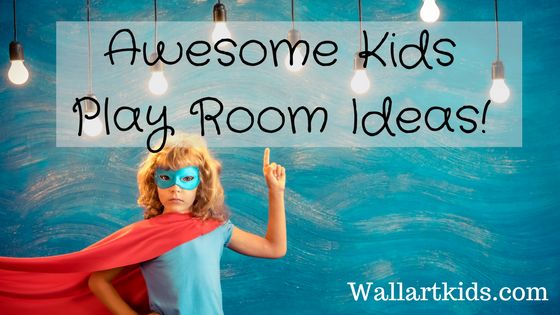 Make Play Amazing! – Awesome Kids Play Room Ideas!
If you have the space for a playroom, why not make it fantastic?  
From indoor playrooms, lego walls, slides, climbing walls and magnetic walls, there are so many great ideas out there!
I certainly never had any space for a playroom growing up and even if I had, the sort of playrooms people have created these days go over and beyond anything that would have been considered then.  
I think creating a dream playroom now gives adults a chance to relive their own childhood fantasies and dreams through their own creations and give their children something magical that they will remember forever!
Here are just a handful of ideas for your child's playroom….
Chalkoard Wall And Letter Lights!
---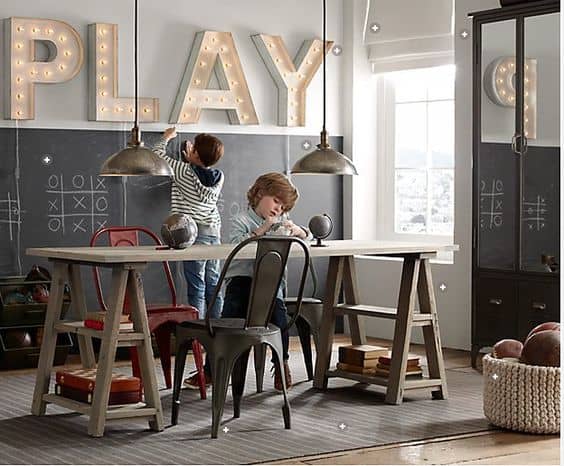 This Playroom above makes the use of a great idea – chalkboard walls!  You can pick up some great chalkboard wall stickers to create this look and can let your children draw on the walls to your hearts content.
You may also consider colouring in wall paper, which is a really fun option too.
The lighting is fab, you can pick up some great rustic steel letter lighting from the Bobcool Etsy shop, 
Pebble Pillows!
---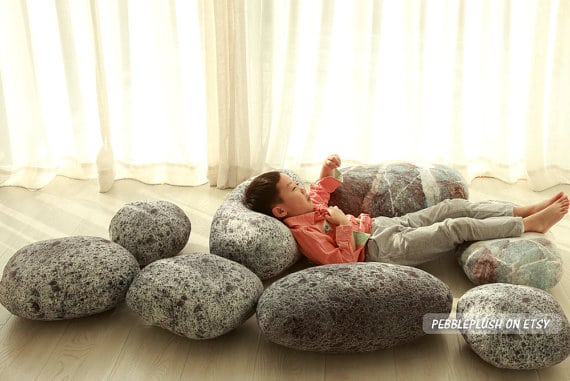 These are truly fantastic!  PEBBLE CUSHIONS!  
What an amazing creation, they look stunning.  
It must feel strange to watch your child dive on to a pile of what-look-like rocks… but they're great fun.  Don't they look realistic?
You can pick these up for yourself here on Etsy.
A Home Within A Home!
---
A house within a house?  It may be a bit of a mass DIY project, or you could always hire someone in to create it for you.
 The only thing with this is, you're pretty much in it for the long haul.  
Once your kids have outgrown it, they may just find it a little uncool having a playhouse in the middle of their once-was-playroom….
There again, depending on how old your children are, you can certainly get a good few years out of it and by then you'll probably be ready for a change anyway!
If you're thinking you'd rather your playhouse be outside the home, check out the following for some truly inspiring bespoke kids playhouses, they are amazing!
Build A Lego Wall!
---
An actual lego wall is an awesome idea and as a very simple DIY project, wouldn't be difficult to recreate either.
 If you picked up random lego from car boot sales or second hand sales, you could pick up some reasonably cheap stuff.
Obviously if you bought the Lego new, it may just cost a small fortune.  
Still, do you find that you discover tonnes of unused abandoned Lego in the bottom of toy boxes?  This could be your opportunity to recycle it now!
The Super Duper Teepee!
---
The Teepee has become a lot more popular after the birth of the glamping craze.  They do look fantastic and are fun to play in, so they'd make a lovely addition to a play room.
They somehow appear quite a bit more special that your traditional playtent and they look more sturdy too!
Left To Right…
Magnetic Car Wall!
---
A magnetic track on the wall, this would be so brilliant.  
But there are so many additional ideas you could do with having a magnetic wall.  
Even simply having a large magnetic white board attached to one wall, means you could attach any number of metallic toys and fridge magnets to it – as well as using as a super large drawing board as well!
Create A Library Wall!
---
I could easily fill a playrooms walls with kids books, what a neat idea this is!  This takes the idea of the regular sling bookcases you can find to a whole new level.
This way, your child could easily find and pick out their favourite book.
Amazing Indoor Slide!
---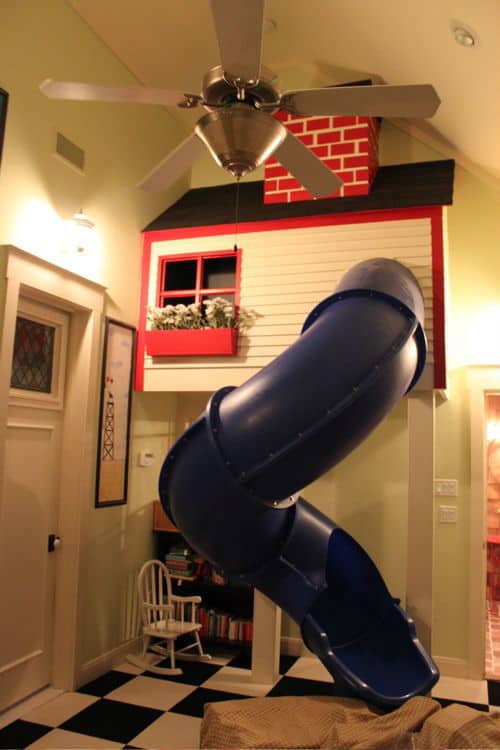 If you can dream it, do it?  Hey, if you have the space – wouldn't this be incredible?  
Out of all the playrooms I can envisage having as a child, having an indoor snake slide like this would have to be on the top of my list.
Climbing Wall Tree!
---

In a previous post, I talked about how you could go about creating your own indoor climbing wall.  
This would make a great DIY project for your kids playroom and it would give them a bit of extra encouragement to get active!
Hammock Play Swing!
---

Magicalchildhood.wordpress.com
Having a cosy hammock swing in your playroom would be a lovely idea as well.  I've seen a very bright colourful hanging swing chair here.  I also love the tree design in the room above, with incorporated bookshelves.  
Only your imagination can limit you when it comes to playrooms!
What's your idea of an awesome kids play room?  Leave me a comment below!
All the best…. 🙂

If you enjoyed this post, you may also find useful…