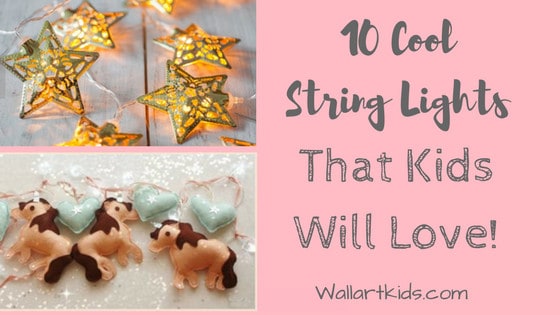 In this post, I'd like to check out some super cool kids string lights.  The thing is, when it comes to quirky or atmospheric lighting in a room, I absolutely love it.
I have had fairy or string lights in my home since I was a child.  I have some star lights hanging from our fireplace twelve months of the year and I don't feel quite right until they're turned on – it just makes the room feel cosy and the gentle glow is relaxing.
Ok, now you're thinking I'm a little nuts.  This is undoubtedly probably true, but there is no getting around it…. lighting in a room is very important!!
I love how simple lighting can transform a room and I'd like to share some of these fun string lights that I've found.
Etsy is a great place to find some truly original items to make a room unique and special and I'm personally a fan of unusual or fun lighting for kids rooms.
When I was a child, there didn't seem much more to fairy lights than the regular twinkly kind, some in various colours, perhaps the odd star shape, but nothing much more interesting than that.
But now little string lights to decorate your rooms come in a vast array of interesting designs.
Too often though, I see a poor variety of string lights for kids on the highstreet and I love that on Etsy, you can pick up some hidden gems, often for a great price too.
In addition, some string lights can work well in themed rooms.  In the selection I found here, we have animals, sealife creatures, angels, stars and robots, which could easily fit in with a relevant theme.  
First, I will share with you some inspired way that others have used string lights to enhance a room over the net and then I will specifically share with you some string lights that I love.
(Pssst… also, if you're looking for more cool kids lighting, check out my wall light post).
Kids String Light Inspiration!
(Source – Pinterest)
Children love magical little hideaways that they can escape and this lovely Owl themed bedroom has a cosy space, an adorable reading space where children can curl up and read under twinkly lights.  This would also work well with the Owl themed string lights that I have pictured below in this post.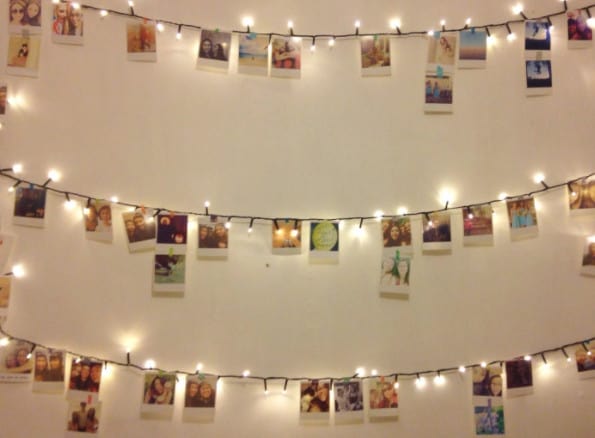 (source – karaellarayner.wordpress.com)
This is an adorable way to use lighting and photos to transform a room.  Hanging string lights along the wall like this and using little clips, or simply tape, to attach little photo memories around the room.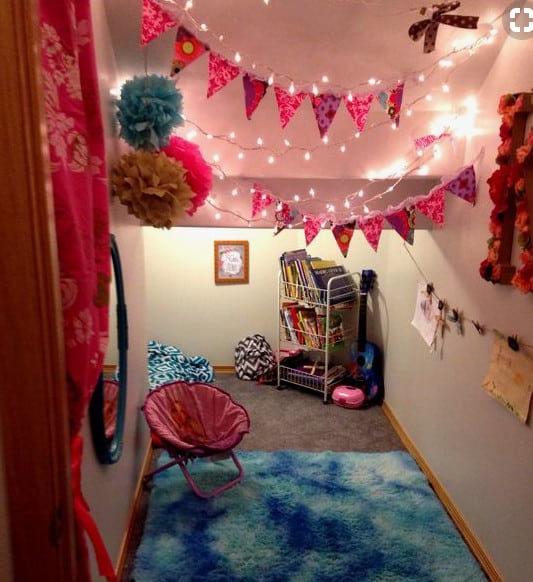 (source- Pinterest)
Another pretty use of fairy lights in this little girls room. This time they've paired twinkle lights with some colourful bunting.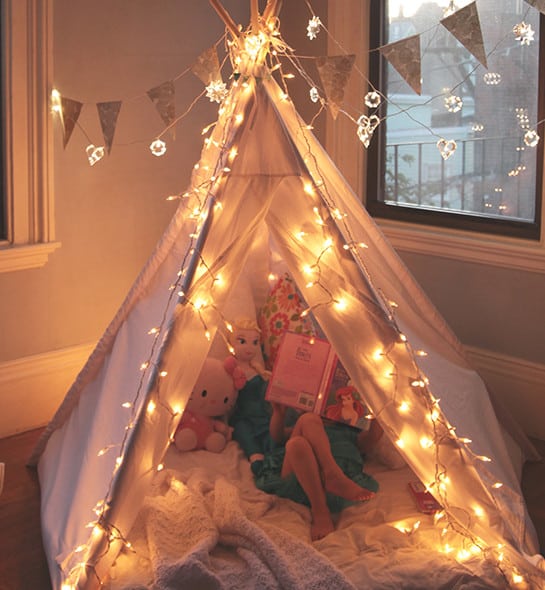 (source – ezoemusings.com)
Another beautiful use of twinkle lights to enhance this little hideaway.  Children love little spaces to call their own, somewhere they can feel cosy and safe.  Setting up a tent like this one and decorating it with twinkle lights, makes it all the more magical.
Fun String Light Options!
Star String lights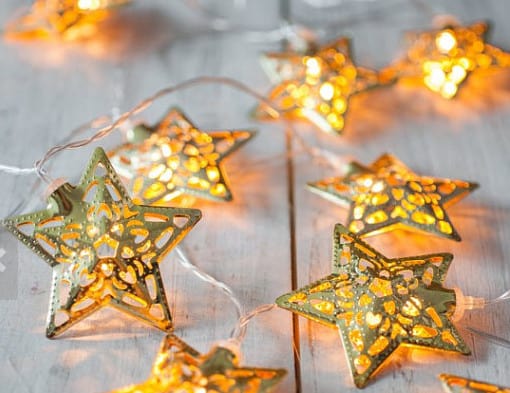 Gold star fairy lights – on cable that's 6m long and they're battery operated.  Since the bulbs are LED, they'll never be hot to the touch, which make them a super safe option for children's rooms.  They'd also make a lovely addition to a Fairy themed bedroom.
Owl String Lights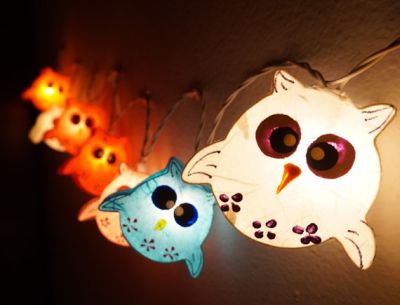 Handmade owl string lights, 30 day return period.  Lovely sweet design, with various coloured owls.  Twit Twoo!  Pretty paper owl lantern string lights, Ships worldwide from Thailand and 5 star feedback.
Under The Sea String Lights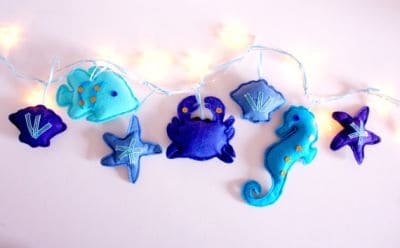 Gorgeous Under The Sea themed string lights, handmade in felt, with sequin and ribbon detailing.  Great for an under the sea themed bedroom.  Seven handmade shapes in total. Again, these lights are LED powered; on around 1m 70cm worth of wire.  
Hello Kitty String Lights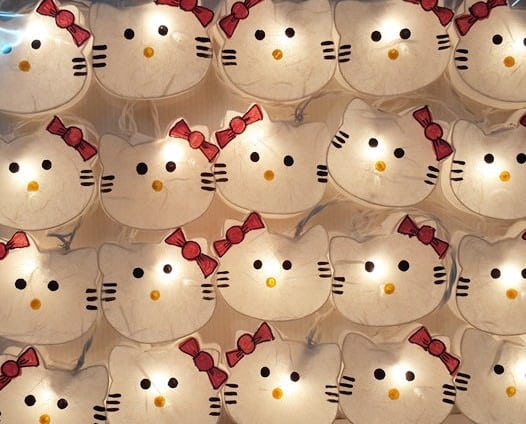 A bunch of cute, cheerful Hello Kitty String Lights made from mulberry paper.  20 cats, with 20 little bulbs in total.  Approx 3.5 metres of lights in total and comes including an adapter plug.
Mario Bros String Lights
A fun set of Mario Bros String Lights,  perfect for any little gamer.  There are five lanterns, on a string of LED lights, which remain cool to the touch.  These are a handmade item. 
If your child is a Mario Fan, you might want to check out these Mario Bros Themed Bedroom Ideas.
Panda String Lights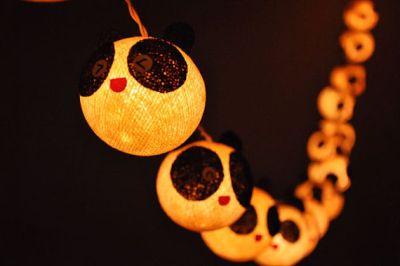 A super cute set of Panda Head String Lights, made from cotton.  20 panda lights in total, on around 3.5 metres of wire.  Shipping worldwide.
Unicorn String Lights
Some lovely Unicorn String Lights, (would work well in conjunction with unicorn wall stickers if you're working on a themed bedroom).   Made with felt, with satin ribbon and fairy lights and lights can be created in any colour, upon request. 
Again, these are LED and battery operated, so they're safe for Children's rooms.  Worldwide shipping.  If you're looking to create a themed room for a Unicorn fan; you also may be interested in these Unicorn themed bedroom ideas.
Frog String Lights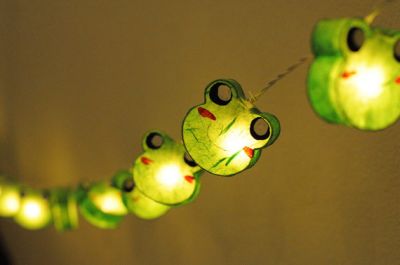 Adorable Frog shaped string lights, handmade from high quality mulberry paper.  20 Frog lights in total, on 3m of cable.  5 star reviews and shipping Worldwide.
Angel String Lights
Check out these adorable, colourful Angel String Lights, perfect for a little girls bedroom.  They look rather like fairy shapes rather than Angels, but Angel is in their main title on Etsy.  I imagine they could be either Angel or fairy, depending on your child's preference!  There are 20 lights on 3 metres of wire.  Shipping is Worldwide!  You may also want to check out this Fairy Themed Bedroom Post.
Flower String Lights
I love these beautiful Blue Flower String Lights.  A handmade item, with 10 flowers in total.  Again, being battery operated and having LED bulbs mean that these are entirely safe to have in your child's room.
---
What do you think of these lights?  Do you have a favourite?  Let me know in the comments section below!
All the string lights that I showed you today were found on Etsy and this is just a very small selection of what's available, so I recommend you check them out. 
As well as looking pretty, string lights can make lovely night lights, as they let off a gentle glow rather than an intense light.  My personal preference is going for the battery operated LED variety, as it means you don't have to deal with any plugs and can literally hang the lights anywhere.
All the best,

If you enjoyed this post, I'd appreciate if you'd take a moment to share it via one of the social sharing icons below this post!  Many thanks!!