Star Wars Themed Bedroom Ideas – For The Star Wars Fanatic!
I was so pleased when they announced a new bunch of Star Wars films, because then it gives rise to a whole new generation of Star Wars fans.
I've also got to enjoy Star Wars on another level; with my kids and with plenty of new characters.
I've  found some pretty awesome Star Wars related furniture and decor that could make super fan very happy indeed, so I thought I'd create a post to share some of it with you.
The key three things I like to include in a themed room are –
An unusual feature, whether that be a wall sticker that can really transform the room, a piece of art work or a stand-out related piece of furniture.
Star Wars Beds
First up, are the Star Wars beds.  I couldn't choose just one here, so I went with a few that will be suitable for different ages.  
Also, if you already have a bed but just want to change the theme, using a bed canopy is a great way to transform a regular bed that you already have for a low price.
Star Wars Bed Canopy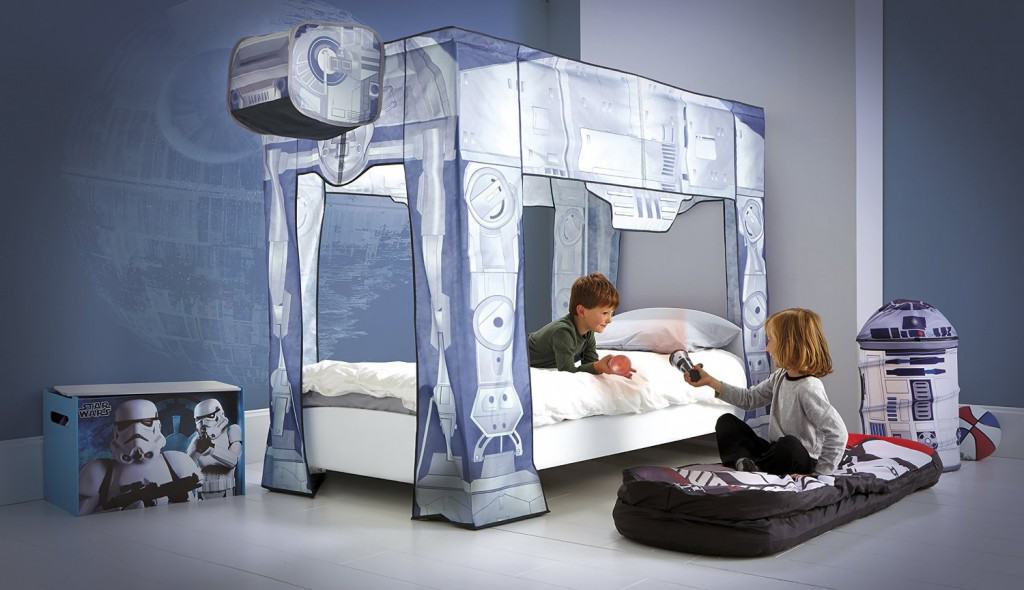 I adore this bed canopy, this could really create a wow factor for your Star Wars themed room and without the need of buying an additional bed.  
This bed canopy will fit around any single bed and can be assembled in minutes.
A much simpler option with kids, who may change their mind about their favorite thing of the moment.  But it's such a fun an affordable way to transform a room.
Simple to assemble.

Meets the highest of safety standards.

Excellent value.

Free Delivery.
Star Wars X-Wing Single Bed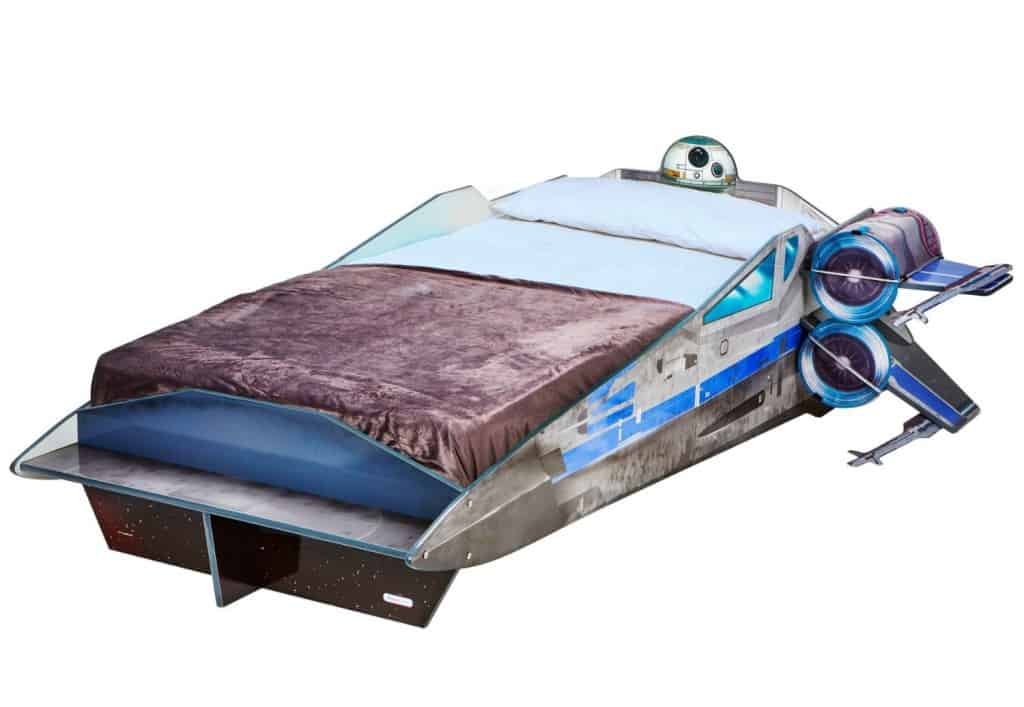 A fantastic kids bed that looks like an X-wing Starfighter!  An awesome design, with detachable wings, so you can place the bed by a wall if required.
The wing has secret storage and a bedside table as part of the structure.

Fits regular single sized mattress, the mattress is not included.

Dimensions – (H) 68cm (W) 183cm (L) 223cm
Star Wars Storage Trunks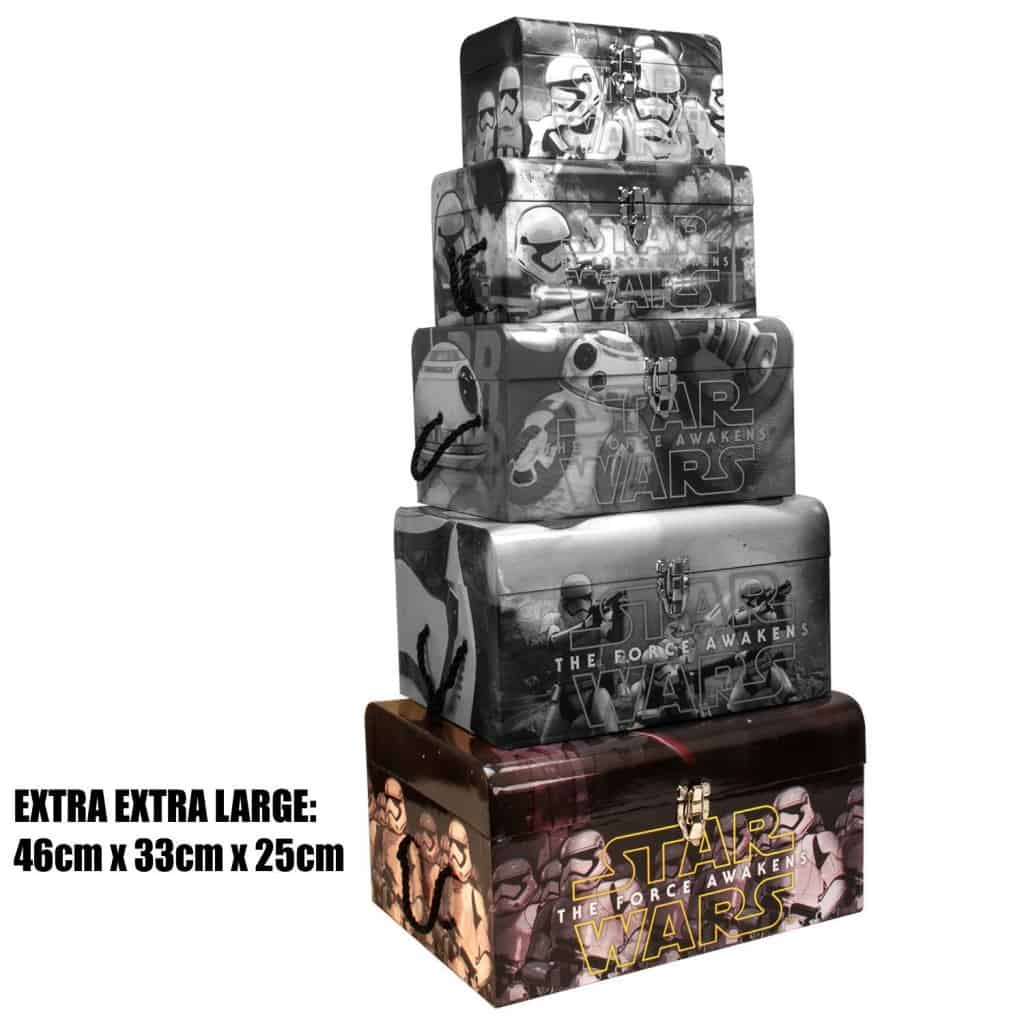 It's an unfortunate fact that we do need designated spaces to put the mountains of toys that would otherwise, (and sometimes do) live on the floor of our children's rooms.  
So, somewhere to easily store things is important.  I love this set of storage trunks – they're sold individually but there are five sizes available.
Made from heavy duty card that you can wipe clean.

Simple to open metal clasps.

Rope handles.

Sizes range from x-large 46 x 33 x 25 –  right down to small – 26 x 15 x 15

Free UK delivery
R2-D2 Pop Up Storage Bin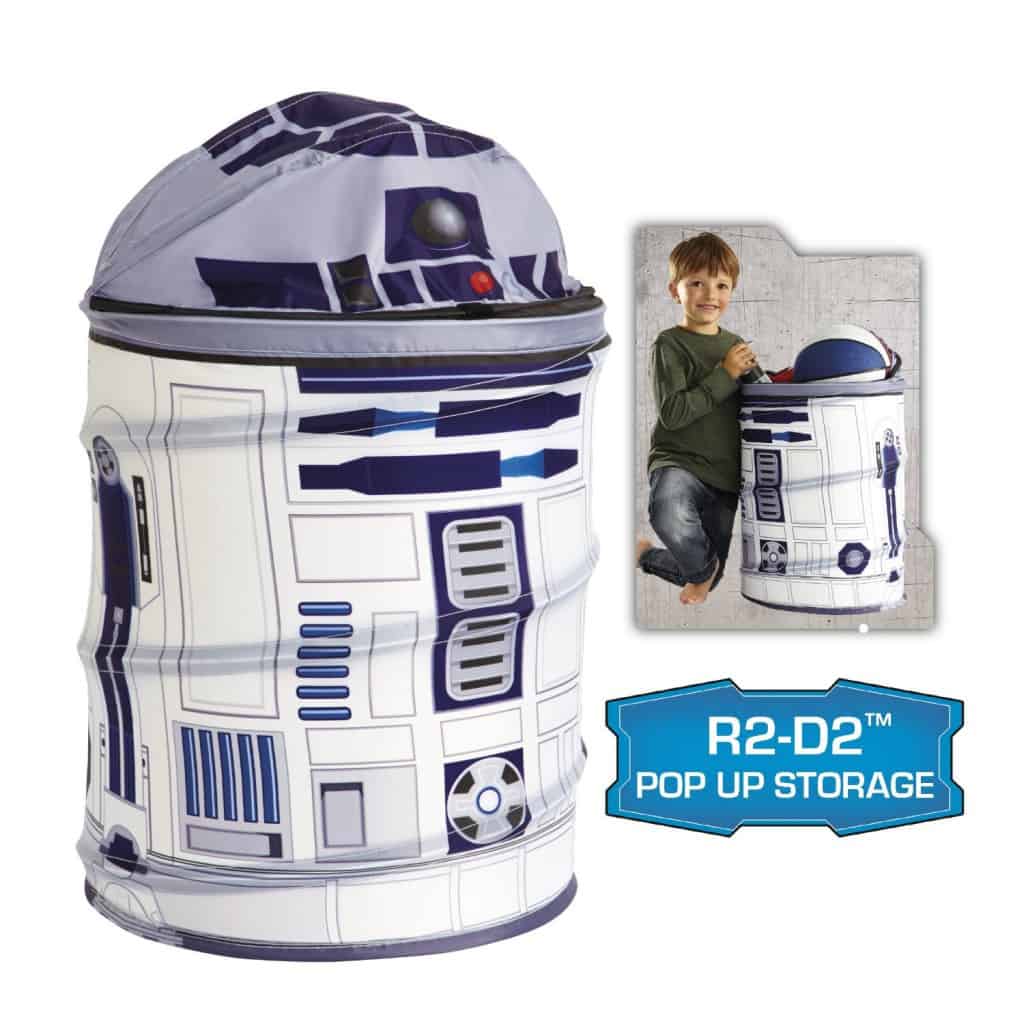 A great little pop up bin that could be used for toys, or as a laundry bin.  Maybe this would encourage your kids to put their dirty clothes in an appropriate place!  
It's great that it simply pops up, no assembling required and can also be folded away easily, should it need to be stored.
Good for encouraging kids to tidy away.

Can store toys/clothes, dimensions 75cm high and 45cm wide.
Star Wars Wall Stickers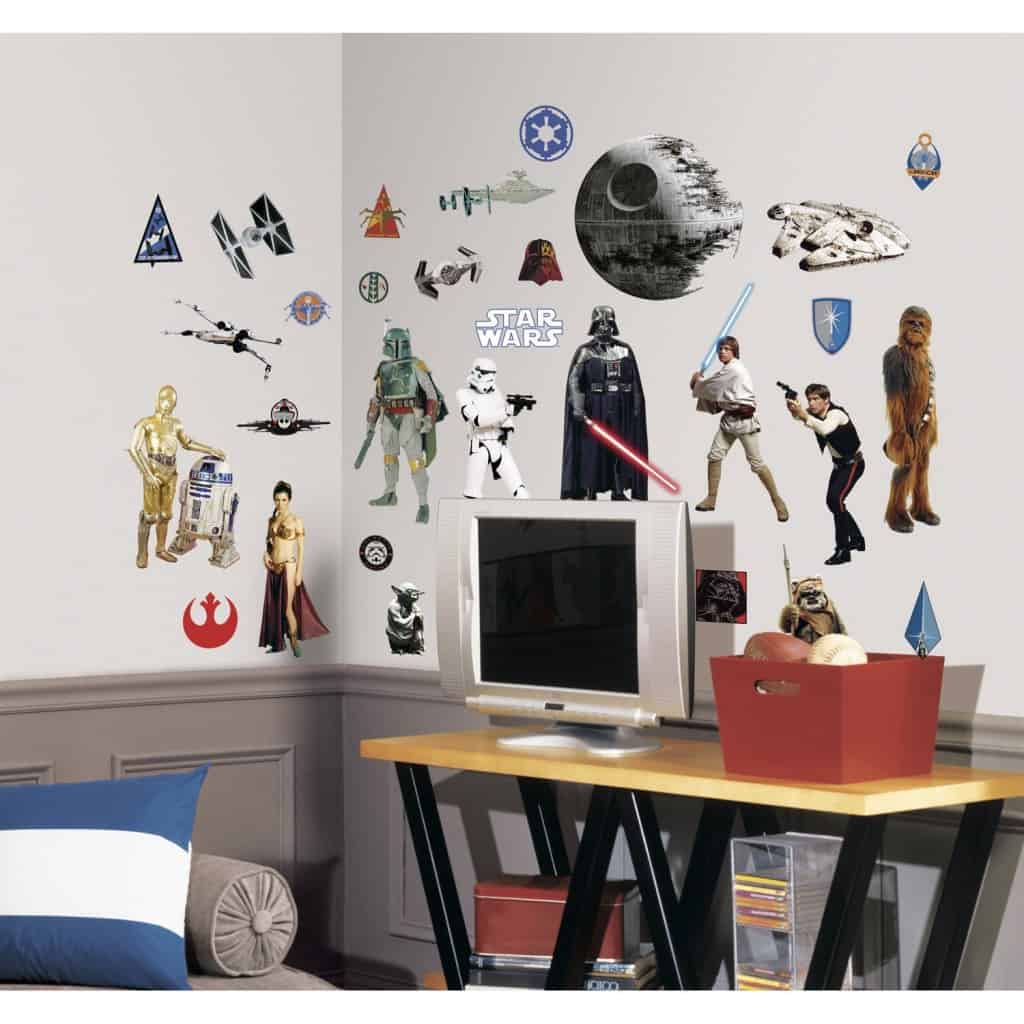 Of course wall stickers have to be one of the easiest and most cost effective way of making a themed room extra special.  This is a great set, featuring a whole host of characters.
Just peel and stick!

You can reuse and remove easily.

Free Delivery UK
Darth Vader Mini Figure Clock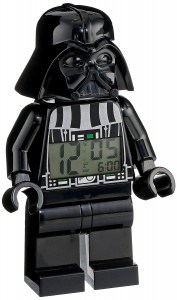 This little clock is brilliant – a great alarm clock to help encourage your kids out of bed in the morning!  Yoda and storm trooper varieties are also available from this seller.  Great for Lego Star wars fans too.
LCD screen with backlight, so your child can tell the time at night.

2 AAA batteries included!

Dimensions – 16.3 x 13.2 x 23.8

Free delivery on orders over £20.
Star Wars Kids Chair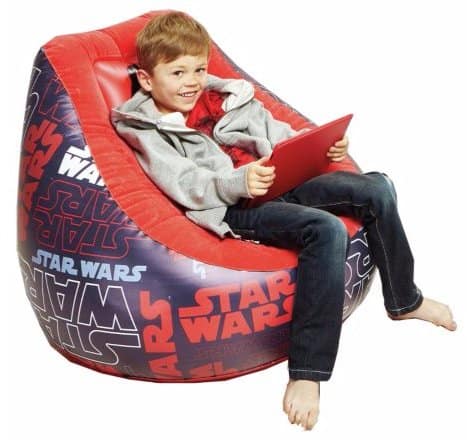 A super comfortable looking Star Wars chair, which is inflatable.  It will provide your child somewhere to snuggle up in their new Star Wars room!
Easy to inflate and flocked to make comfortable.

Dimensions 36.6 x 32 x 7cm.

Free UK delivery.
Star Wars Duvet Set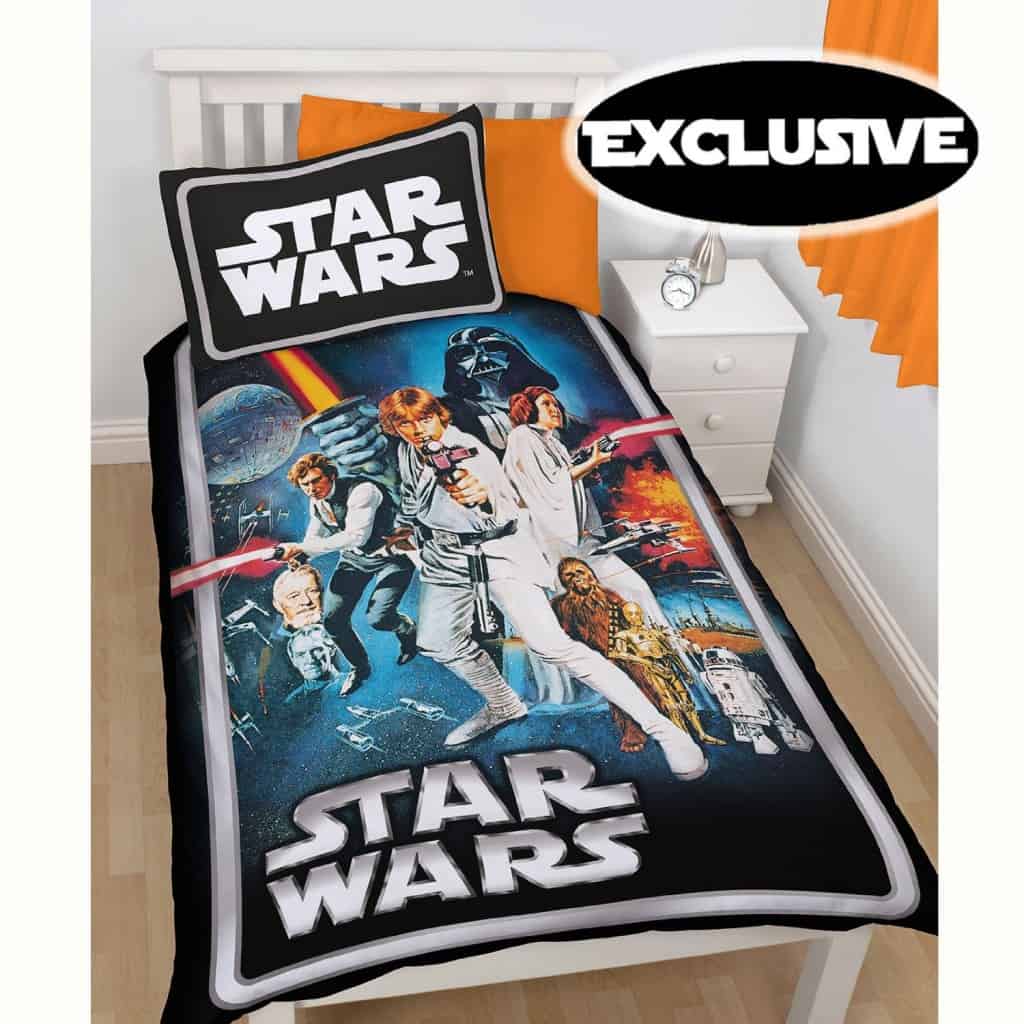 A lovely duvet set, with a great star was image on the front from the original 1977 Star Wars poster.  It's also reversible!  There are various other designs you can choose from, check them out here
50% cotton, 50% polyester.

machine washable.

Single duvet size, dimensions – 54in x 78in
Star Wars Wall Lights
I talked about some of these fantastic themed lights in my previous kids wall light post and they continue to be one my my favourite recent discoveries.  
Combining part wall-sticker, part light, part decoration – they look amazing and are great value for money.  They're also incredibly safe, as they do not heat up and require no electric socket or wires, as they're battery powered.  
Crack stickers included.

Energy efficient LED lights.

Free Delivery.

Takes 3 AA batteries.
So, that concludes my  post.  I hope you enjoyed checking out these Star wars themed bedroom ideas!
Are you inspired to get started?  
Leave me a comment and I'll get back to you!  If you already have a Star Wars themed bedroom, we'd love to see it!  Why not contact us and send us your pics!
If you liked this post, you may also be interested in…
All the best… 🙂