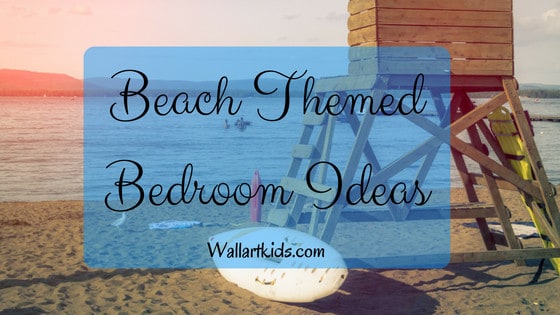 Beach Themed Bedroom Ideas!  Bring The Beach Into The Home…
Who doesn't love a day at the beach? Making sandcastles, playing in the sea, collecting beautiful shells, eating fish and chips and ice cream – the memories of childhood!
And I think the delight of the seaside translates really well into a bedroom theme, so I've found a couple of complete bedroom ideas to start with, and then we have some brilliant products that will really keep those memories of enjoyable beach days alive.
Beach Bedroom Ideas!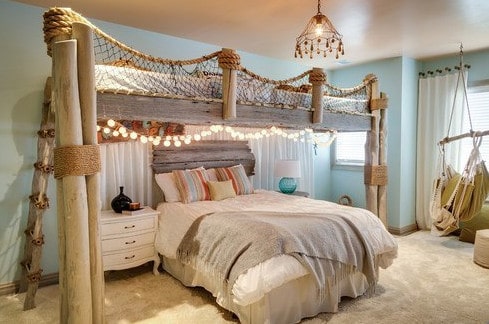 This to me looks a little bit like a dessert island getaway room. Ideal if siblings are sharing, although they may have a squabble about who gets that amazing top.
Gorgeous use of wood and netting to create that effect and some lovely fairy lights too.  Also, check out that swinging chair in the corner…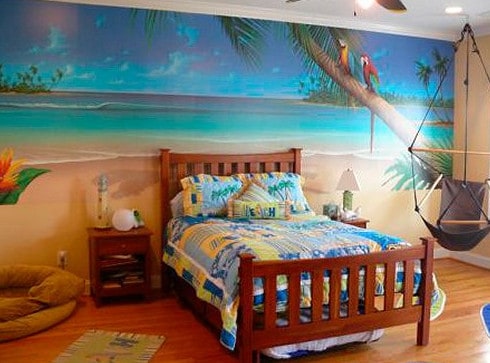 Another thing you consider is a large wall length mural or painting, which seem like a popular choice for beach themed rooms. 
You can see another swinging chair in the corner here too.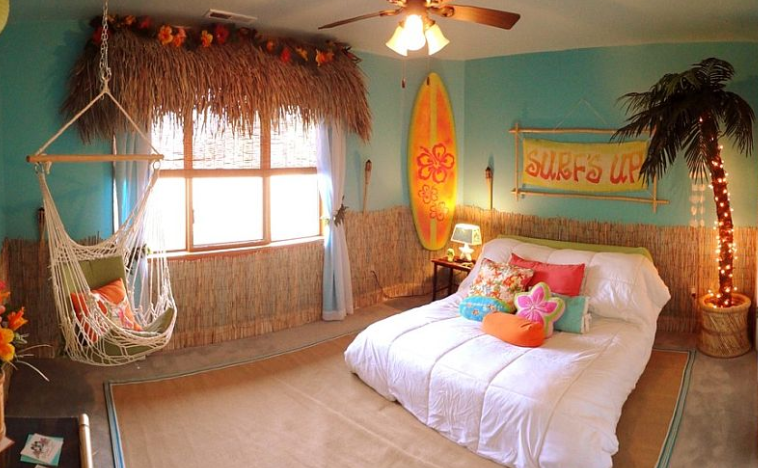 More of a surf related room, great for any kids keen on learning to surf, or ones that already love it. 
The palm tree in the corner covered with fairy lights is perfect and there is so much detail going on.
If you're interested in creating this life-like outside environment inside, scroll down to check out the palm tree light I found online.
A little more simple here, but I like those bed canopy's.  It looks very Hawaiian!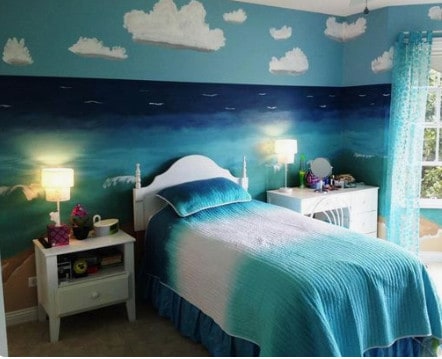 Another example of a full wall paining. A great option if you're looking to make a big impact.
Beach Related Products!
Beach Rug!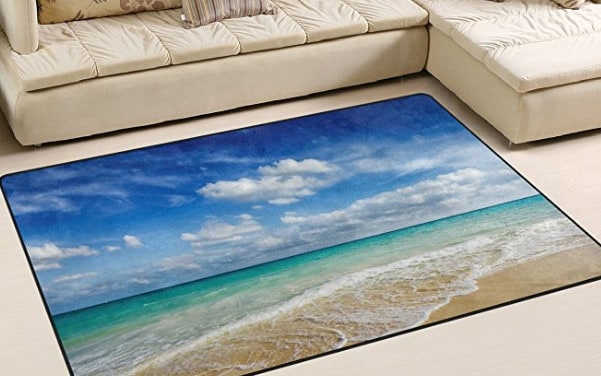 There are some really realistic beach themed rugs that you can buy here and many are reasonably priced.  So, they could really add something special. 
Wall Stickers!
Wall stickers are always a great way to boost a themed room to another level and there are some very realistic ones available.  Check out the beach themed open window sticker here. 
If you stick it on a plain wall, it looks as though you are looking out of a real window and on to the beach.
I love these Beach themed wall stickers, as they perfectly capture all of the beach theme elements – the huts, the fish, the shells and the seagulls, but my favourite has to be the seahorses!
Another example of a large size wall mural, this is a lovely colorful design – with beach huts lined up in a row.
You can find it to purchase online here and you can get hold of one in two sizes, depending on how large you'd like to go!
Surf Board Wall Hangings!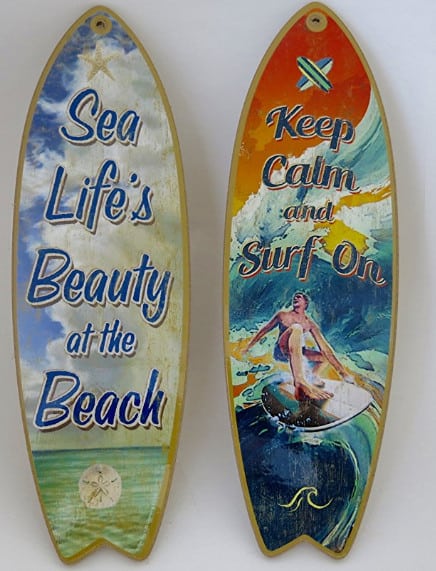 If you're keen on more of a beach-like feel to the room, what about something like this? 
Some surf board wall decor, surf boards that you can attach to the wall and come in a variety of styles and colors.
You can also get some with sayings on, like the boards above.
Beach Themed Bedding And Beds!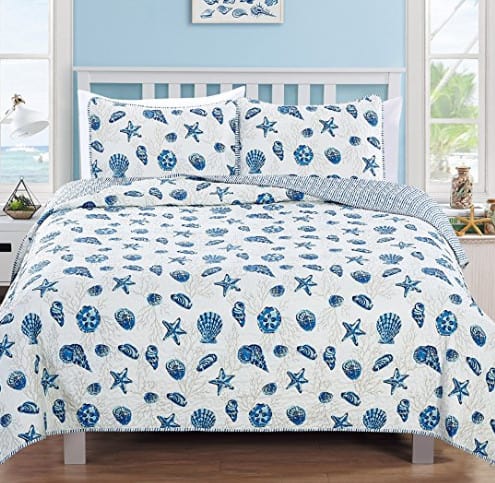 You can check out various beach bedding sets here – but I do personally like this one, showing a selection of shells.
If you can't go all out and get some sort of custom built bed, or manage to find a beach themed bed, (like a boat bed!) – then getting a themed bed set will be the next best thing!
This is a gorgeous idea, I love this beach hut style bed and it would be a great option if you have the room. 
You may want to check out my amazing kids bed post, for more options.
Alternatively, if you have a younger child you may want to consider something like … a boat themed bed!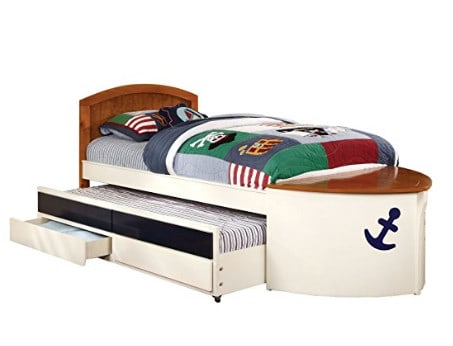 This is a gorgeous solid wood boat bed, with an additional pull out bed below.  So, it's perfect for sleepovers!
Beach Themed Lights!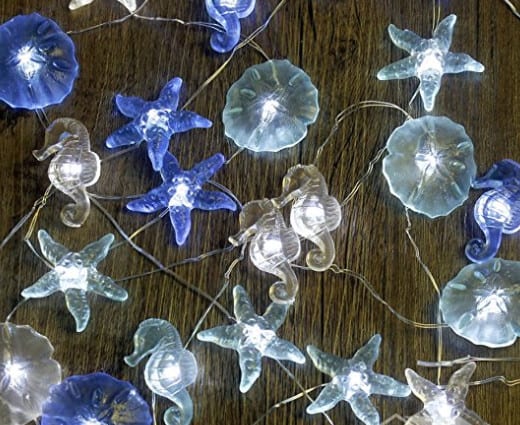 Alternatively, check out these cool under the sea string lights, with starfish, seahorse and shells.
I think fairy lights are a must in a child's bedroom for the gorgeous soft glow they give; I always turn on the ones in my boys' rooms just before bedtime.
These under the sea inspired lights can be hung around the door, over a piece of furniture, or around a bed headboard – to make a lovely feature.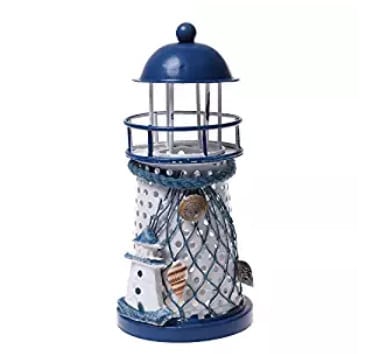 This cute lighthouse night light – 
is a great one for younger kids.  It's a safe LED light, so doesn't get hot and also changes colour, so is more of a night light as well. 
A good one for kids who aren't keen on a pitch black room!
Beach Bunting!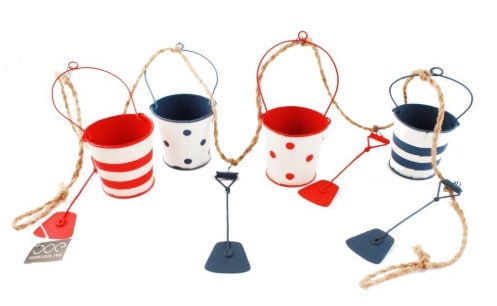 The bucket and spade bunting is a must-have for any visit to the beach – and thereforethis bunting is an ideal addition to our theme.  I really love the rope too!
Crafty Ideas?!
If you like, you could make your own authentic accessory by using all the shells you've collected from a visit to the beach to create an initial mural!
Create your own footprints in the sand memory by painting your child's feet a sandy colour and letting them stamp around on a piece of canvas.
A truly personalized accessory for your beach theme, which also captures a moment in timeof childhood!
I hope these ideas have inspired you to make a great beach-themed bedroom for your child – let me know what you think in the comments section below!
If you're looking for some uniquely designed and personalized beach themed items, I recommend you check out ETSY as well.  They're a great place to find unusual items…
Check here – for some additional fabulous items on ETSY!