I've long been an Alice in Wonderland fan and have been on the look out for some interesting related nursery wall art.  Today, I discovered some amazing sellers on ETSY  – The first being Fab Funky They have some beautiful handmade artwork.  The artwortk is hand designed and printed onto pages from antiquarian dictionaries from the 1800's.  They have a huge variety of styles and designs but there were some that I thought would be a perfect and unique edition to a nursery – specifically, I was interested in their Alice in Wonderland themed prints.
I was immediately grabbed by this piece!  This "White Rabbit" print is impressive.  I love the detail of the pocket watches and the intent look on the rabbits face.  These art works are created in Brighton, England but they do also ship worldwide.  There are various sizes and formats available, from a small 8 x 10 print, to a giant canvas, or you can choose a framed option.  Prices range from £16.42 – £150.75.
They also do have of my other favourite characters from Alice in Wonderland, "The Cheshire Cat."  Again, they have the same variety of sizes and prices available of this print.  I love the mouse lounging happily in the teacup on his head!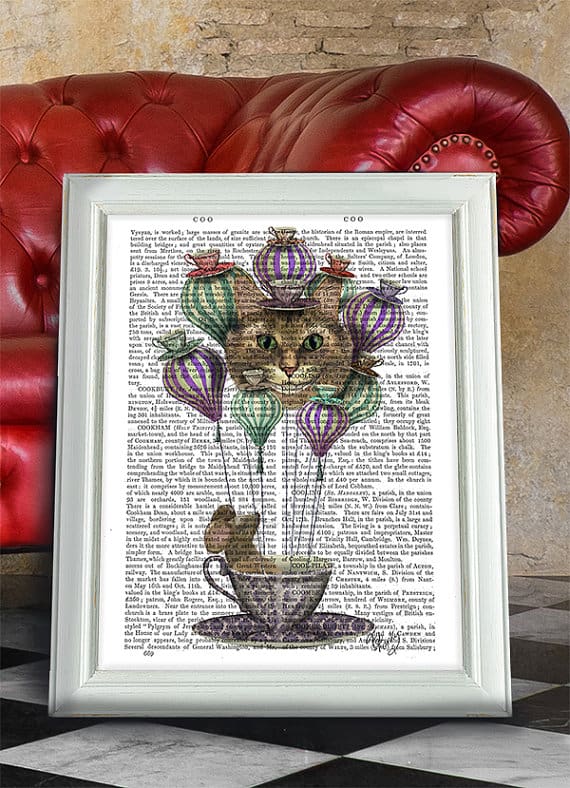 They have this alternative "Cheshire Cat" print too, complete with balloons and the little Dormouse sitting in a tea cup.  There are literally hundreds of different designs available aside from alice in wonderland, with many prints that either adults or children would love.
In addition, another seller has some similar pieces, they're called  The Curious Hat  and they also have some Alice in Wonderland themed pieces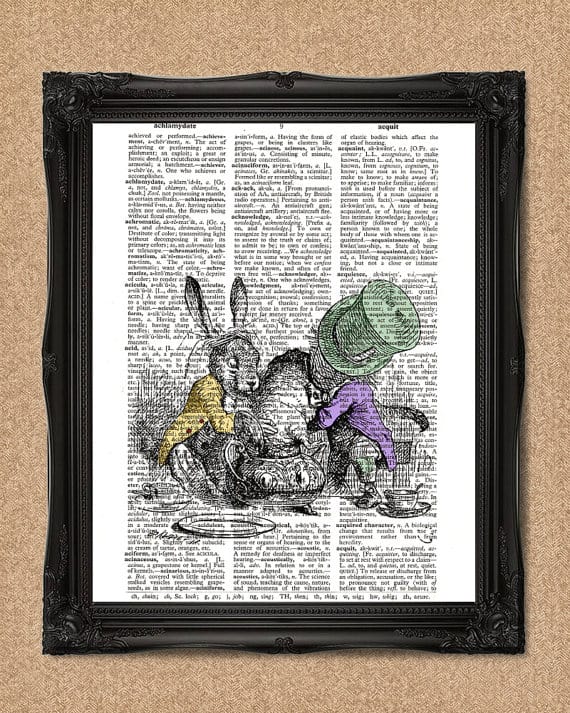 Another Alice in wonderland design showing the mad hatter and the march hair trying to stuff the poor Dormouse into a Teapot!  This seller just sells in the one size, made to fit an 8 x 10 frame.  You can have the option of choosing the print on plain white or aged paper.  They also ship worldwide.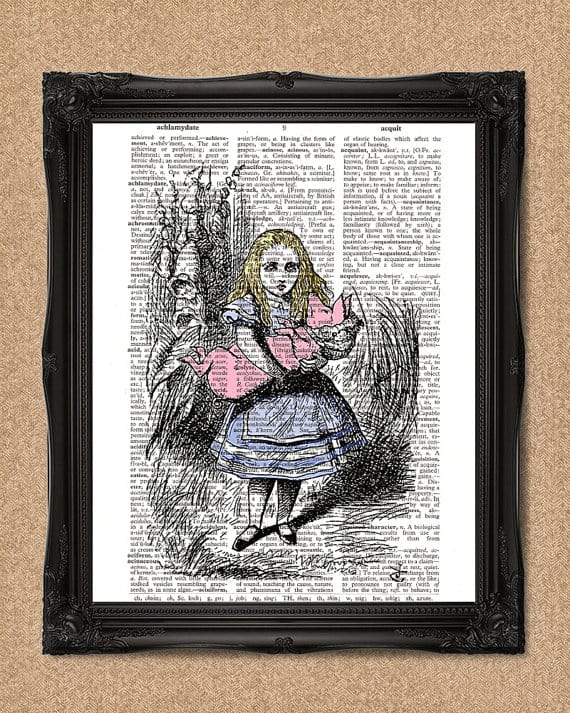 Here is "Alice."  A quirky and unique design, showing Alice carrying a pig baby!  These prints are also only £6.99, so they're a real bargain.
More antique dictionary prints from another seller too – In The Frame Shop and their prints are a little different in style, with bolder colours.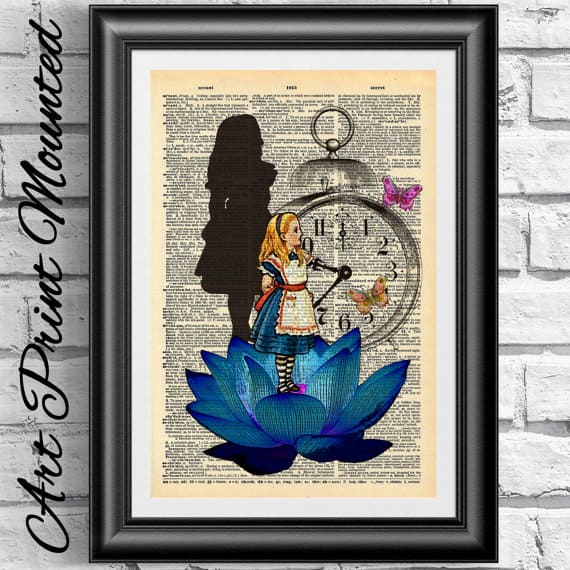 These prints are super bold in vibrant colour and this Alice Print, is only £7.99  –  so, it's another steal.  Created in Derby England and shipped worldwide.
A brilliant print depicting Alice, "The Queen Of Hearts And The Cheshire Cat," Super bright colours and careful detailing.  I like the addition of quotes on the print s too, as there are so many iconic quotes from Alice in Wonderland!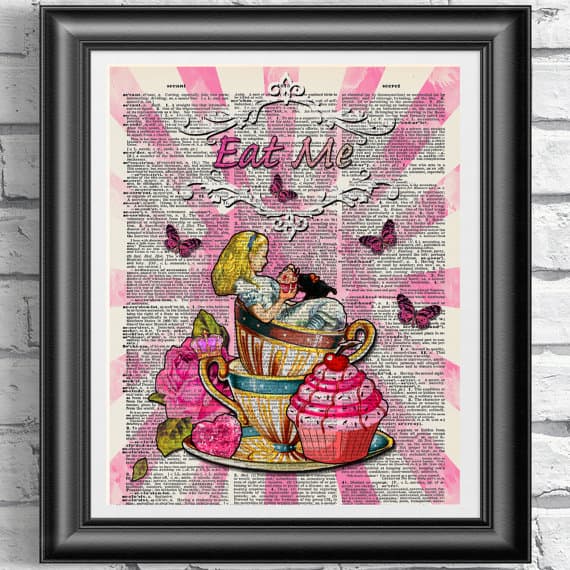 This is one of my favourites — an "Eat Me," Alice pint, with giant tea cups and a huge delicious looking cupcake.  It looks good enough to eat!
This is just a small selection of some of the amazing prints available and they all can be found on Etsy.  What I love about Etsy is the extensive choice of such high quality unique products at some amazing prices! Everything I have ever bought from Etsy to date has been top notch quality and you can get such unique items at bargain prices.
What do you think of these prints?
Leave me a comment below!