The idea of using colouring in wallpaper in children's room is a super one. How many times do we tell children to not draw on the walls when they're little…and how many just go ahead and do it anyway? Why not give them the freedom and expression to make their walls personal to them and colour in their walls as much as they like. You can get some fantastic designs now too.
I have a collection of kids colouring books that end up in a pile somewhere and forgotten about, whereas this is some colouring paper that has a really great chance of actually being coloured in!
It's quite amazing really that colouring in wallpaper has taken so long to take off, while there are some fantastic designs available now, I have a feeling that this will become more readily available in the near future, as there has been an explosion in more interactive and innovative design as far as kids decorations are concerned and there is so much room still for this to expand.
Plus, you needn't only use the paper as wall paper…
You could use some as a tablecloth.
You could pin a small amount to the wall or a board.
You could use it as wrapping paper, cut it out to use as napkins at kids parties.
You could use it to cover school books.
I'm sure you could up with many other uses besides these.
The first colouring in wall paper I discovered was on

ETSY 

 

via the seller tobechild 

and they have a number of different varieties of colouring wall paper available.
CHILDHOOD by TOBECHILD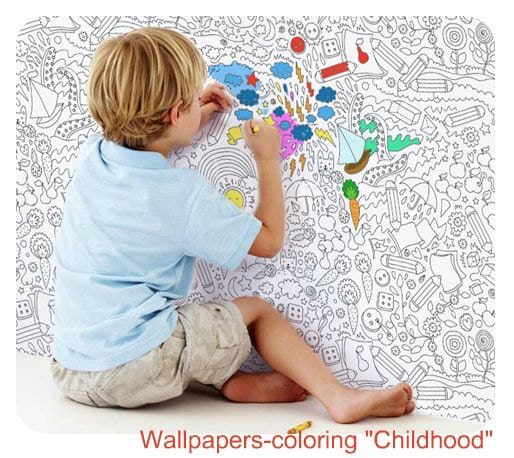 This colouring in paper is called CHILDHOOD.  The company "tobechild" ships worldwide.  The dimensions are 10m long and 53cm wide.  It has an array of unusual shapes to fill in, from rainbows, to boats, to suns and rainbows!

DREAM by TOBECHILD
From the same seller is this different theme called DREAM – they share the same dimensions as the previous at 10m long and 53cm wide.  There are cute little portraits to fill in, as well as a variety of other unusual things – much like in a dream, everything is mixed up.  

MONSTER BY  TOBECHILD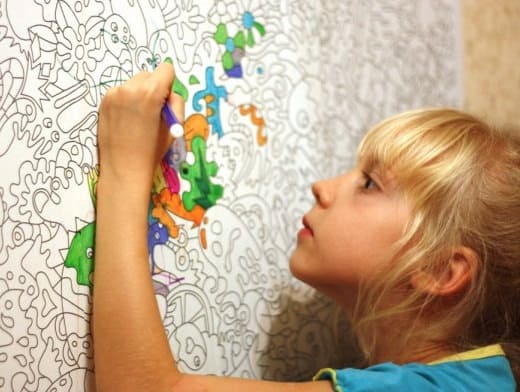 Thirdly from the same seller, is this colouring in wallpaper named MONSTER containing a variety of monster related creatures in various shapes and sizes, that your child will love.  The dimensions again are 10m  by 53cm.  Priced at 13.18.
To check out these colour-in wallpaper's and their other designs, visit the "tobechild," Etsy Shop…

Graham & Brown

Colour Me Lizzie – HOUSE OF FRASER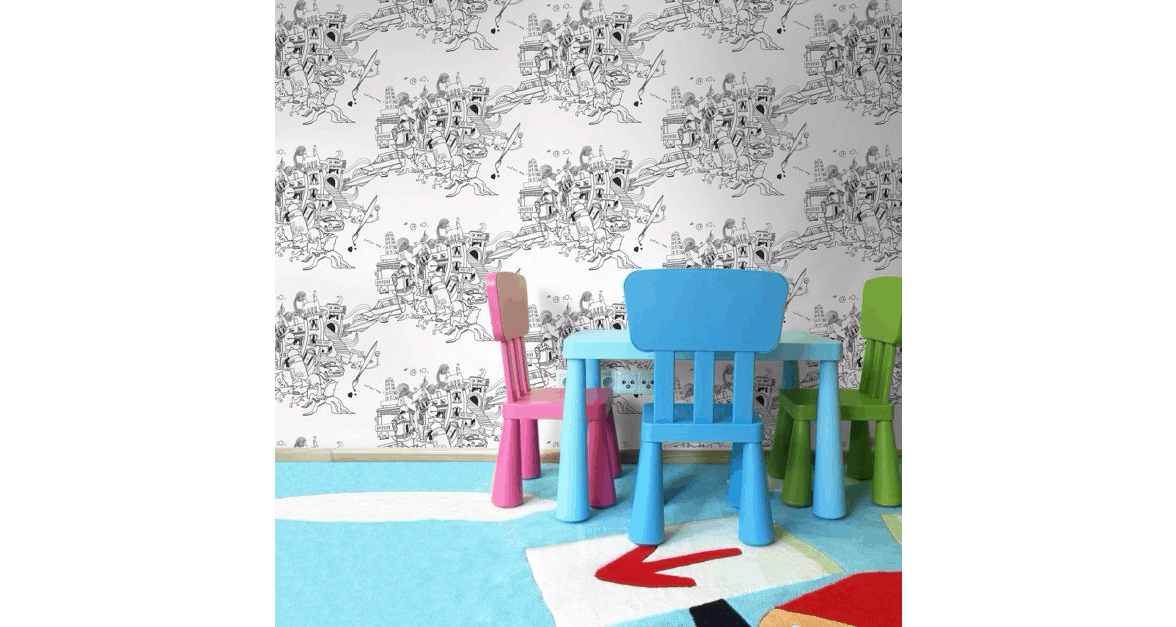 This colouring in Wall paper can be found at House Of Fraser and is called COLOUR ME LIZZIE . The width is 52cm, although they aren't showing the length at this time.  The scene is a mishmash of items including a wibbly wobbly castle and a variety of other weird and wonderful things.  

 – (CURRENTLY UNAVAILABLE!).
BURGER DOODLES!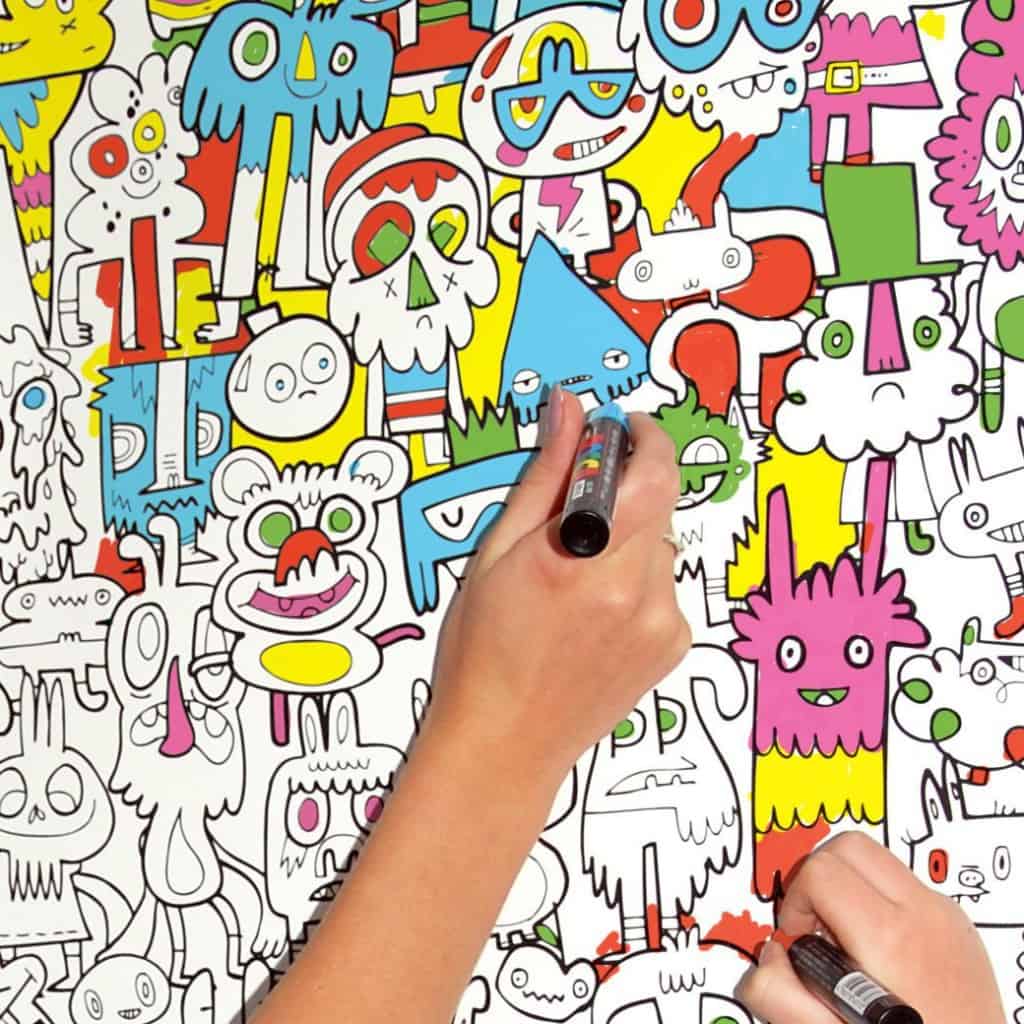 I love this one!  This amusing and fun piece called BURGERDOODLES
 can be found on "Notonthehighstreet,"  containing an unusual jolly bunch of wonderful kooky creatures.   The dimensions are 1000cm by 52cm, so it will cover a  large area!

– (CURRENTLY UNAVAILABLE).
COLOUR IN WALLPAPER BY FUNWALL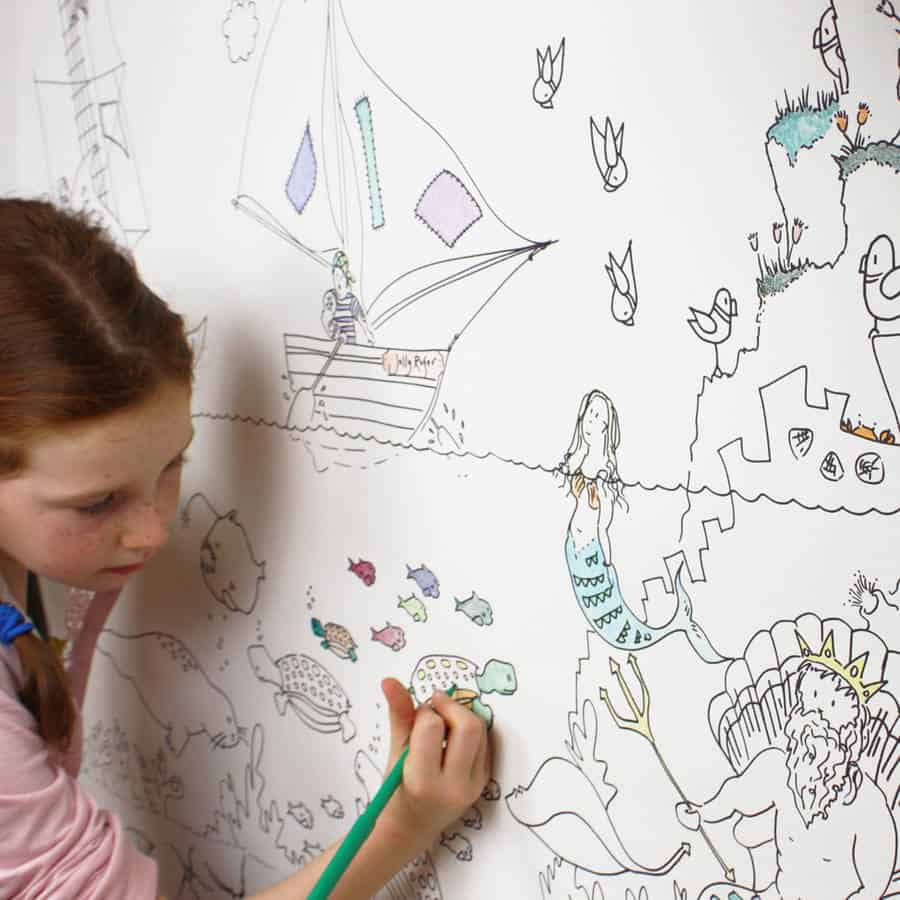 This fantastic colour in wallpaper is a large, 3 square metres of fun and 900mm high.  Plus there are 4 different designs available, whether your child is a pirate, circus, fairy or jungle fan!  Each pack comes with six sheets.  These super designs, containing great illustrations and are by FUNWALL.

Are you thinking of giving colouring in wallpaper a go?  I love the idea, only wish this stuff had been around when I was a kid.  I actually had a wall in my bedroom as a kid that I created into my own colouring wall, I created it all myself but I wasn't a great drawer at the time, they're are some great designs available here that could really look amazing when filled in.  
Which design is your favourite?  Let me know what you think in the comments!
All the best…. 🙂

Other posts you may also like….