You can get some giant colouring page Christmas trees that you can colour in with your kids and add to your walls this Christmas.  This is an extra little project that the kids can do to keep them occupied and they'll feel really accomplished after colouring one of these giant Christmas tree pages!
It's also a great way for you to spend some extra time with the kids, doing something creative and fun.  If your kids have craft boxes, it's a good opportunity to use some of the glitter, sequins and sparkle to decorate your Christmas tree creations.
---
Personalised Colour In Tree Poster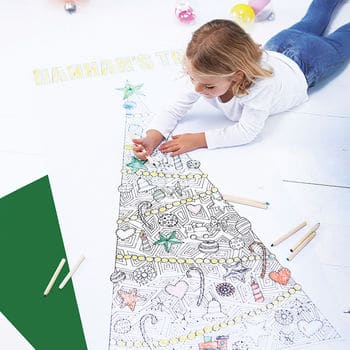 This personalised life size Christmas tree poster, great for hours of colouring in fun or even for Christmas parties, children can take turns colouring in their own bit.  You can also personalise it for your children or to send as a gift – e.g "Happy Christmas From The Robinson's!"
You can also purchase additional stickers, crayons or felt tips with this poster.  Two sizes are available, in either large at 4ft or giant at 6ft.  
---
Personalised Colour In Advent Calendar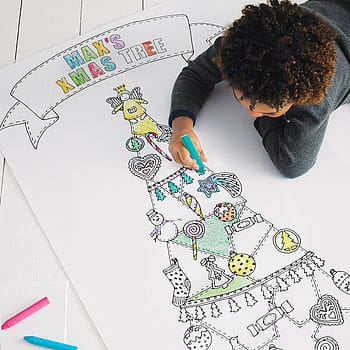 Another great colouring in Christmas tree, packed full of fun decorations to colour in.  There are also numbers included in the tree, so you can use it as an additional count down to Christmas.  Alternatively, you can get the poster without numbers, so you can just use it as a colouring in sheet.
You can also personalise the poster – for example: "Emma's Tree."  As with the product above, you can also purchase additional stickers with this tree and there are 15 in a pack, as well as additional crayons or pens if you need.  Available in 4ft and 6ft.
---
Colouring in 3D Christmas Tree
A little bit different from your regular colouring in page – this Colouring in 3D Christmas tree would make a lovely stocking filler or Christmas Eve or Christmas day activity.  It comes with some lovely little decorations to attach, as seen above.  It's 45cm high.
---
Advent Calendar Colour In Christmas Tree
A lovely and unusual Christmas Tree Calendar.  You can cut the tree out, stick it up and colour it in every day until Christmas.  It also comes with a guide of wear to punch holes so that you can add battery operated lights, which is a unique idea of how to decorate it.  You can also add your own Christmas message and a special gift wrap option is available.  The dimensions are 70 x 50cm.  You can order it with Free UK delivery for just
---
Colour in Patchwork Christmas Tree Poster
A very attractive colouring-in Christmas tree, with a patchwork design.  There is some lovely details in this poster, full of  gorgeous festive additions, such as candy canes, berries and holly.   You can also personalise the tree with a name.  As with some of the other trees, additional stickers and colouring in supplies are also available as add-ons to your order.  The posters come in either 4ft or 6ft in size.  You can get this poster delivered for free in the UK for
---
Festive Christmas Tree Poster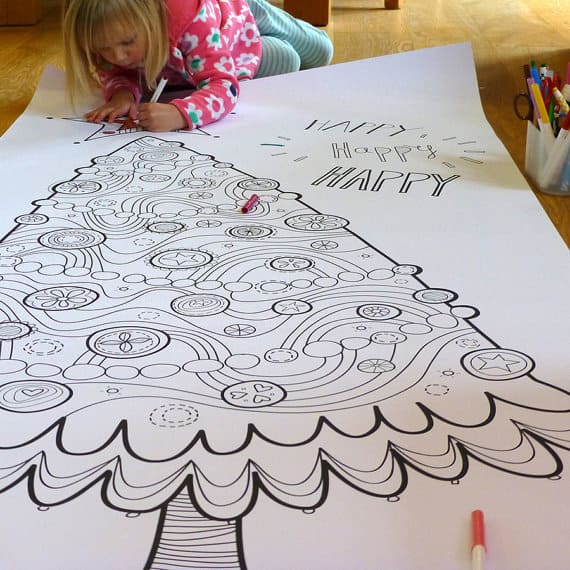 A very jolly colouring in Christmas poster.  Large enough for everyone to join in with – whether you want to colour it in with traditional colours, or go wild with bright shades, glitter and sequins!   This item comes in sizes "big" 60 x 120cm and "giant" 84 x 170cm.  worldwide delivery is available.  You can purchase this poster for
---
Which colouring-in Christmas tree is your favourite?  Do you think your kids would enjoy colouring one of these posters in?
You may also love some of these Christmas Wall Stickers!
If you found something you liked, leave my a comment!