Frozen themed bedroom ideas – for your Frozen fanatic!
The Disney Frozen film has become a huge favourite for many and surely a Frozen themed bedroom has to be on the top of many a Frozen fans wishlist!
 I thought I'd take a look at what's out there, to help you create your child's magical bedroom and I will be regularly adding bedroom themed posts, so if Frozen is not your child's no.1 obsession of the moment, stay tuned as this will be one of many.
When it comes to themed bedrooms, affordability is important.  
Because while Frozen may be your child's favourite of the moment, that could change in a year or two.
So, ideally it's best to choose a few choice items that you can easily resell at a later date and to choose wall stickers, rather than wall paper.  
Wall stickers can easily be removed and new wall stickers  can be added to easily change the theme.
Also, ideally wipe clean furniture is best, as it's so easy for furniture to get grubby when children are involved.  
If the furniture is easy to clean, it will make things easier for you and simple to keep in mint condition, if you plan on passing it on or selling it later.
Frozen Canopy Toddler Bed
This cute pale blue and purple Frozen canopy bed, is suitable for toddlers over 50 months, but will hold a child up to 50 pounds.  It's simple to assemble and is complete with safety rails to keep your little ones safely in bed.  
The real show stopper is the Frozen style canopy with organza curtains and purple bows.  Mattress sold separately.
Disney Frozen Toddler Sleigh bed, (With Underbed Storage).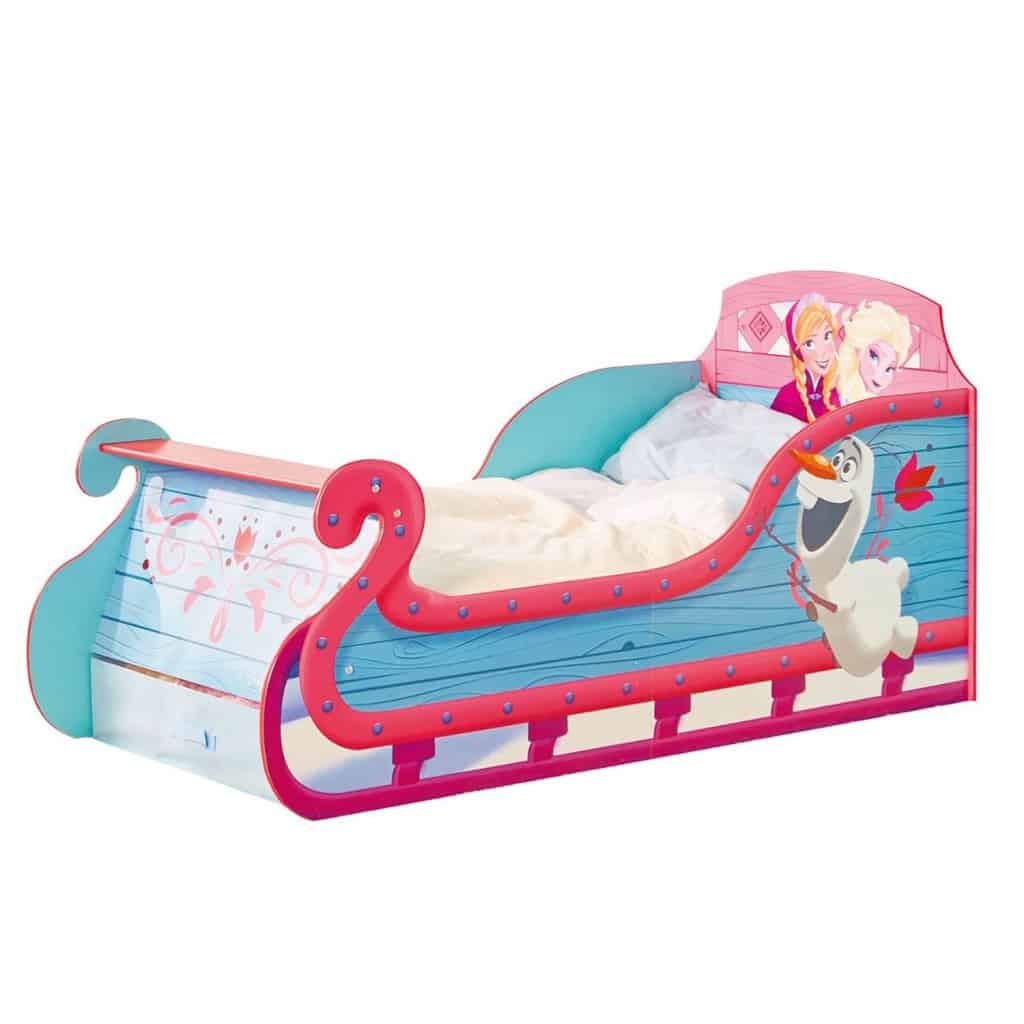 Another fantastic option, but unfortunately this bed can only be purchased via Amazon UK, (at the time of writing).
I Want a great Frozen Sleigh bed too!  Gorgeous shape and it also comes with additional underbed storage.  
Again, this is a transition bed, great for toddlers moving from a cot.   They also have a full single size bed available
 for older children.  Suitable from 18 months to 5 years.
Frozen 2-1 Bed Tent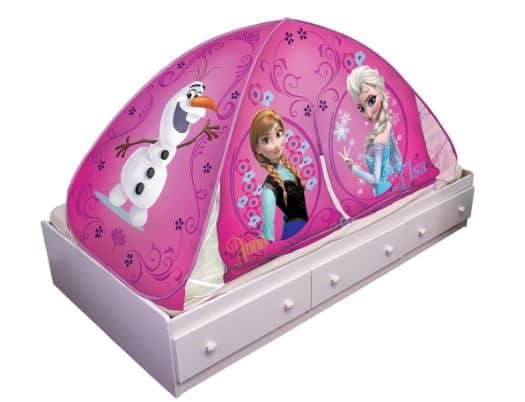 A 2-1 Frozen tent that can be used over most twin sized bed, or alternatively used as a regular play tent.
 If you don't want to go the whole hog and get a Frozen themed bed, this would make a great alternative in addition to a Frozen bedding set.
Disney Frozen Multi-Bin Storage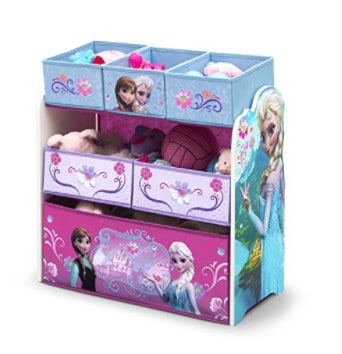 These frozen storage multi-bin drawers are great for storing anything from clothes, to toys, books or how about a costume collection?  
Easy to put away draws, so your children can easily tidy away their things by themselves – so, an excellent way to start learning important tidy up skills!  Simple to assemble!
Disney Frozen Recliner Chair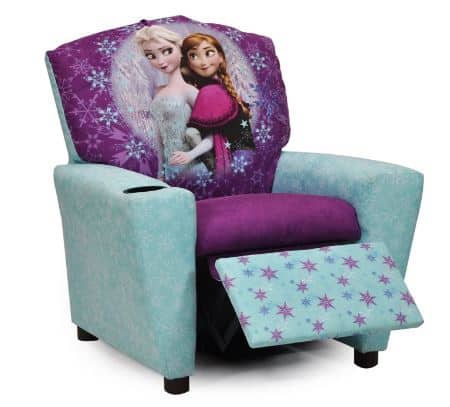 A pretty "grown up" reclining Frozen chair, suitable for 3-7 year olds.  In the classic Frozen colours, with a big picture of Elsa and Anna on the back of the chair.
 It even has it's very own cup holder and foot rest that you can raise up and down.  I can imagine it would be cosy to snuggle in while watching yet another re-run of Frozen.  🙂
Disney Frozen Table And Chair Set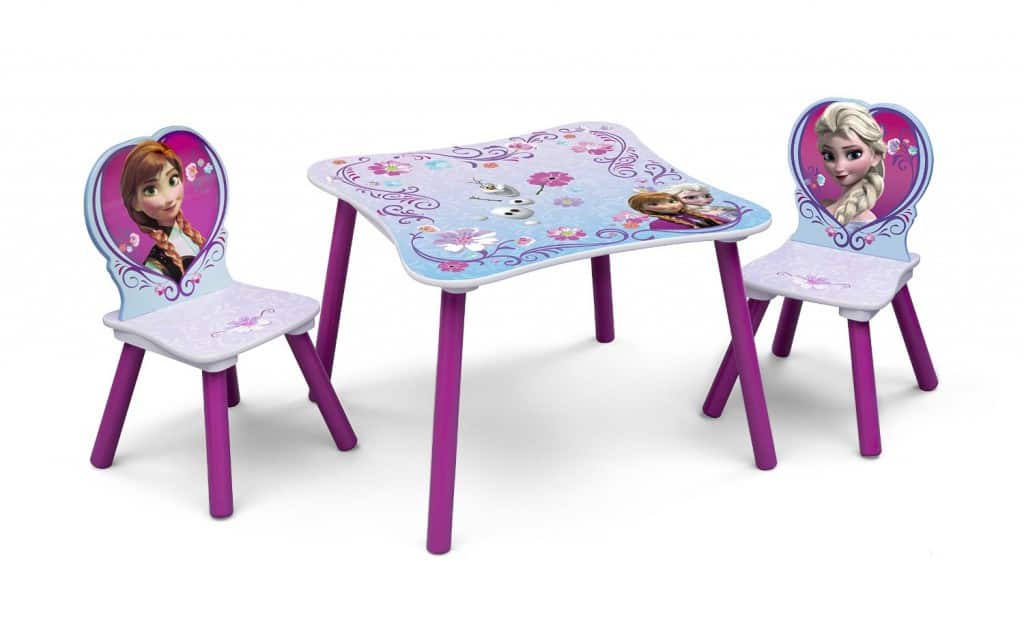 A lovely mini table and chairs set, good for a bite to eat, having friends over, drawing and crafting or homework from school.  This would make a lovely addition to your child's Frozen themed bedroom.   
A table set that can easily last several years. Recommended for 2 years plus, made from engineered and solid wood.
Olaf Frozen Wall Light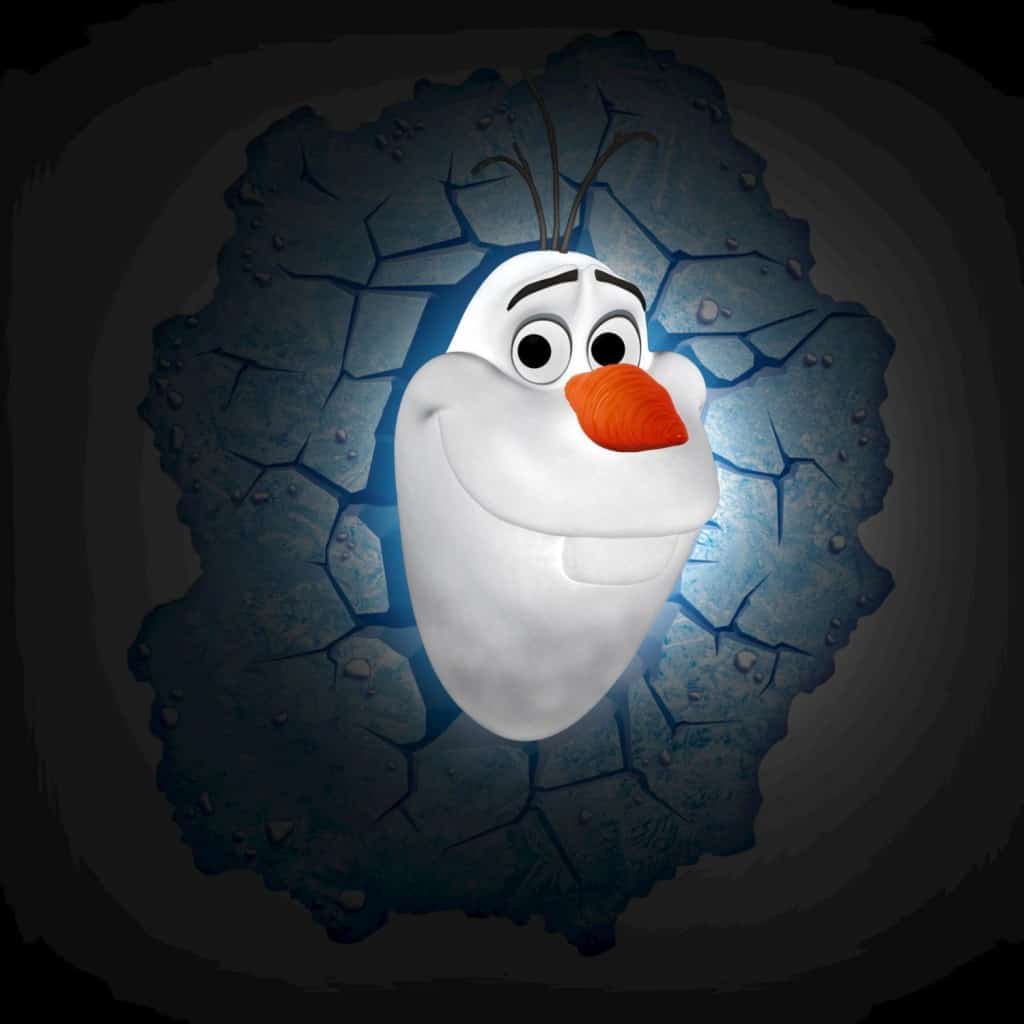 I discovered this Olaf wall light recently and mentioned it in my kids wall light post.  
The Frozen character light is mounted on top of a cracked wall sticker, so it looks as though he's crashing through the ice behind him.
It may look quite tricky to assemble, but it's actually incredibly easy to install and there is no electricity required, as it's battery operated.
A light like this can really transform a room into something special.  It's simple to apply and uses LED lights – which stay cool to the touch!
Disney Frozen Palace Playset
Adding a giant Frozen Style castle playset to your child's themed bedroom,would certainly make an impact.
This one is the perfect size to play with the original dolls of Anna and Elsa.
 If your child loves pretend play and dolls houses, this is an exceptional one and the floor even lights up when you tap it, just like how Elsa does it in the movie!
You can even transform the snow into stairs and make the castle grow taller by turning a crank to increase the size.  There are also plenty of great accessories included.
Elsa Frozen Wall Sticker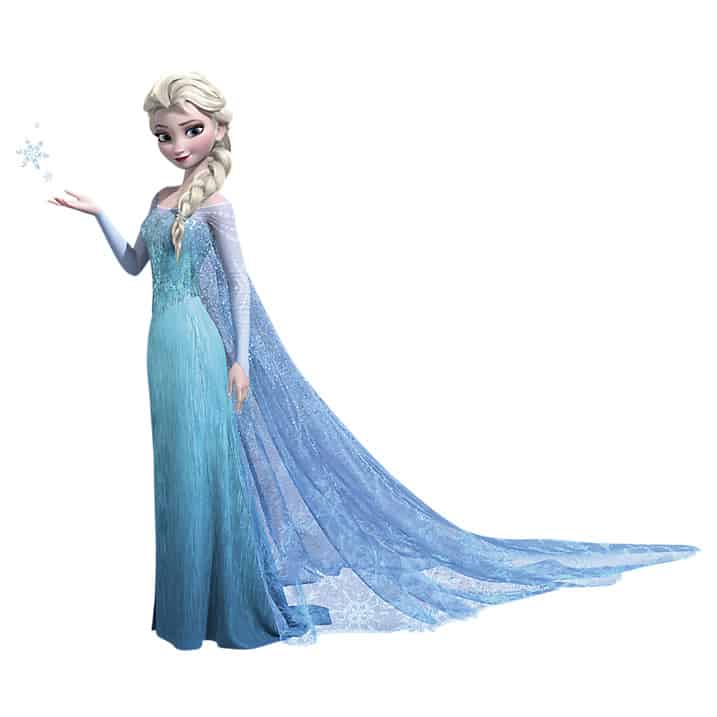 A beautiful Frozen Elsa Wall Sticker,which looks incredibly realistic.
You can check out several others at my designated Frozen Wall Sticker Page.  
Wall stickers are such a simple and cost effective way to really transform a room and are especially ideal for themed bedrooms.  
No need for wall paper, when you can add these so simply and change them at any time.
Quick to apply – simply peel and stick! 
Disney Frozen Kids Bookcase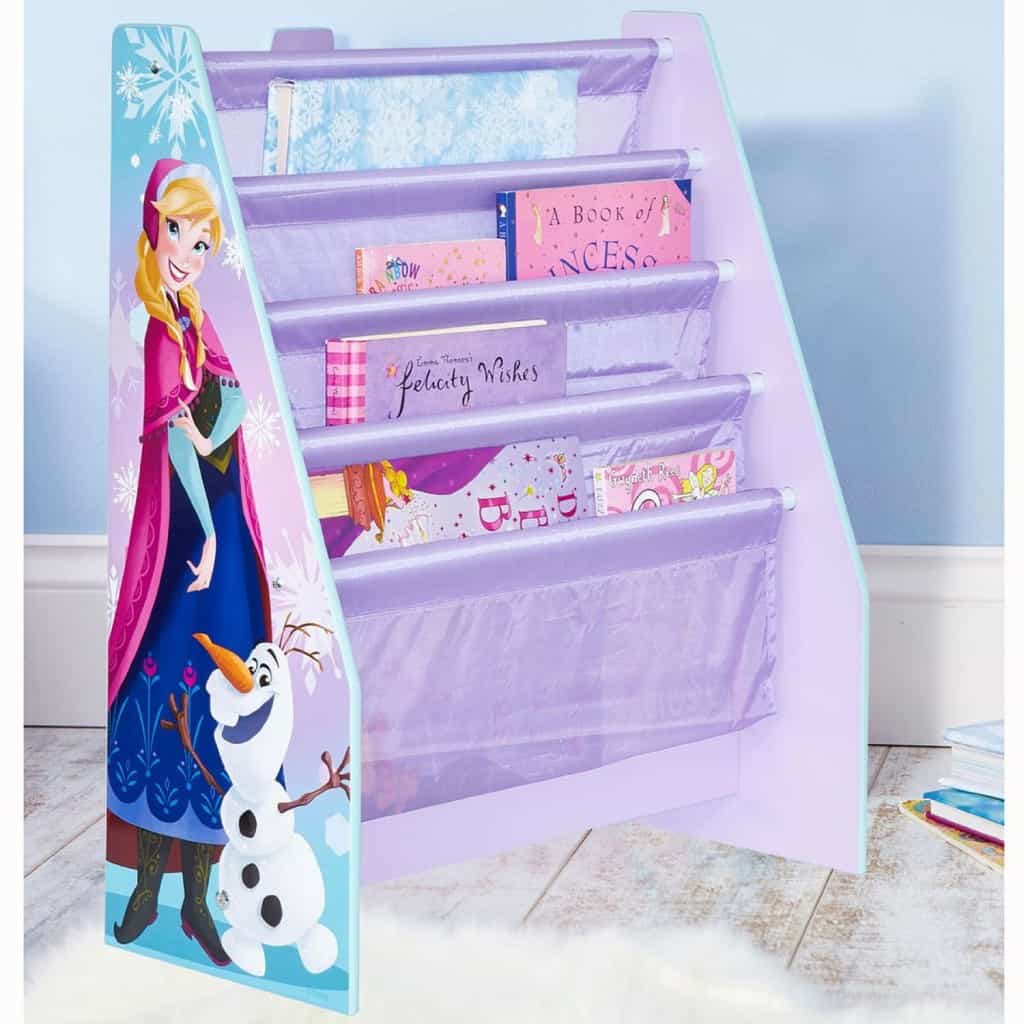 The Frozen inspired bookcase has four cling compartments to fill with plenty of kids books!  It looks lovely to display all your kids books facing out and makes them easy for your child to find which one they'd like to read.  
It's also much easier for them to put their own books away.
Simple to store various sizes of books so that your child can choose them easily.  There are four compartments for plenty of books.
Frozen 3 in 1 Convertible Bench, Desk and Toy Storage Box.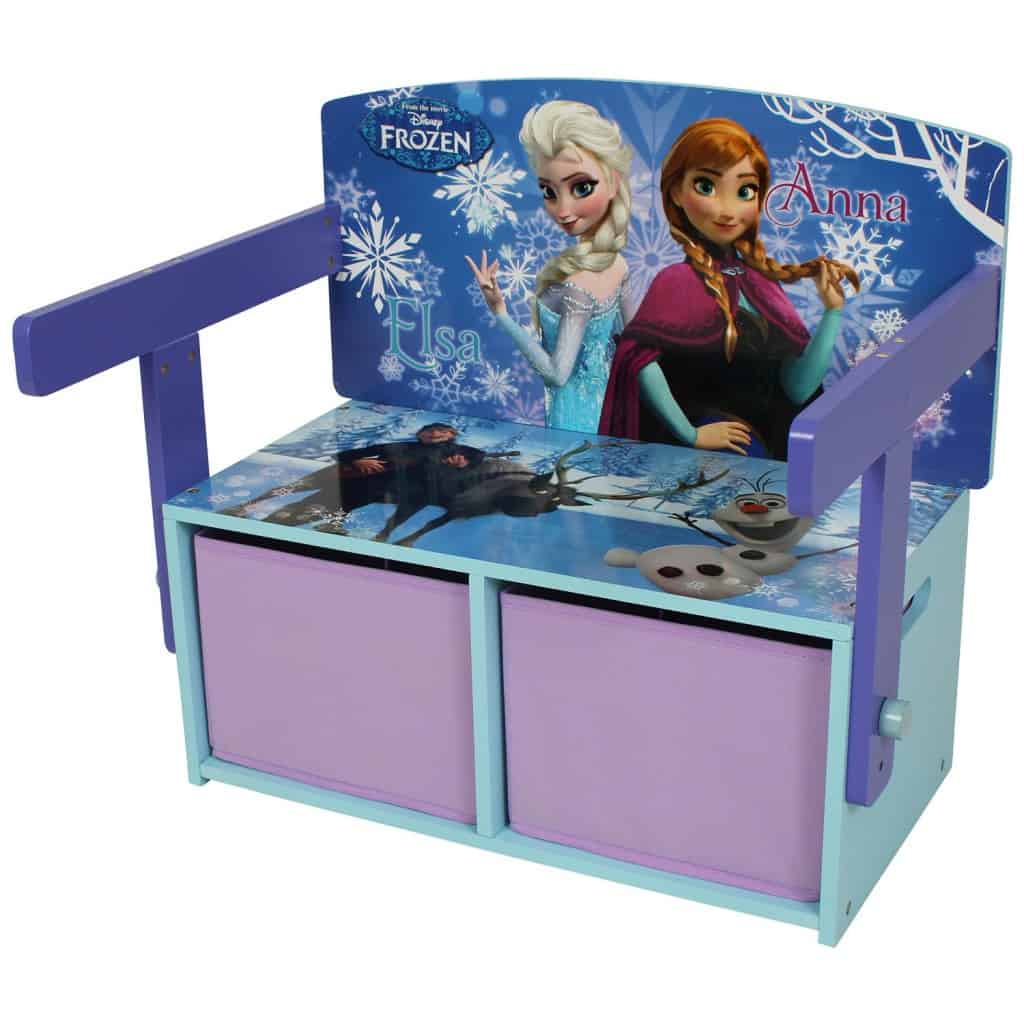 A fantastic convertible Frozen themed bench, which is also a desk and a toy chest!  A great opportunity to gain three pieces of furniture at once for a very good price. A  Lovely bright and detailed picture of the Frozen characters on the front too.
---
When do you think you'll be creating your Frozen themed bedroom – do you have many ideas?  I've added some additional Frozen items below that you may like to see too.
Who is your child's favourite Frozen Character?  Leave me a comment below!
All the best… 🙂

Other Posts That May Interest You….