Welcome back to a new blog post and this time we are going to be talking about Halloween Kids party ideas!
Ah, Halloween – a time when the air is crisp, the leaves are golden, and the excitement of young ones is palpable.
For many children, Halloween is more than just costumes and candy; it's a magical night filled with mystery, imagination and the delightful thrill of a gentle scare.
There's something infectious about seeing our neighborhoods transformed with jack-o'-lanterns and ghoulish decorations, making it a special occasion that stands out in their young memories. And what better way to amplify this magic than with a themed party?
Bringing together playful decorations, deliciously spooky snacks, and games that ignite their laughter, Halloween parties can be the highlight of their autumn. Let's dive into some kid-friendly essentials to make your Halloween bash truly unforgettable.
So, this post is dedicated to Halloween party ideas for kids… Including Halloween themed snacks, Halloween decorations and Halloween games.
First and foremost, lets talk about some HALLOWEEN SNACKS!!!
Cute Halloween Snacks For Kids:
Every memorable party begins with delightful treats that both tickle the taste buds and delight the eyes. However, most of us also want some easy Halloween snacks because Kids parties can be stressful enough… Am I right?
Here are some scrumptiously spooky ideas for your kids Halloween party…..
Ghostly Banana Pops:
Transform simple bananas into spooky treats. Cut bananas in half, insert popsicle sticks, and then dip them in melted white chocolate or vanilla yoghurt. Place two mini chocolate chips as eyes, and let them freeze for an hour. Not only are they adorable, but they're also a slightly healthier alternative to all the candy!
Image from momskitchenhandbook.com
Mummy Hotdogs:
A savoury treat that's bound to be a hit! Take your regular hotdogs and wrap them in crescent roll strips, leaving a little gap for the "eyes". Bake them until they're golden brown. Once out of the oven, dot two eyes using candy eyes, or simply use mustard or ketchup for ease.
Image from lilluana.com
Witch's Brew Punch:
This effervescent concoction will have kids coming back for more. Mix lime sherbet with lemon-lime soda in a large bowl. Float gummy worms on top for an added spooky effect. For a bubbling cauldron effect, you could drop in a few pieces of dry ice (but ensure no one touches or ingests the dry ice!).
Image from servedupwithlove.com
Spider Web Pizza:
Upgrade your pizza night with a Halloween twist. Use your regular pizza base and sauce, but when adding cheese, do so in a spiral pattern to mimic a spider's web. Place black olive slices as spiders. Once baked, you'll have a delectably creepy centerpiece for your food table.
Image from thursdaynightpizza.com
Spooky Decorations:
As we are talking about Halloween party ideas for kids….. Setting the right atmosphere is crucial. The ambience you create with your decorations can transport the little ones straight into a world of playful spooks and friendly monsters. Here are some ideas to help you set the right scene.
DIY Ghost Lanterns:
These luminous spirits will guide your guests through the party! Inflate a balloon and cover it with a mixture of glue and water. Drape cheesecloth over it, letting it dry overnight.
Once hardened, pop the balloon, and you'll be left with a ghostly figure. Glue on black paper eyes and mouths. Place a battery-operated candle or LED light underneath for a haunting glow.
Image from doodlecraftblog.com
Spider Web Entrance:
Welcome your guests with a webby embrace. Stretchable cotton or yarn can be used to create webs across doorways or windows. You can even add plastic spiders for a more eerie effect. It's simple, yet sets the tone as soon as someone steps in.
Bat Wall:
A flurry of black bats can create a stunning visual. Cut out bat shapes from black paper or felt. Then, using double-sided tape or blu-tack, attach them to a wall in a random pattern, as if they are in mid-flight. Different sizes and wing positions can make it even more dynamic.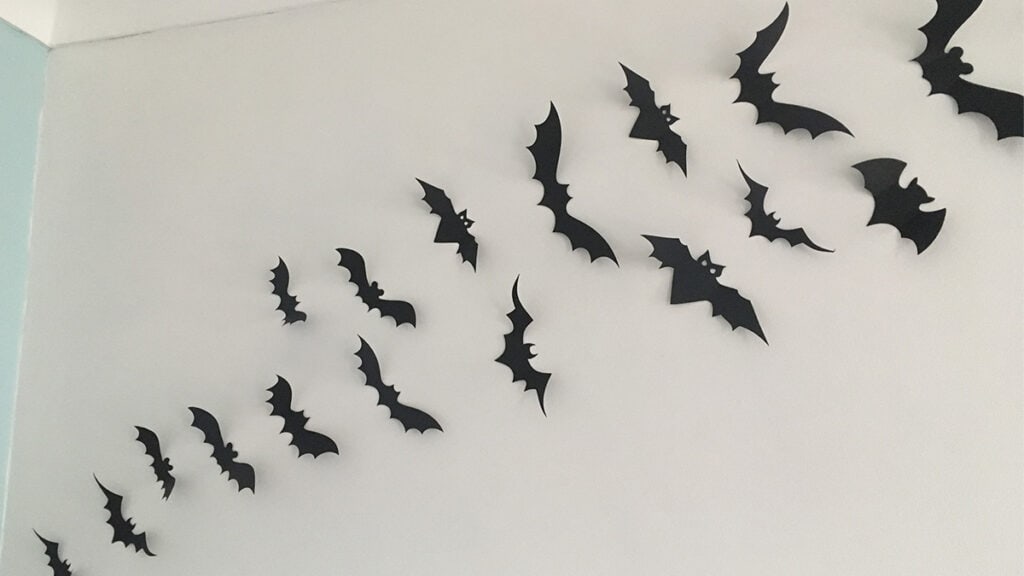 Image from craftwithsarah
Pumpkin Centerpiece:
The iconic symbol of Halloween, a carved pumpkin is always a win. Get creative with your carvings – from traditional jack-o'-lantern faces to silhouettes of cats and witches. Place a battery-operated candle inside to cast a warm, eerie glow.
image from Instagram.com/culinarydesigngroup
Games and Activities:
No Halloween party is complete without some spook-tacular games and activities. These are not only entertaining but also a fantastic way to channel the children's energy and excitement:
Pumpkin Bowling:
An autumn twist on a beloved game. Use mini pumpkins as your bowling balls. For the pins, you can paint empty soda bottles in ghostly or monster designs. Set them up, roll the pumpkin, and watch the kids' excitement as they aim for a strike!
image from recycledcrafts.com
Witch Hat Ring Toss:
This game combines skill with a touch of magic. Create or buy cones shaped like witch hats and set them up at varying distances. Provide glow-in-the-dark rings, and have kids try to toss them onto the hat's peak. Adjust the difficulty by increasing the toss distance for older children.
Image from discover.hubpages.com
Ghostly Treasure Hunt:
A spooky spin on the classic treasure hunt. Hide "ghost" candies, toys, or clues around your home or yard. Provide kids with a series of riddles or a map leading them to the next ghostly treasure. The anticipation and adventure will keep them engaged and active.
Monster Dance-off:
Turn up the Halloween-themed music and let the little monsters groove! Play classics like "Monster Mash" or "Thriller." Pause the music randomly, and when it stops, kids must freeze in their best monster pose. The last one moving is out, but the fun is in watching everyone's creative poses!
CONCLUSION:
As the chilly winds of October begin to blow, and the nights grow longer, the enchantment of Halloween beckons. This holiday offers a unique blend of spookiness and excitement, especially for the young ones.
By hosting a Halloween party with thoughtfully chosen treats, spellbinding decorations, and thrilling games, you're not just celebrating a holiday—you're creating treasured memories. R
emember, it's the laughter, the stories, and the shared moments that make a party truly magical. So, light up those jack-o'-lanterns, cue the eerie music, and embrace the whimsical world of Halloween.
Here's to a spook-tacular bash that will be remembered for many Octobers to come!
Got any bewitching tips for crafting the ultimate kids' Halloween bash? Share your magic in the comments below.
Pin me for later!!