My son got a couple of kid stamp sets for Christmas and absolutely loves them.
 Since these stamping sets were a success, I did a little research to look for some more and I came across Melissa & Doug.  They are a toy company based in US, but thankfully we can get their toys in the UK too.
I love the story of their company, as it all began in Doug's basement where Doug grew up and expanded from there!  They are a husband and wife team and started the business together.  Most importantly, they create really great quality toys.
The reason I discovered their products in the first place was looking at stamping sets and found that they have a great selection.  The stamping sets are beautifully packaged in wooden boxes, (great for storage) and look really appealing. Any set would make a lovely gift.  They have an awesome selection, I'm sharing some of my favourites here.  There really is a stamp set to match any child's interests.
Stamping is a great way for your child to be creative, there are no rules and they can create any scene they wish.  They're also pretty mess free, so long as you have plenty of paper at the ready!
---
Friendship Stamp Set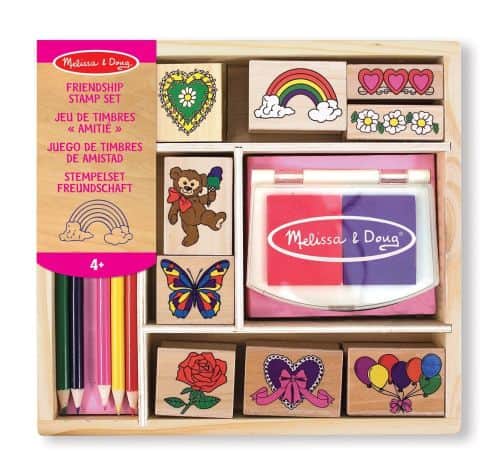 These stamp sets come in lovely strong wooden boxes that make storing the stamp sets easy, this is a cute set that would be lovely for making cards to friends.
---
Animal Stamp Set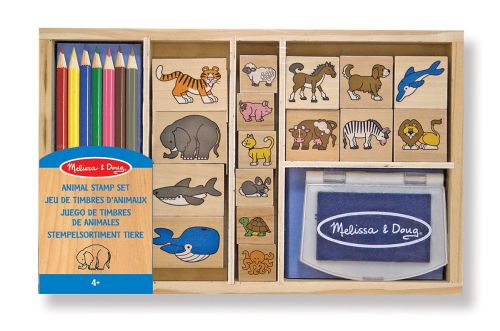 Animal stamp set, with a variety of different animals in different sizes, so your child can create all sorts of fun animal scenes.
---
Dinosaur Stamp Set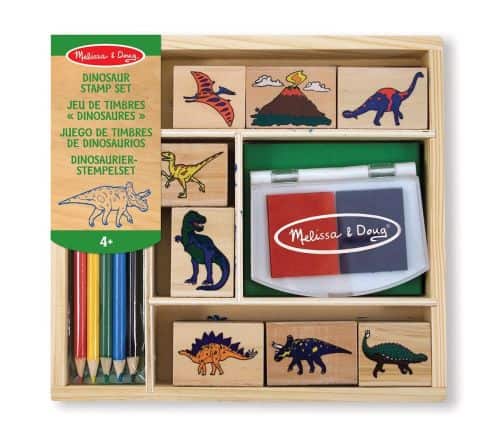 A great selection of Dinosaur stamps, for the Dino enthusiast!
---
Princess Stamp Set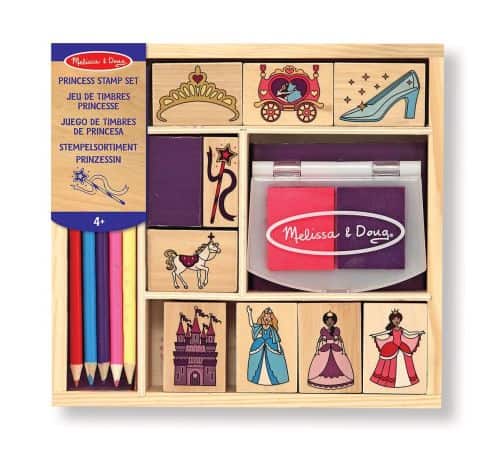 For those children who want to be princesses, this would be a lovely gift.  Great extra's such as the castle, horse and slipper make it easy to create a princess tale.
---
Stamp A Scene Set
All sorts of animals and objects that would be great for building a farm type scene.
---
Fairy Garden Stamp Set
One for the fairy enthusiasts, a very large selection of fairy-related stamps that could create endless magical fairy scenes.
---
Wooden Handle Stamp Set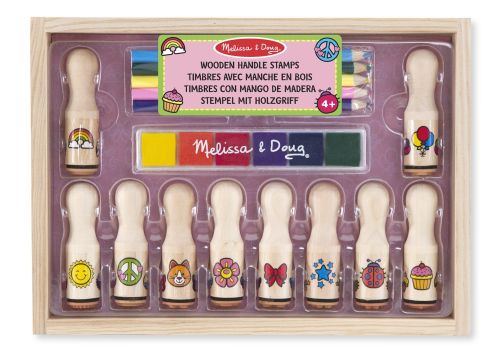 Super, easy to hold, wooden handle stamps – which are perfect for younger children, who will be able to hold them easily.
---
Pets Stamp Set
Great for a child who loves their pets, there is a great selection to choose from here.
---
Melissa & Doug create wonderful, quality toys that are actually built to last.  I love that they have a big focus on wooden toys, because I feel they often look so much nicer and certainly last longer than many modern day toys, that do not last!
If you fancy it, you may like to give it a go making your own kids stamps too! Foam kids stamps can be made pretty easily and would make a fun project for kids. Check out the video below for a super easy way to make some foam kids stamps
Has your child had a stamping set before? Which one is your favourite? Please leave me a comment below!
All the best,

If you enjoyed this post, don't forget to share on social media via the icons below. Many thanks!