Would you like an alternative Christmas tree just for your child's room,  or at least a Christmas tree-like decoration for them?  I find that kids love to bring a little bit of Christmas into their own rooms when they can, so a mini tree or some Christmas decorations just for them, is a popular idea.
Alternatively, finding a really fun tree that the whole family can enjoy, could be another way to get their input! There are some unique Christmas tree ideas out there that your kids will love – here are my top picks for some creative Christmas tree ideas!
---
Alternative Wooden Christmas Tree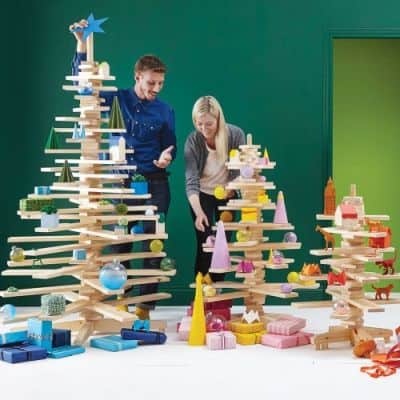 Here is an alternative wooden Christmas tree that is both simple and fun to put together!  The kids could spend hours having fun constructing it and no need to worry about the gazillion pine needles on the floor or the never ending puzzle of "which branch goes where," when it comes to the artificial trees.  I love this idea and actually, it would be a great way of storing little presents on the "branch" shelves.
You could also put other little items on there, like chocolates, cupcakes or even toys that haven't been wrapped but just placed in different places on the tree on Christmas eve.  There are three sizes available, with the smallest being perfect for a child's bedroom.
---
Colouring in Christmas Tree Wall Sticker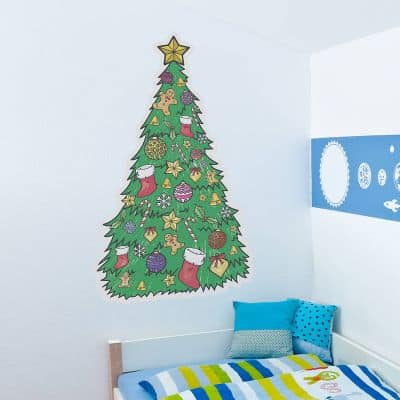 A gorgeous idea this one – A colouring in Christmas Wall Sticker!  A really nice way for your child to have their own tree in their room and one they can personalise by colouring in themselves!  A high quality vinyl wall sticker, this one can easily be coloured in using felt tips or colouring pencils.  The wall sticker can easily be removed without residue.  You can also check out more Christmas wall stickers here.
---
Wooden Puzzle Christmas Tree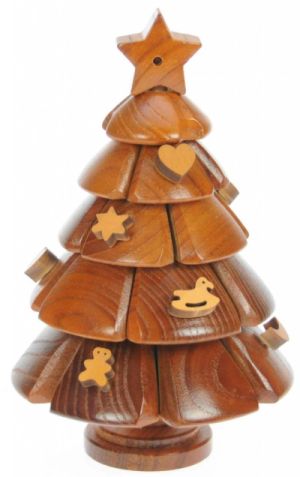 This is a beautiful hand crafted wooden 3D Christmas tree puzzle.  No, this one won't be for replacing your traditional tree but would make a lovely additional decoration in your home or in your child's room.  Plus. it has the additional bonus element of being an educational toy – it's easy to pull a part, but will be a challenge to fit back together!
---
Inflatable Christmas Tree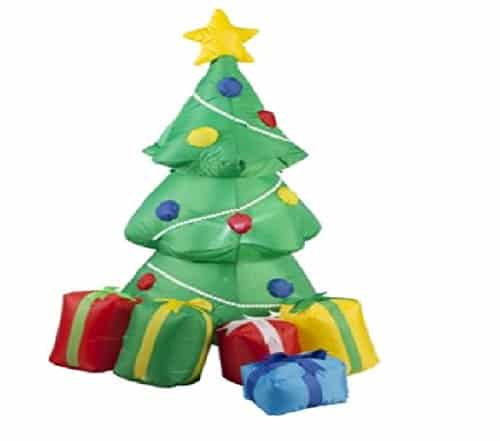 My children would go absolutely wild for this inflatable tree!  It's suitable for both in and outdoor use and has an inbuilt LED light.
---
Felt Christmas Tree 

This felt Christmas tree for kids to decorate themselves would make a great decoration for your kids room – as they can continue to decorate it and swop items around all Christmas.  Something like this would also be simple to make, simply by buying some felt and craft supplies from somewhere like Hobbycraft and cutting out appropriate Christmas felt shapes ready to stick on.  However, if you want the convenience of having one ready made, then you can always purchase one like this.
---
Rainbow Christmas Tree 
I absolutely love this Rainbow tree and am sure plenty of kids would too.  If you're looking for a fun and flamboyant tee, that's super colourful, then this will fit the bill!  Although you could decorate it, it would look stunning enough with just some simple twinkle lights.  Or you could go all out and fill the tree with quirky and equally unique ornaments.
---
Christmas Tree Advent Calendar
Obviously this cannot be used as a real replacement for a tree, but as an additional tree on your child's room wall as decoration and it also doubles up as an advent calendar!
---
Fibre Optic Light Christmas Tree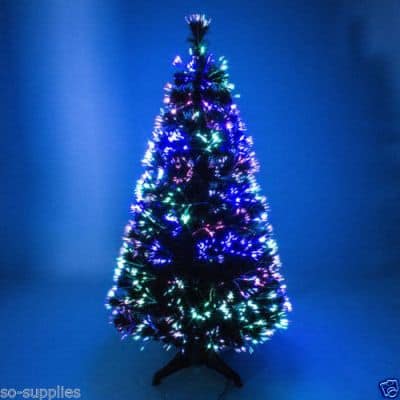 One thing my kids are huge fans of is LIGHTS and having a tree like this is really simple, because you don't have to struggle trying to untangle metres of wire lights to try and wrap them around the tree and really, you don't need ornaments on it either!  (unless you want to of course).
---
Large Inflatable Christmas Tree – With Disco Lights!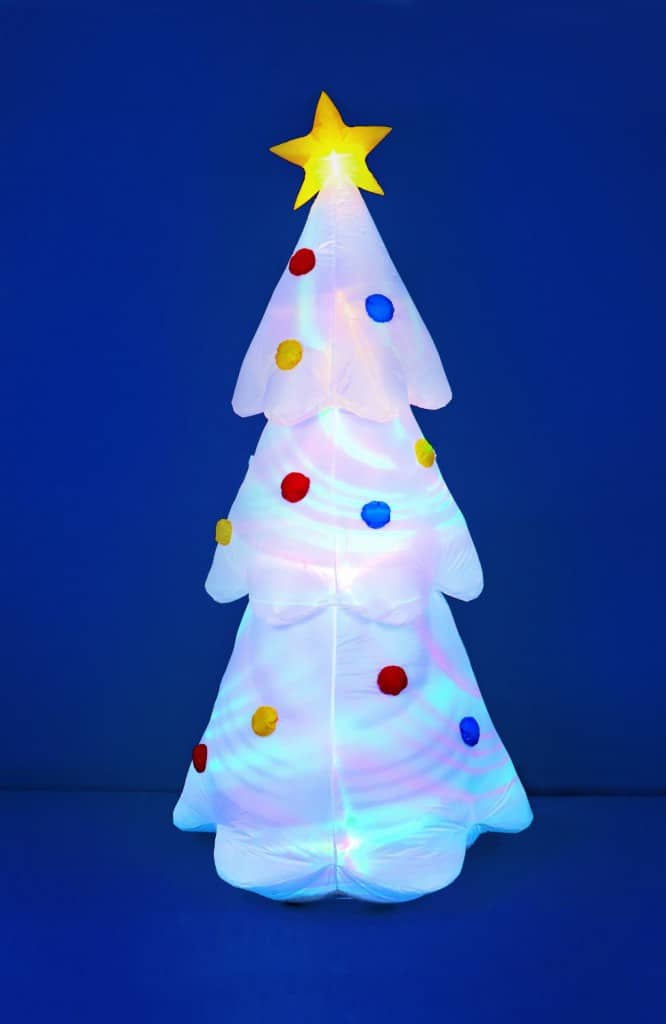 I had to include another fun inflatable Christmas tree – this one also has a unique feature, as it's illuminated by flashing disco lights inside!  Now, this is a very large tree and so perhaps best for outside use.  You'd certainly make an impact having it in your garden!
---
Egg Box Christmas Tree
Lastly, if you have a mountain of recycling, (or fancy collecting off others) why not have a go at creating a DIY tree!  It wouldn't just need to be egg boxes, let your imagination run wild – any materials that need recycling could be painted and either placed, fixed or glued together to create a really fun Christmas tree project that the kids can be involved in.
Add some sparkly decorations and lights and you could create a very unique Christmas tree indeed – while recycling at the same time!  I came across this tree creation over at Toovia.com. 
Check out some additional creative Christmas tree ideas in the video below!
Don't forget, you can also check out some great Christmas Wall Stickers at my designated post here.
What is the most unusual Christmas tree you've ever seen?
Why not leave me a comment below!
If you enjoyed this post, I'd appreciate any shares!  Many thanks!