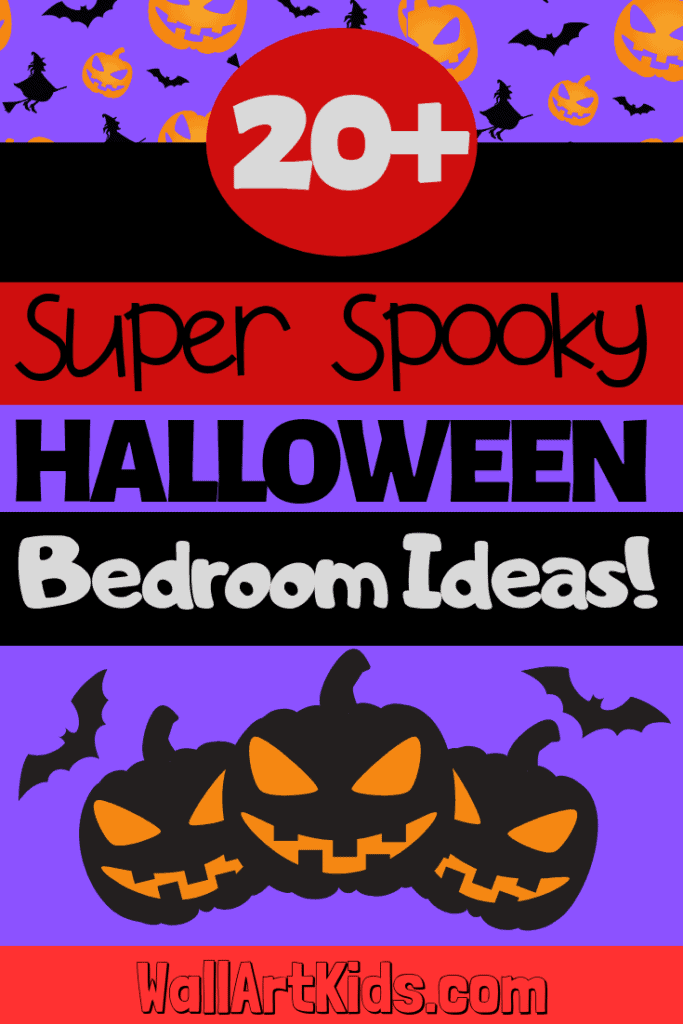 My children are huge Halloween fans, especially my youngest.  
In fact, we often even have a Halloween themed Christmas, based on the "Nightmare Before Christmas."
 So, I know that my son would love to have a touch of Halloween all year if he could. Would yours?  
First I'll just share a few ideas I've found on the web!
BUT, scroll down and I will let you know where you can buy some similar or appropriate items so that you can create your own Halloween inspired rooms!
With Halloween coming up, this seemed an ideal post to do :).
Check out these 20+ Halloween Bedroom ideas & let me know what you love about Halloween in the comments!
Halloween Bedrooms!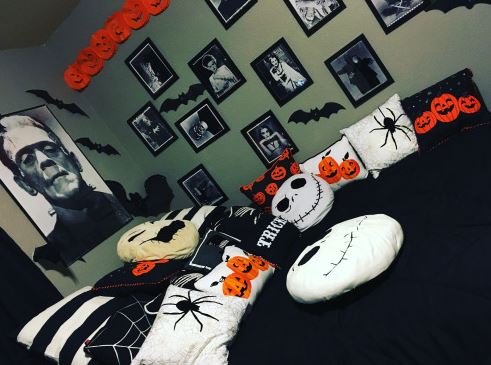 I love this, it would be perhaps more suitable for an older child but a really simple look to recreate.  With some Frankenstein prints or posters that can be framed, some Jack Skellington pillows  – plus some other suitably spooky pillows and simple Halloween decor – you will have the look!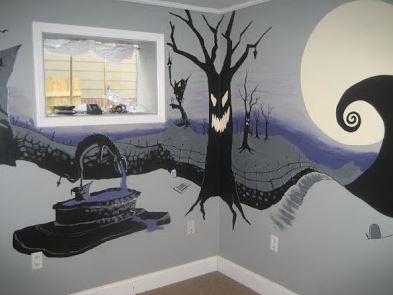 You could have a suitable mural hand painted on to walls, like the gorgeous one above.  Or else, you could quite easily buy a large wall decal that would work really well, (see some options below) or use a range of suitable wall stickers.
A really cute Japanese style Halloween themed bedroom – easily recreated by choosing a themed bedding set and cute halloween wall stickers.
Halloween Print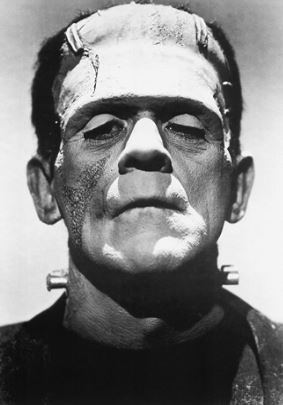 Fantastic Frankenstein poster, identical to the one found in the bedroom photo above.  There are also prints of this available and a variety of related ones.  I think the idea of having realistic prints from spooky films of the past is a great idea.  
Halloween Bedding Sets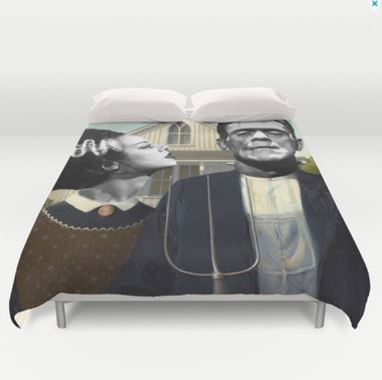 If you're into it, you could go all out with this Frankenstein bed set.  Another handmade item, you can get it in a variety of sizes, it's handmade and has tonnes of positive reviews.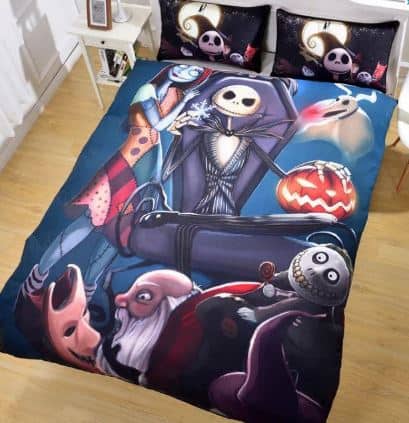 Here is a really detailed Nightmare Before Christmas Bedding set, with lots of characters included.  It's a quality set and Wordwide shipping is available.  See further details here.
Or for something a bit more "Classic hallowwen," you could go for this Halloween bedding set.  Again, a variety of sizes available.  Very spooky with the dark creepy, crooked tree design, bats and hanging pumpkins!
Halloween Wall Decals & Decor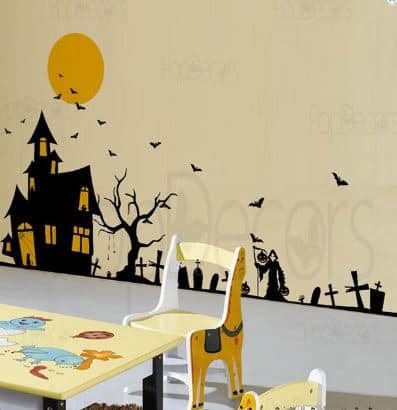 A lovely haunted house Halloween scene, with extra scary additions!
This is a handmade item and shipping is available worldwide.  Decals in this set include a moon, castle, tree, bats, pumpkin, ghost, tomb and cross.  
The set is simple to apply, full instructions included.  Find it here.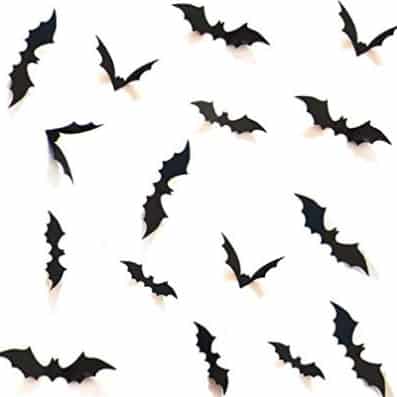 Alternatively – you may prefer the simple bat Decals you can see above – simple and easy to stick up, they really look great.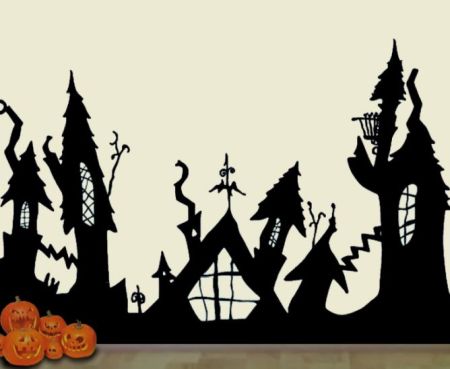 A fantastic nightmare before Christmas wall mural – a beautiful handmade product, that can be shipped worldwide from the US.  It's five foot tall!  
So, this will really create a big impression.  This is a wall decal, that can fit on most painted walls.  Also, check out this great selection of Halloween Wall Stickers.
So, above are some great value Halloween decorations that hang from the cieling – that come in various shapes and sizes.
It includes a large bulk of items, so they'd be a good option for parties.
Halloween Cushions
I'm not too fond of spiders, but I love this spider cushion and it's one Spider that I would be ok sharing my bed with.  A simple design, but beautifully handmade.  Would make a lovely accessory.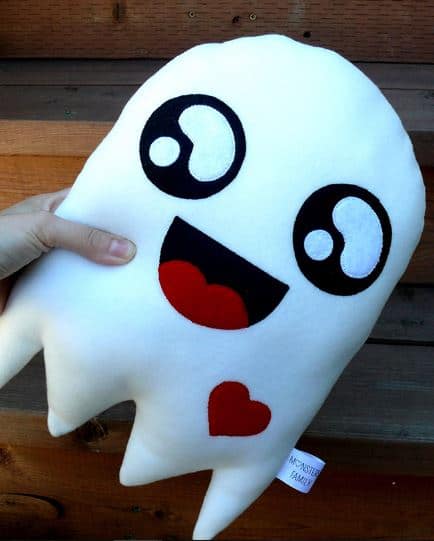 An adorably cute ghost cushion– shipping available to the US, Canada, Australia and Europe.  It is perfect for kids, this comes in two sizes – mini and large!  He can also be personalised by adding a name on the back and there are a variety of awesome other monster style pillows available.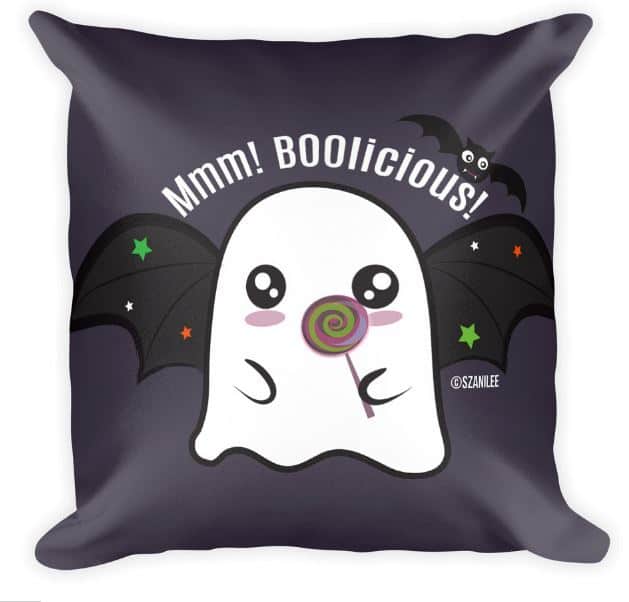 Another super cute Halloween cushion – a combination of both bat and ghost, eating a lolly!  Made in the USA but shipping available wordwide.  Check out this cute cushion here.
This would be one of my sons favorites – a Nightmare Before Christmas inspired pillow!!   Covered in lots of different Jack Skellington images!
Halloween Lights!
Lighting can really make a big difference as far as adding an extra wow factor and there are some really great options available now – unlike anything I had available as a child.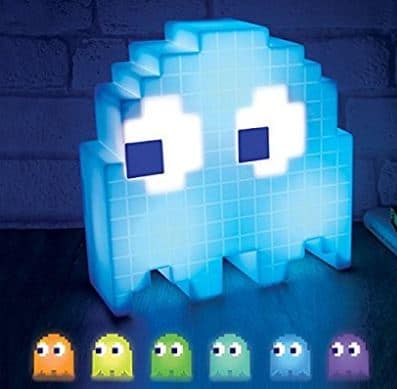 What about this adorable Pac-Man ghost light – which changes into multiple different colours too?  Adds low level lighting to the room, which creates a lovely calm atmosphere.  16 different colours in all and 2 separate settings.  Also has a party mode, where the colours change in time to the music!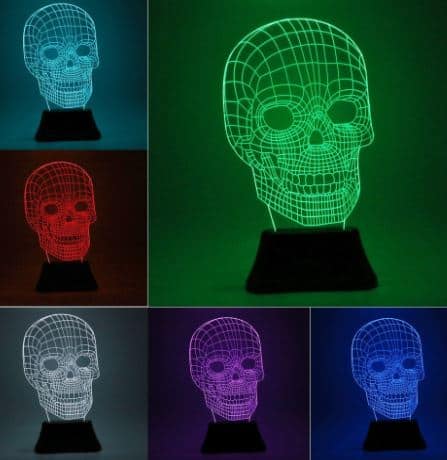 These 3D lights are amazing, you can really find a variety now.  But this 3D skull light would make a great addition to a Halloween themed bedroom.  
The light switches between 7 different colours and it's an LED light – which means it never gets hot and is very safe to use.
I'm a big fan of string lights – which are so simple to put up and look really pretty.  Here are some cut pumpkin fairy lights that would work well hanging up in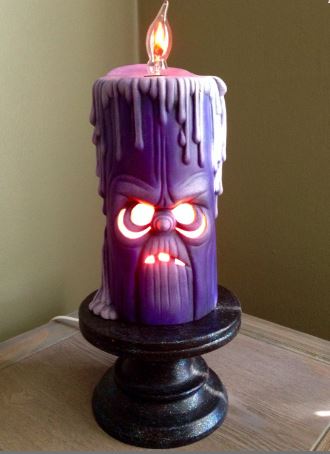 Isn't this an unusual character!  Ha, I love him!  A brilliant little Halloween themed candle light, with an orange light bulb and a flickering "flame" on top of his head.  He
would be a super addition, really original and handmade to order.  Check out the details here.
I love these cute lanterns!  They come with their own flickering tealight candles, so they're entirely safe for a child's bedroom – not problem at all. You can find them here.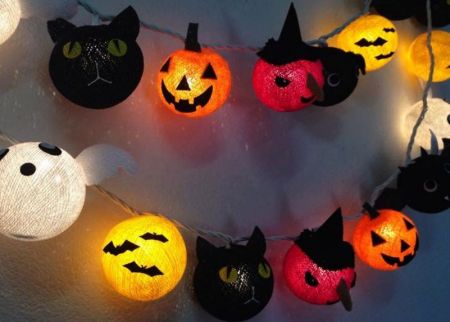 Lastly on the light front, I had to include this gorgeous handmade Halloween string lights.
 I've mentioned this seller before on a previous string light post, because they have a variety of different themes available.
---
You may also be interested in checking out a previous post – Halloween Wall Decoration Ideas! for plenty more ideas to decorate this Halloween.
I hope you enjoyed some of these suggestions, which is your favorite?  Leave me a comment below!
All The Best,

Other posts you may find useful…