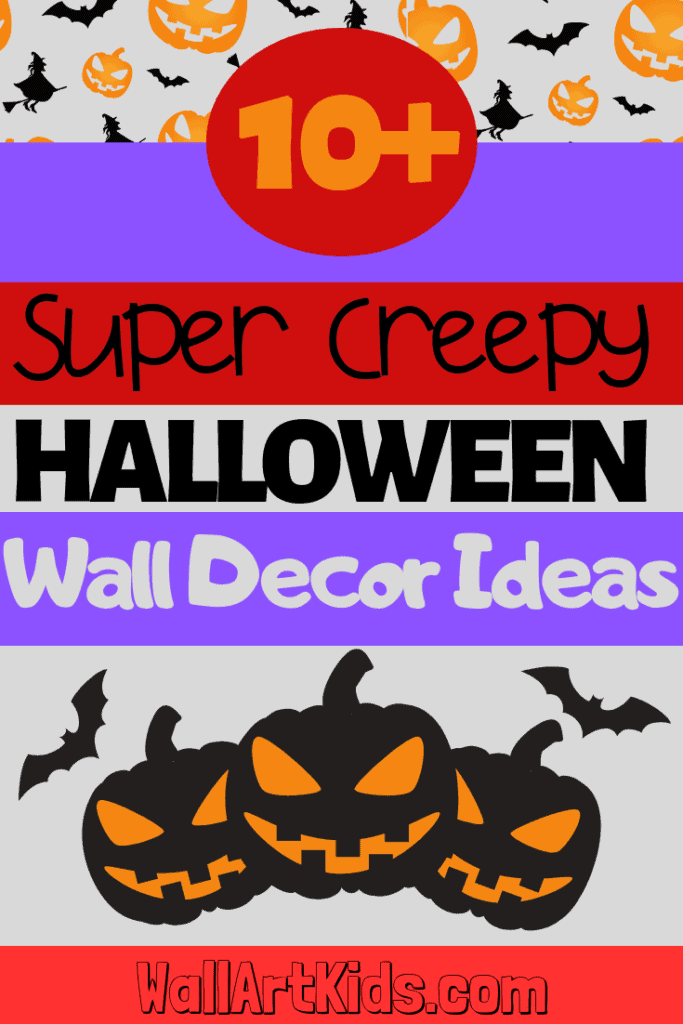 Scary Halloween decorations…  I love them!!!  Halloween is one of my favourite times of year and  I actually prefer decorating at Halloween more than I do at Christmas –  my children also feel the same way.
 I like to start getting the decorations up as early as possible in early October and I tend to leave them up well into November too!  
In fact, we still have a plastic skeleton on one of our doors that's been there for two years.  He's part of the family!
Since it's now October, I thought it'd be great to look up some spooky Halloween wall decorations that can give your walls a terrifying boost!  
Your kids will really enjoy helping you putting up Halloween decorations too.  You can also check out some great Halloween wall stickers here.  
Using wall stickers is a really cost effective way to make an impact on Halloween and at a decent price – plus many wall stickers can be reused for several years if you keep them safe.
---
 Halloween Bat Decals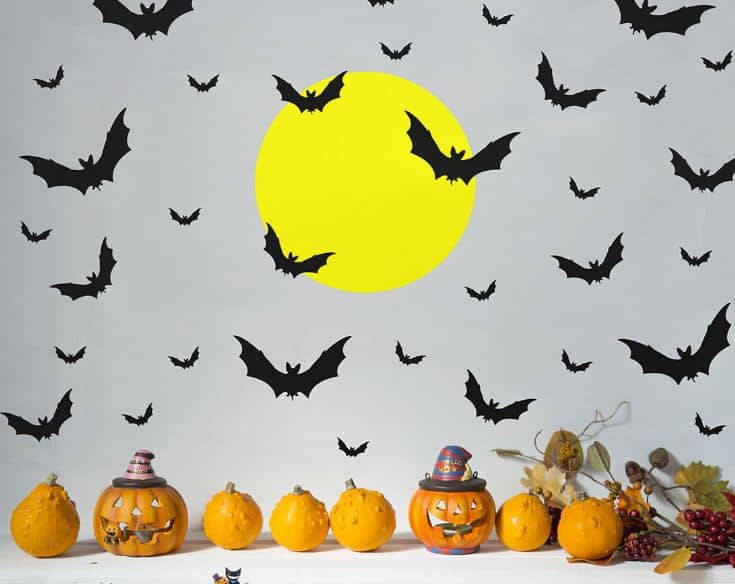 What is Halloween without BATS!  I really love these Halloween Bat decals – which are such a cost effective way of really adding a wow factor to your walls on Halloween.  
The overall effect looks really impressive and would look fabulous if you're having a Halloween party, or just to spruce up your walls this Halloween!
---
Halloween Tablecloth      
This is a super quirky halloween tablecloth but why not attach it to the wall instead – it would make great fun for a kids Halloween party, where each child could color in a different character – or just as piece for your child to color in.  
It could be used much like temporary colouring in wallpaper!
---
Spooky Ghosts
How about hanging these spooky hanging ghosts from your wall?  
They'd look ace at a Halloween party and actually have flashing lights and frightful sounds too to terrify your unsuspecting guests mwahahaha…  
---
Bat Skeleton
These are fairly disturbing and terrifying hanging bat skeleton decorations!  The size is 80 x 30cm.  There are two different designs, when more than one is ordered, a variety is sent.
---
Halloween Bunting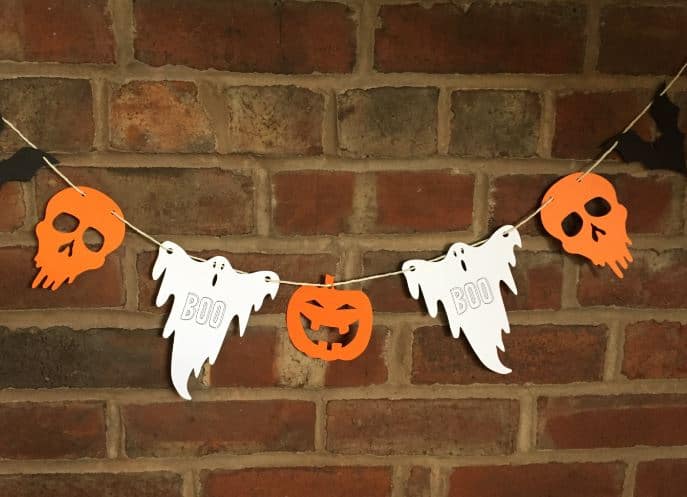 Super sweet and simple!   If you're not up for doing a craft job, you could get this handmade Halloween bunting, great way to add a little extra spookiness and you could always claim you made them yourself…. I won't tell!
 Each bunting consists of one orange pumpkin, two ghosts, (with the word BOO writeen on them) two bats and two orange skulls!
---
Ghost Lights
One of my favourite ways to decorate over Halloween, is to use novelty lights!  Like these fun little ghost lights, great for decorating the walls of your kids bedroom this Halloween, or for use at a Halloween party.
---
Pumpkin Lights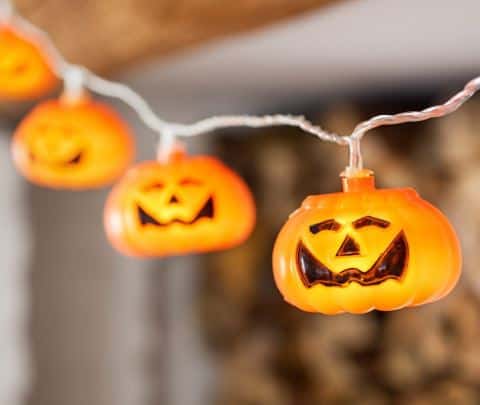 Alternatively, these little Halloween Pumpkin lights would look pretty awesome also.  Or how about a combination of the two?
---
Eyeball Lights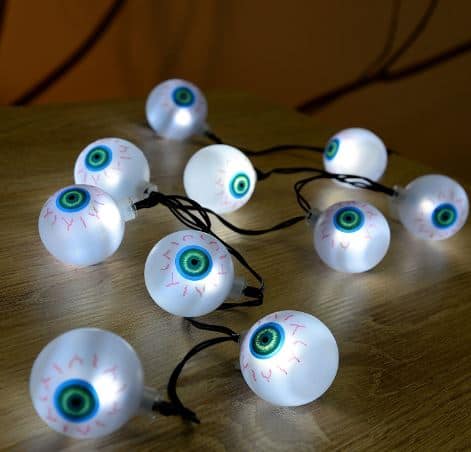 These are my absolute favourite thought – Super cool eyeball lights!  There are 10 lights on each cable – each cable is 1.2m.  Battery operated.
---
Halloween Window Stickers
I buy new Halloween wall stickers every year and they always look brilliant, but you can also get window wall stickers – which can stick to mirrors or windows.
This set contains 2 witches, a cat, three ghosts, 5 bats, a moon, 4 spiders and 2 pumpkins!  Having Halloween stickers on your window is also a great way to show trick or treaters that you're "Halloween friendly."  
When I go trick or treating with my kids, we only ever knock on doors where the houses are decorated in some way, whether that be they have a pumpkin outside, or Halloween stickers on their windows or Halloween decorations outside.  No one wants unwelcome knocks on their door, so it's a pretty good cautionary method!
Check out the window stickers here!
---
Ghost Window Stickers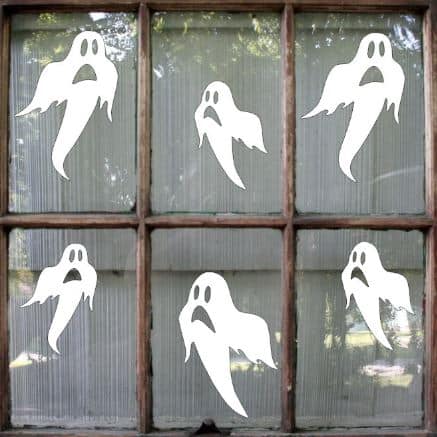 I also love these Ghost window stickers, it's really fun design, you can readjust them as you like and like other window stickers, they can be used on other flat surfaces – such as mirrors.  There are 8 ghosts in total – ranging from 3.5 inches, to 5 inches in length.
---
Create Your Own Skeletons!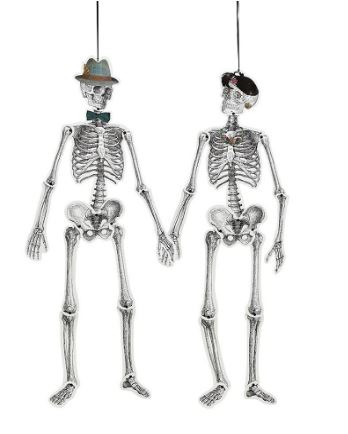 Creating your own skeletons from a bag of bones could be a fun activity to do around Halloween, or during a Halloween party!  
This pack contains two skeletons – both 5ft tall!  Plus all you need to put them back together again, so they can join the party!  Pick up your Skeleton couple here!
---
Stock up on all your spooky, scary Halloween decorations and goodies in plenty of time for Halloween!
Also, don't forget to check out our Halloween wall stickers here! 
Just for fun…  did you ever see the Shrek version of the Thriller track?  I loved it.
Check it out below 🙂
If you enjoyed this post, please share via the sharing icons below, thank you!
All the best,