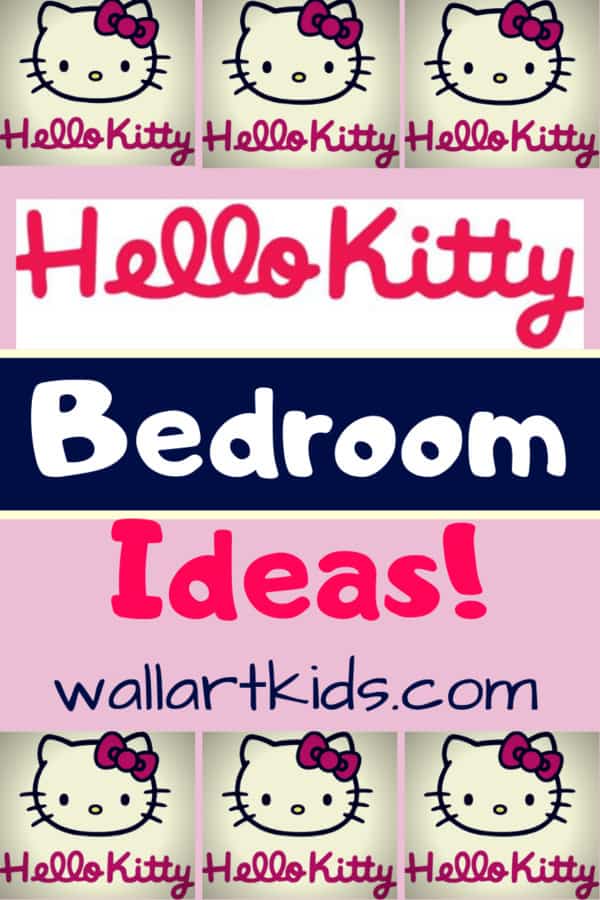 Hello Kitty is a global phenomenon and for a Hello Kitty fan, a themed bedroom would be an exciting possibility.  
Thankfully, there are ideas out there that can help you create your child's dream Hello Kitty bedroom.
But where do you start?
During this post, I will first look at other peoples ideas that may give you some inspiration…
Then I will show you some products that are available to buy.
While some options are custom designed, it's important to remember that's it can be quite simple to change a regular product into a "Hello Kitty" themed one – simply by painting it pink and adding some relevant stickers!
Or you can go all out and go crazy buying Hello Kitty inspired merchandise – there certainly is a lot of it to be found!
Hello Kitty Bedroom Inspiration: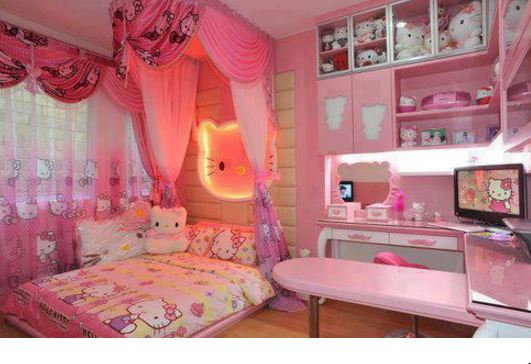 This bedroom goes all out with the Hello Kitty theme, literally the room is completely dedicated to Hello Kitty in every capacity.  I love the light up glow up Kitty in the background, as well as the detailing on the custom built cupboards.
Check out the vast amount of Hello Kitty teddies and toys packed onto those shelves!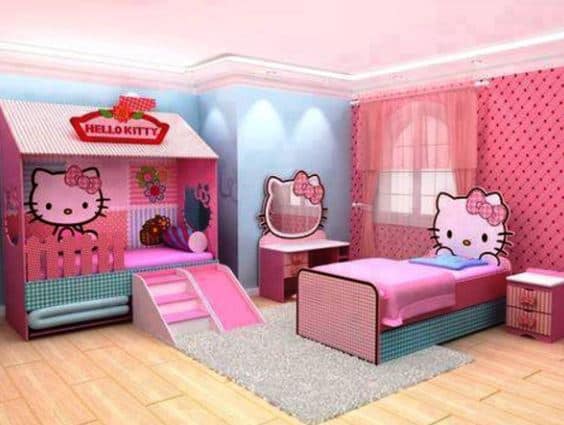 A great fun option, with mini slide.  The Hello Kitty mirror is a lovely touch too.  
Not too much going on here so, a fairly easy look to replicate – especially if you have some DIY talents!  
The bed board is also very cute and I'm sure the slide would be popular.
(image source – Hometown Times)
Wow, this is certainly a bright one!!  Another full on bedroom, with custom designed furniture in this case.
 Everything from the walls, to the bed and wardrobe are coordinated.  
If your daughter LOVES pink and Hello Kitty, this would be a big hit.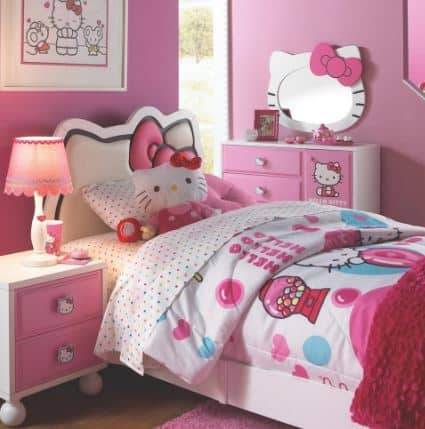 A super cute Hello Kitty bedroom, with a lovely teddy and custom made furniture, plus some items you can buy, such as bed covers, mirror and stickers.  
This is one room that could be quite easily reproduced.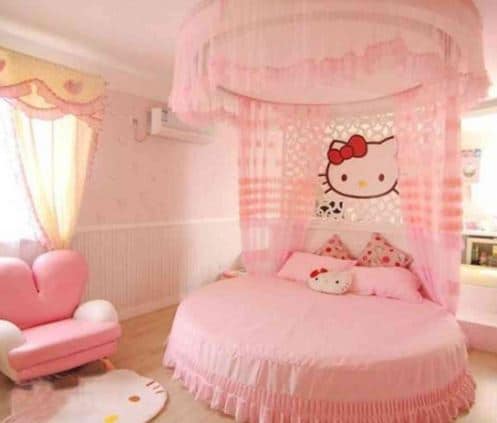 (Image source – Furnitsign.com)
This is an example where you can accessorize simply to recreate a themed look – yes, there is a large round bed here, but they have added little touches, like the Hello Kitty sticker behind and the little Kitty pillow –
Plus, you can see to the left a Hello Kitty rug and the colour just adds to the overall theme.  A great heart shaped chair in the corner fits in perfectly.
Hello Kitty Room Decor
Hello Kitty Wall Stickers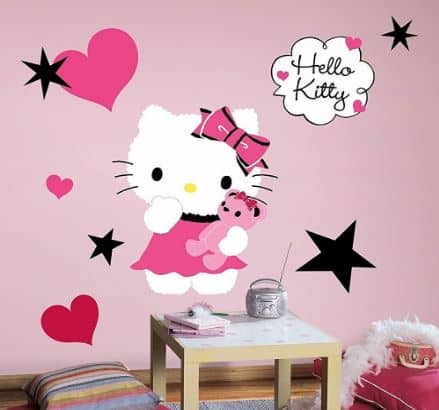 A cute peel and stick wall sticker, consisting of Hello Kitty hugging a teddy, with stars and hearts.  Can be attached to any smooth surface, including doors and windows.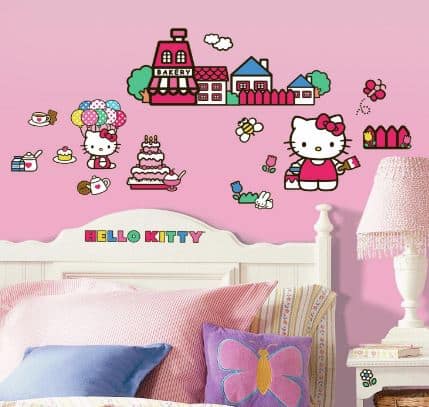 A great selection of 32 wall decals in total.  Simple to apply, you just peel and stick.  Contains fun stickers such as cakes, tea, bakery, butterflies and more.  Your child can create their own Hello Kitty scene.
Hello Kitty Mood Lamp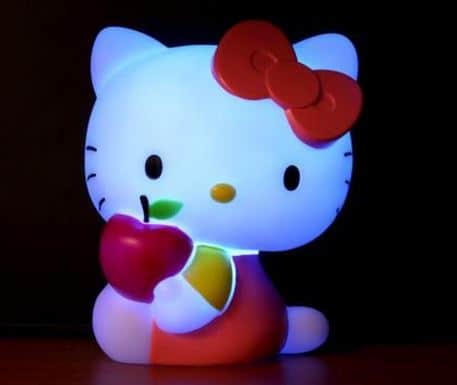 Gorgeous Hello Kitty night light that switches between 7 different colours.  Will have a calming a effect and useful for children who don't like to sleep in complete darkness.
Hello Kitty Lamp – Super sized!
For a super sized hello kitty lamp, this one is a bit special.  
A cute light that switches between 16 different colors, which can be changed by a remote control.
This used to be available on Notonthehighstreet.com – but currently can only find at Hellokittylamp.org. Let me know if you see elsewhere!
Hello Kitty Beds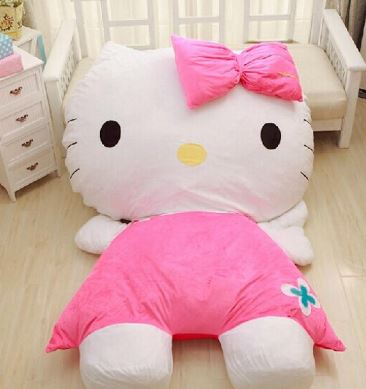 As large as a double bed, this is a giant Hello Kitty sleeping bag/bed/sofa!  
Awesome to lounge around on or for sleepovers and looks absolutely huge, (and comfortable!).
It is super uber, super cute!
This lovely bed is not always available unfortunately, but you can sometimes find it here.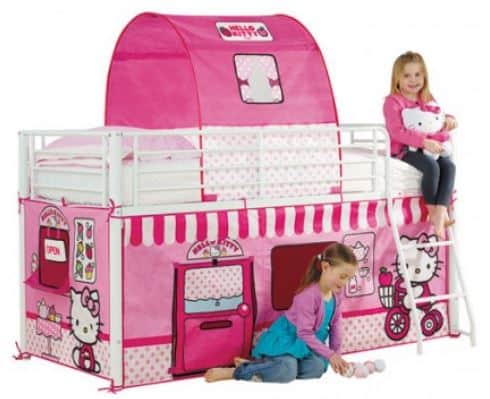 Fabulous Hello Kitty TENT for a cabin bed.  
There are two sections involved, the shop tent fabric that goes along the bottom section and the canopy that goes over the top.  
Great for imaginative play and general fun and games.
You can find the Hello Kitty Cabin Bed Tent here.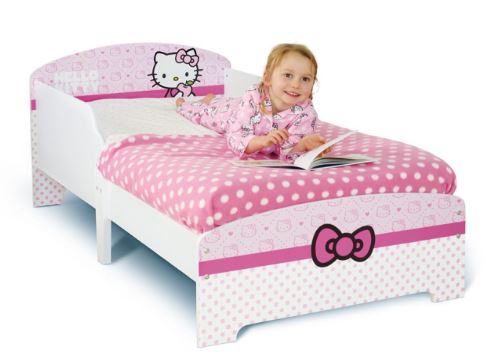 A cute toddler sized Hello Kitty themed bed.  
Ideal for that transition phase between a cot and a "big bed," – this bed is simple to assemble.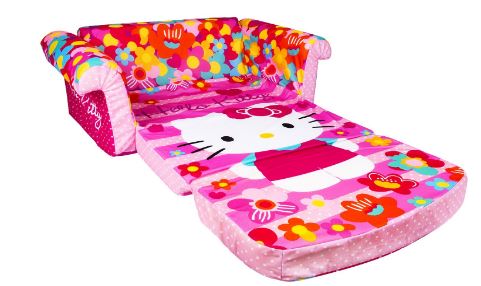 Flip out sofas are really useful for sleep overs, or just a comfortable place for your child to relax.
Simple to clean, the cover easily comes off.  
It is also machine washable, so will be easy to wash off any muck!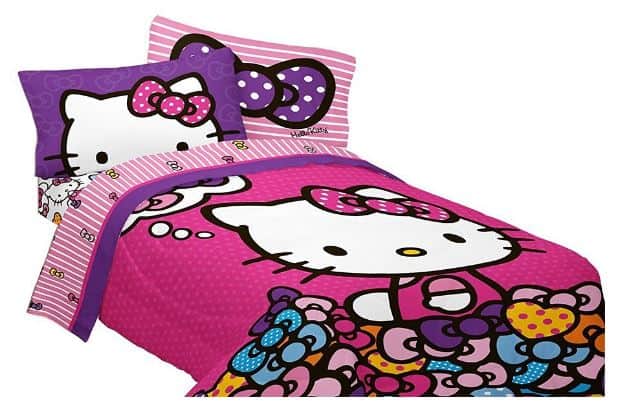 You can easily create a Hello Kitty themed bed by simply buying a couple of different bedding sets!  
They're are some really lovely ones that you can buy and a large variety to choose from, in many different colors and styles.
Hello Kitty Storage
Great sized Hello Kitty storage unit, with three levels and 9 drawers in total.  
Lovely related pictures on the front and easy access for your child, so they can help put away their toys!
I always find these sorts of storage units really useful and they tend to hold much more than you'd think!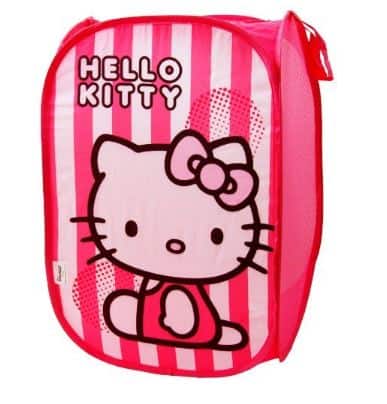 Hello Kitty pop up bin – easy place to store things such as toys and laundry, easy to fold away and take away too.
Cute stripe design with big image of Hello Kitty on the front!
Hello Kitty Mirror
Lovely Hello Kitty Mirror, complete with Sticky Pads.  Check out available mirrors here. 
So, are you thinking of creating a Hello Kitty themed bedroom?
what sort of products are you after and would you consider having anything custom made?
Let me know in the comments below!
All the best, 

Other posts you may find interesting….