Do you know anything about Kawaii Box?
It's an awesome service that delivers boxes full to the brim of cute stuff from Japan…
So, if you're into anything KAWAII, I highly recommend you check them out, (I have a box on the way!).
I had to mention that before I started this post, but it inspired me to create a post entirely dedicated to Kawaii themed bedroom ideas.
First I will share links to some great ideas I have found from the web, where I will share images of different full room ideas.
But scroll down, if you'd like to discover some cute Kawaii related products AND where you can get hold of them too!
If you have any questions, please let me know in the comments!
Kawaii Bedroom Inspiration!
Here are a few examples of room laid out with this theme – and these can give you some ideas about what sort of things you could look for to add to your room!
Check out some of these ideas!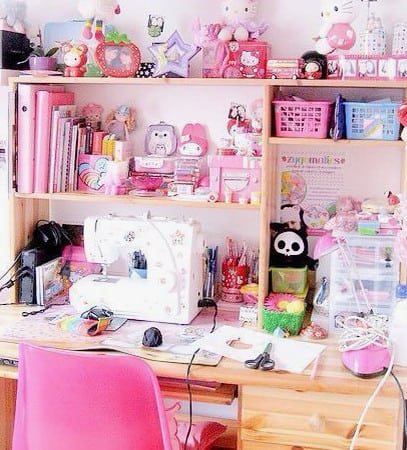 If your child needs a desk in their room, this room is packed full with all different types of cute items. 
Many of the small toys and trinkets are exactly the sort of thing you can find in Kawaii Box as well!
Check out this image above – an adorable bed,  plenty of cute Kawaii cuddly toys, complete with curtains surrounding it and twinkle lights!
Twinkle lights are going to create a calming and magical atmosphere in any room and this was something that I personally loved having in my own room as a young teen.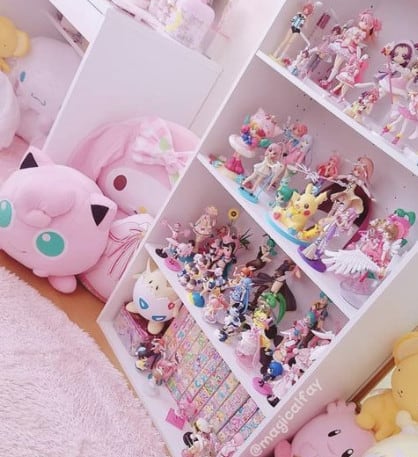 This room above – has shelves entirely full of different characters, with the classic kawaii baby pink everywhere – their are also giant stuffed plushies in the room.
Cat Kawaii Thermal Cups!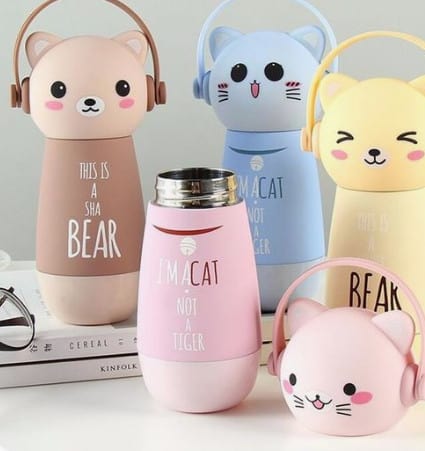 Kawaii Cat Thermal cups – I had to include these, because they're just too cute and would also still look great in your child's room.
Perhaps they could have filled with hot chocolate as they're doing their homework in their favorite space :).
Cute Mini Kawaii Stuffed Toys!
Kawaii Stuffed Bunny Animlas!  So adorable, as great way to get a huge amount of these things and what's more, there are many different varieties to choose from, so you can mix and match.
Take a look below at a few more options!  And there are more too – I love the mini Strawberry plushies!
Kawaii Toast Night Light!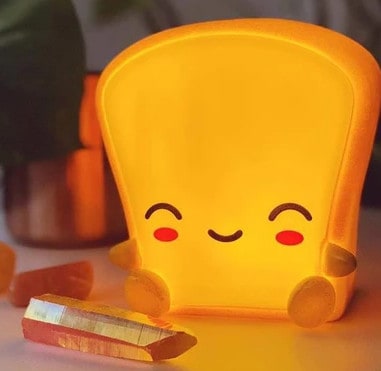 How super cute is this toast ambient light?  I absolutely love it.  As I write this, it's unfortunately sold out :(.
Yes – I am sad to say!
If I find it anywhere I will update this post, (or please let me know if it's listed anywhere else!
However, you might find a cute lamp over here – where there is an interesting selection.
Super Cute – Totoro Bed! 
So, I know not all kids are going to have the room for a bed like this – but I think it's worth including!
If you're going for a Kawaii theme – I'm not sure how much more Kawaii you can get than this bed.  
I have even spotted a lovely Totoro lamp, which you could match with this bed.
Avocado Fan Twinkle Lights!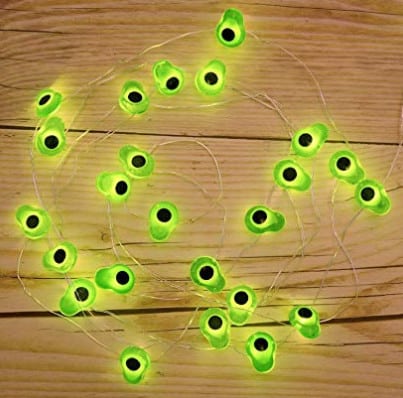 If you're a fan of both Avocados AND Kawaii items, (like ME) you could go for this….  some Avocado inspired twinkle lights.
Hmmm…  Maybe I should do an Avocado inspired room post!  What do you think?
Cute Moon Night – With Mini Unicorn!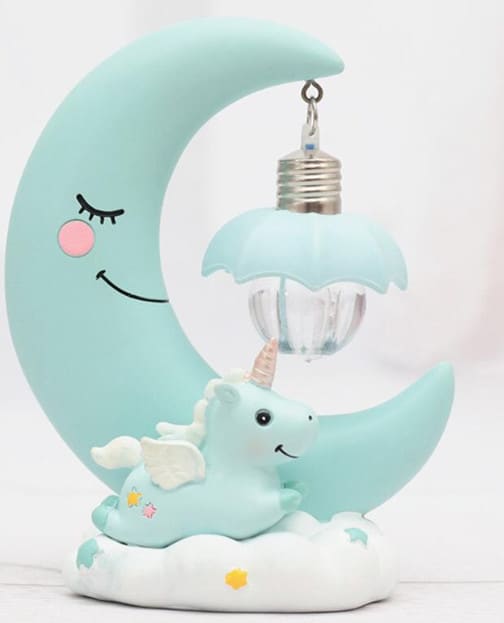 Kawaii Moon light from Kawaiitherapy.com 
An adorable light, which includes both a mood and a mini Unicorn! 
It's also really affordable, they also have a bunch of other Kawaii items in their store that you could check out here.
Cactus Lamp – With Multiple Stickers!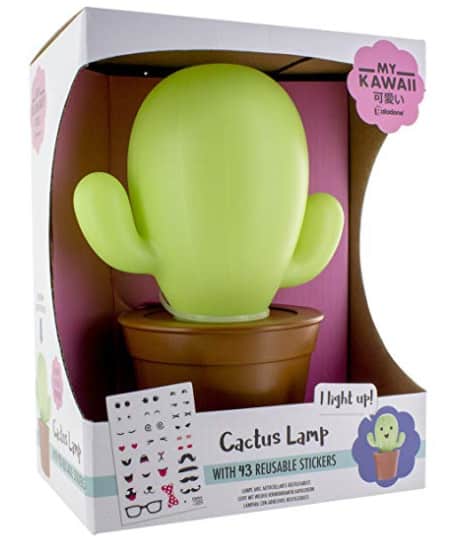 With this adorable Kawaii Cactus Lamp, you can actually change the look with multiple stickers!  
Each lamp comes with 43 Reusable stickers, which you can try time and time again and create a different and unique cute look.  
Tsum Tsum Sheets!
When I think of Kawaii and cuteness, Tsum Tsum is something that quickly comes to mind. 
And you don't just need to stick to the characters, there are lots of bed sets now that incorporate Tsum Tsum characters.
Hello Kitty String Lights!
String lights always look so pretty in any room – but if you're going Kawaii and like Hello Kitty,these twinkle lights could be a good choice for you, and affordable! 
Big Box Of Squishy Kawaii Toys!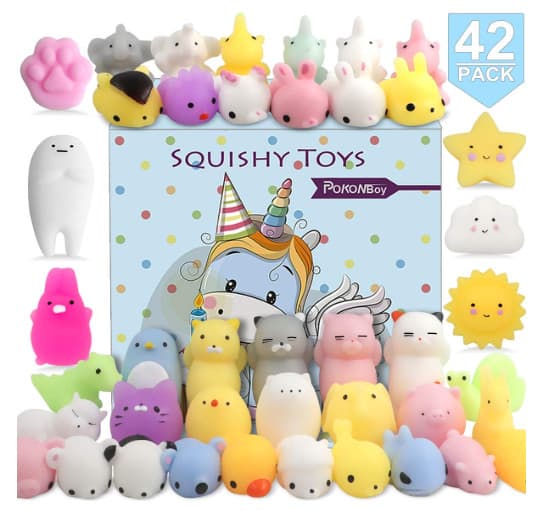 Squishy toys have become popular for some time now, but buying them individually can get really expensive.
This bulk item box, contains a whole 42 Squishy toys and this is ideal when you're trying to create a Kawaii look in your child's bedroom.  
Any small cute toys that you can stack up, or line up in rows on your shelves will help reach that overall look.
Fried Egg Pillow – Kawaii Cute!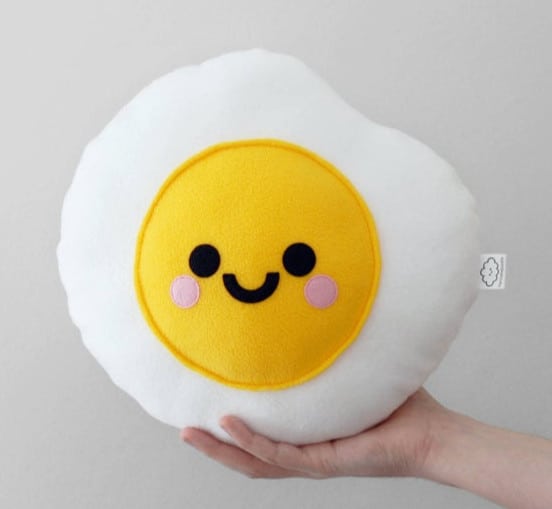 What is a room without pillows?  Check out this uber Cute Kawaii Egg Pillow!
This pillow is made from fleece and feels super soft!
Fried Chicken Plushie!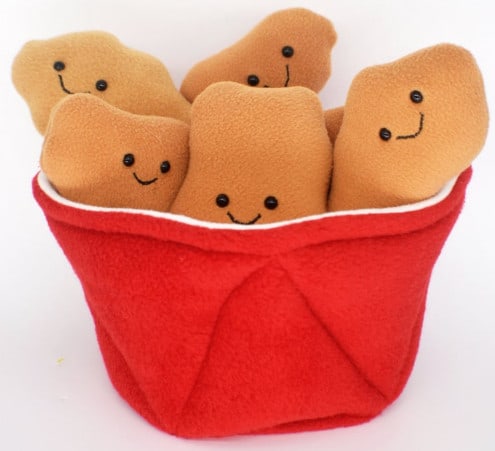 Having a browse through there are so many cute plushie and pillow items to be found on Etsy – and they're all handmade items.
Ice Cream Plushie
These Ice cream Plushies are also adorable, but with only a few left at the time of writing, you may not be able to get hold of one of these.
Cute Sushi Pillows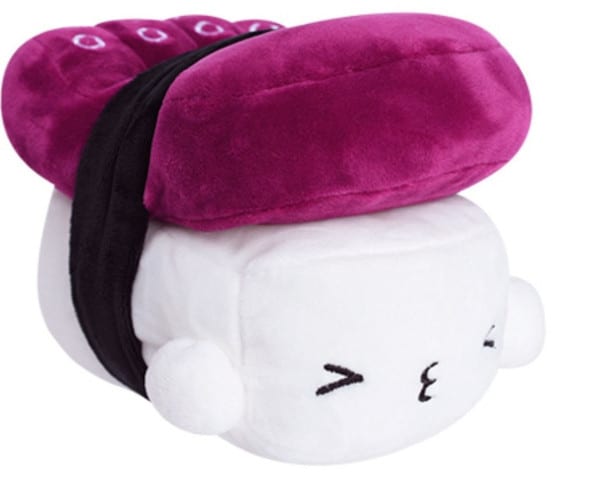 If your child loves Sushi & Kawaii – like mine do, then they'd also enjoy having some Sushi cushions or Plushies in their Kawaii bedroom.
There are is a whole selection of various ones above, but I also discovered a bunch more as well.
Cute Kawaii Owl Light!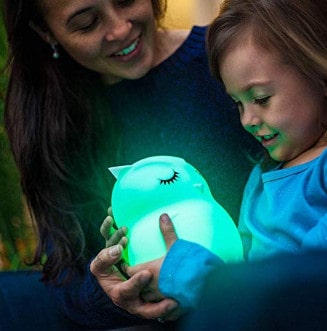 Adorably cute Owl light that changes color – so, also a great present for Owl fans.
The Owl changes to various different color's and are completely safe to use, because they don't get hot.  Making them the ideal night light.
This seller also has a bear night light available too, at the time of writing this post.
Glowing Globe Lights:
I have some lights exactly like the ones above at home, in my living room.  
They have various different settings, so they can be still or flash in various different rhythms and they're multi-colored.  
But these would also make a super addition to a Kawaii bedroom – bright and colorful and will add a calming atmosphere. 
Of course – this just scratches the surface of what is available out there.  But I hope it gave you some ideas too!
If you've found any products that you'd like to share, place let us know in the comments section below.