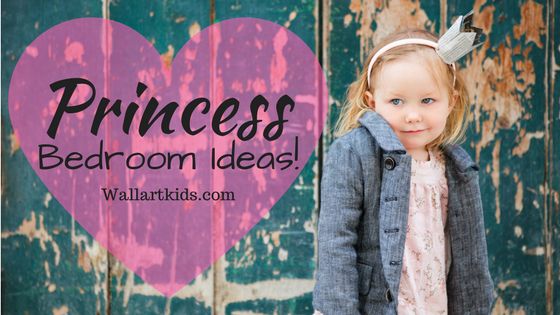 Princess Bedroom Ideas For Girls!
It's pretty common for little girls to want to be Princesses, right?  
When I was a little girl, I wanted to too…. despite pretty quickly turning into a major tom boy!
But actually, my mother created a lovely bed canopy made from white lace that was ultra princess like and I had that for several years.
There certainly weren't the products back then in the 80's like there are now though!
Children really do have a lot of choice now and with the introduction of wall stickers, it's easy to change a theme of a room without completely changing everything in it – or needing to redecorate.
So, I've been having a look around and I thought I'd share some ideas with you for a Princess bedroom.
I'll show a couple of examples that other people have done and then share a few products that I like….
---
Princess Bedroom Inspiration!
(image source – pinterest)
I love this bedroom – it has such a clean and fresh look.
Simple furniture and accessories – but completely made by the background wall painting.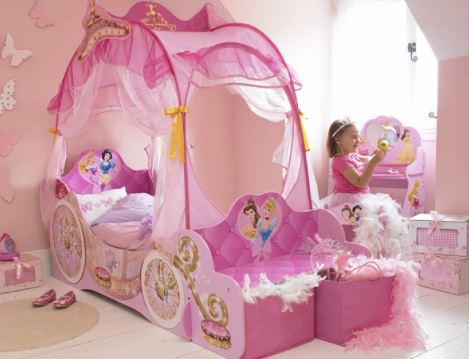 (image source – amazinginteriordesign.com)
More of a Disney Princess inspired room above, with a fabulous bed (see a similar Disney bed below!).
All with matching Disney princess furniture.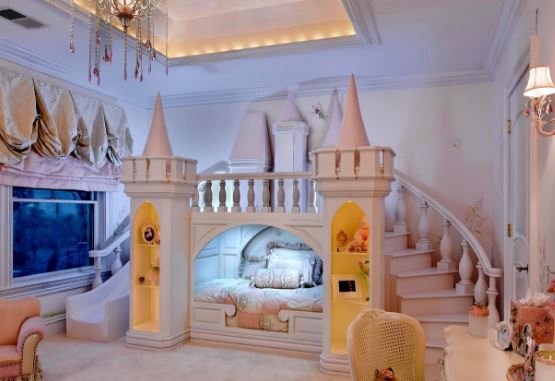 If you go down the custom made route – only your imagination, (or bank balance) can limit you.
This Princess castle inspired bedroom would certainly be impressive.
What Princess Products Will You Choose?
Princess Duvet Covers!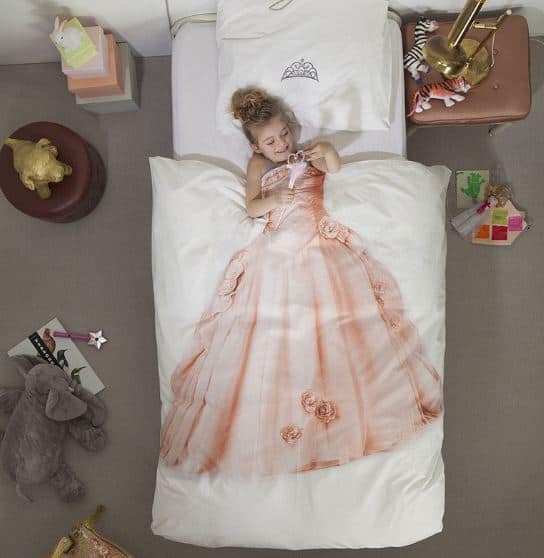 This princess duvet cover (USA) is really beautiful.  I love the way there is also a tiara on the pillow!
The dress also looks extremely realistic.
 If you're in the UK, it is also available at John Lewis, here.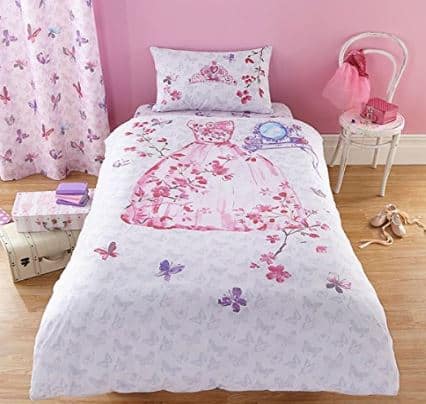 Another similar option as the duvet cover above, with a princess dress and tiara pattern.  But this one has additional flowers and butterflies.
So, pretty – see full details here.
Princess Bed Options
If you want an absolute show stopper, this could be it.  
It appears to only be available in the US right now, (check here).
Each side tower actually doubles up as storage.
The drawbridge raises up the bed, so it can be stored up during the day.
For a very grand customised option –  see here.  Your little girl could have her very own castle!
For a more affordable option – you can add a Princess-style bed canopy, over any single bed!
This quickly makes the room special, with little effort or expense.
This bed is a very fun bed option for younger children.  
This is a toddler bed and can take a standard  crib mattress – everything is included apart from the sheets/mattress and pillow.
For so many little girls, a four poster bed is a dream –  Princess canopy bed here.
Princess Vanity Table And Stool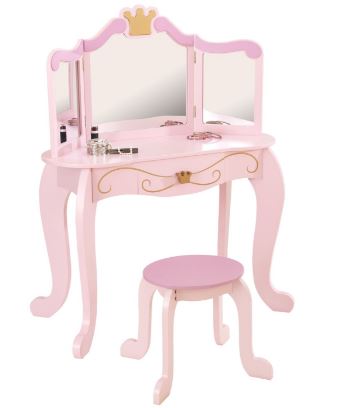 Gorgeous vanity tool and stool set – a perfect addition to a princess bedroom.
This is something I always wanted as a child….
Princess Aerial Rug!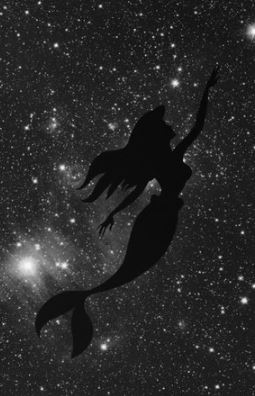 I find this handmade Aerial rug really unique.  
Each rug is custom printed.  You can even machine wash it.
Princess Wall Stickers!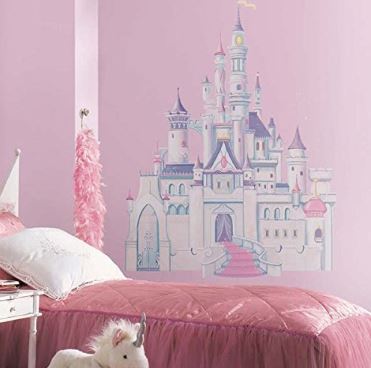 Wall stickers, of course, are a great way to take a themed bedroom up another notch.  
It can also be an alternative option to a full wall painting – and a good option too, as these can easily be changed affordably and won't rip the wall paper or paint work!
I love this pretty, but classic, Disney castle wall sticker.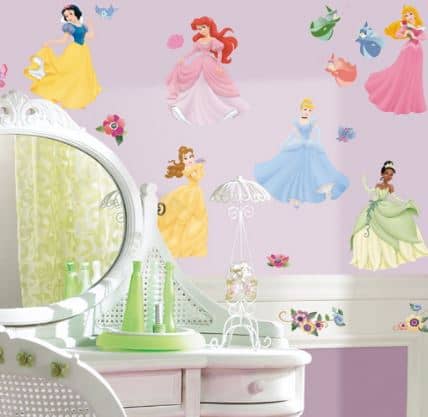 This wall sticker set has a whole bunch of wall stickers and is rethat you can use – and it's really good value too.
Disney Princess Wall Sticker Selection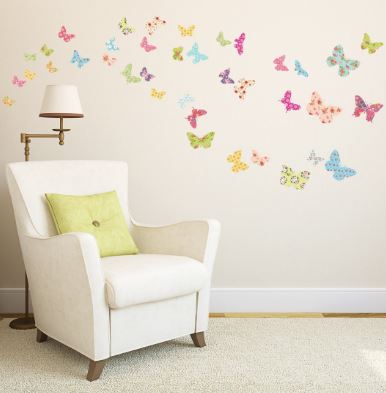 Some of these delicate looking butterfly wall stickers would also look beautiful in a princess room.
Princess Projection Light!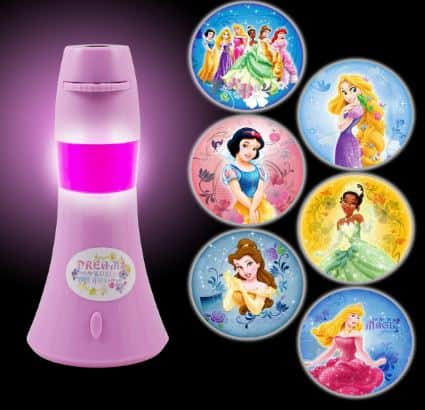 Lighting can be a simple way to create real magic in a room.
I'm sure any little girl would love a projection light in their room… you can use different disks to create a new light effect.
Princess Fairy Lights!
I always find string lights can make such a pretty addition to any room.
I've always had fairy lights of some sort in at least one room of the house, ever since I was a child.
I think it creates a lovely ambiance and has a calming effect.
These rose string lights would look gorgeous in a Princess bedroom.
Create A Princess Wardrobe!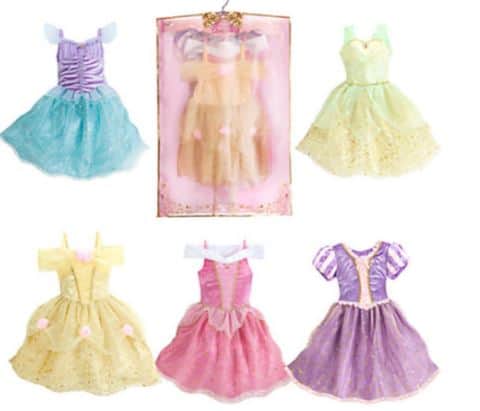 One thing I absolutely loved to do growing up, was dress up!  
My close friend had a dressing up box, full of all sorts of gowns and costumes and it was magical to me.
If you'd like to create a princess bedroom – you could fill a little wardrobe with Princess dresses!
There is a large selection of  Princess Costumes here.
Princess Wardrobe!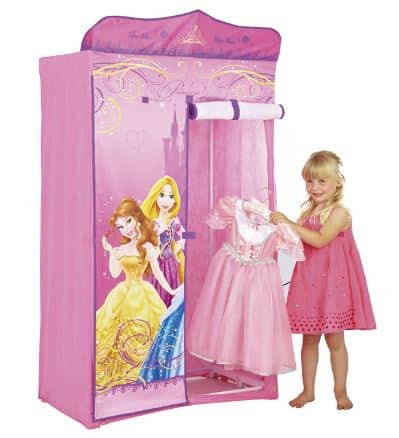 You could also choose this wardrobe (UK), to fit in all those princess dresses.  
You can also find it in the USA over here.
It's a simple fabric wardrobe, you can roll up the sides and it's easy to assemble.
---
That about concludes my "Princess Bedroom Ideas" post for today!
Is there anything in particular you've been looking for?
Does your little girl have a favourite Princess?  Let me know in the comments.
All the best….

Other posts that may interest you…