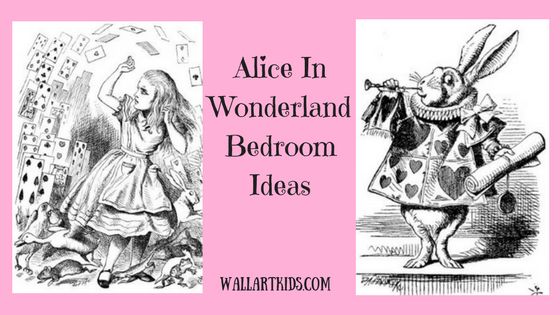 Alice In Wonderland Bedroom – Follow The White Rabbit!
I may be in my 30's, but an Alice In wonderland themed bedroom still appeals to me.  
Alice in wonderland is simply one of my all time favourite books and  – as far as Disney goes – one of my favourite Disney films too.
Now there is the addition of the new modern Alice films and Alice through the looking glass too.  But ultimately, I am a fan of the Disney classic.
Is it just me that sometimes enjoys the trailer more than the film?  I always have to be in the cinema in time for the trailers, that has to be one of the best bits for me.
If you haven't seen Alice through the looking glass, I love the trailer…
In this post, I'm going to share a whole bunch of stuff that may inspire you to create an Alice In wonderland themed bedroom.
There are a combination products you can actually buy now, plus I've included some general inspiration to help you along.
Alice In Wonderland Bedroom Inspiration
Subtle Alice Inspired Design
While subtle, this room clearly has some Alice inspired features – The rug certainly has that feel about it and if you look closely, you will see little white rabbits dotted about.
If you want to go for a beautiful, traditional room with a hint of Alice, going down this route would be a simple, yet effective way to accomplish that look.
Alice In Wonderland Feature Wall
Ok, this is pretty extravagant, but you could totally create something similar at home without a mass amount of effort.  If you have anyone in your family that's into art or DIY, this could be a project for them.
Large white card with some appropriate stencils and you'd be in business.  Match that with some Alice in wonderland wall stickers to complete the look.
You can even find some giant playing cards here – that could do the trick.
My only concern, is that it may be somewhat of a dusting disaster.  Otherwise, brilliant.
Alice In Wonderland Decal Look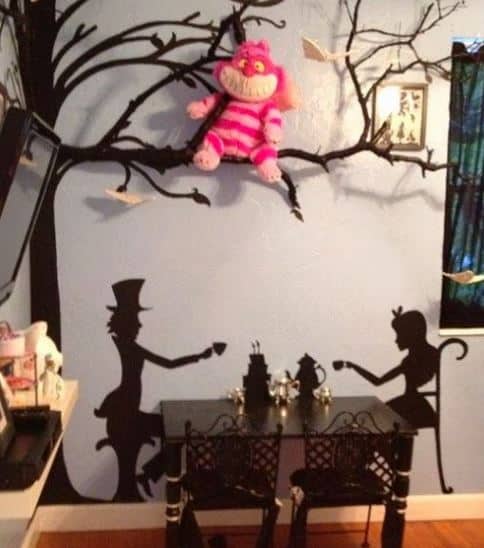 This room makes good use of Alice in wonderland wall decals
Plus a large tree wall decal with a branch appearing to emerge from it – I love having the touch of the Cheshire cat sitting in the tree.
Unusual Alice Inspired  Art Work
I love the unusual look of this room – the artwork reminds me of a  bunch of Alice in wonderland inspired art work found here – I also wrote a post about it here.
Alice In Wonderland Furniture!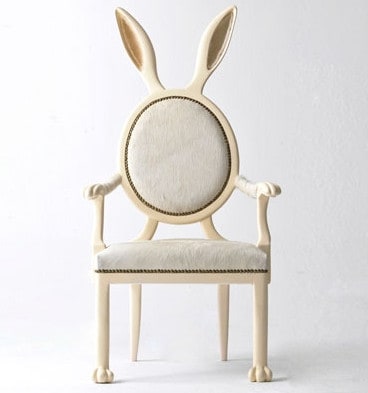 Isn't this white rabbit chair, just so elegant?  I love the detailing of the paws on the arm rests and feet of the chair.  Gorgeous!  Take a closer look.
Alice Inspired Homemade Chair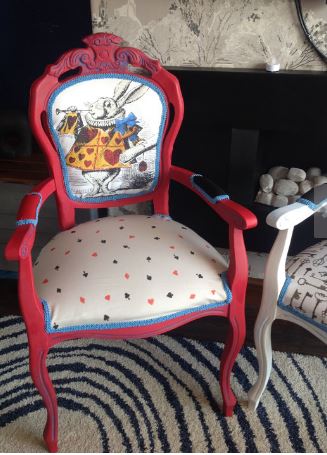 Alice in wonderland inspired chair, handmade.  Other chairs in different styles also created, check for availability.
The little mini magic door uses a real key!  One key can be used for several doors.  The doors can be used as a simple decoration or as a protection from an outlet, such as a plug socket.
Unfortunately, these sweet doors are no longer available.  You can find miniture fairy type doors quite easily online –  check for some here.
Alternatively, I have also seen a wonderful mini door inspired by Alice just over here.
Beautiful handmade Alice & Hatter cupboard.  When the cupboard is opened, magically the Cheshire cats eyes can be seen to glow, when a battery operated light is pushed!  
Unfortunately, this lovely item is no longer available.  But you may find some interesting Alice inspired item's at this Etsy Shop.
Alice in Wonderland Drink Me Bottles
Gorgeous Alice inspired "Drink me bottles," which also have a steampunk/gothic style about them – they're handmade and have been distressed heavily in order to create that aged feel.
These would look perfect in a themed bedroom, or would make a great addition to a themed party or tea party!  Drink me up here…
Disney Inspired Bendy Shelving/Bookcases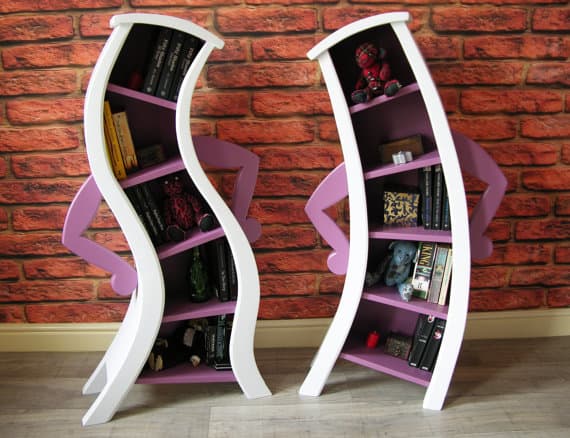 These bendy shelves would definitely look the part in any Alice inspired bedroom!  Each unit is made to order.  Available in a range of colours.  These are just awesome, aren't they?
Unfortunately, these current bookshelves are out of stock.  But for similar items, take a look over here and you may just get lucky!
Adorable teacup shelves that were originally available on Etsy, but no longer are for sale.  Still plenty of amazing Alice inspired stuff you can find here though!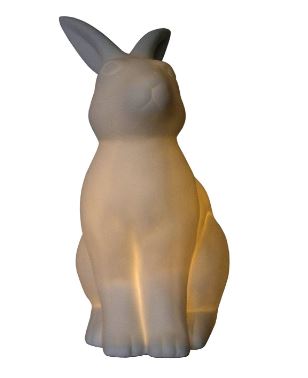 A bunny lamp is surely a must have in any Alice In Wonderland inspired bedroom!  They have become very popular now too in general.  I've been seeing bunny lights all over the place.
There are a variety of bunny lights available – in many shapes and sizes!
Alice In wonderland Bedding Set
A gorgeously colourful Alice in wonderland bedding set – An easy way to clearly define your Alice themed bedroom.
 You can also find a variety of other sets here.
Alice In Wonderland Art Prints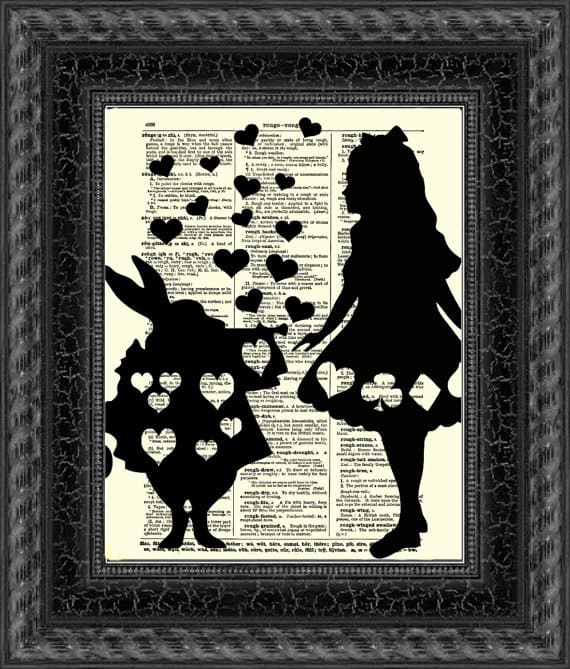 Etsy has a whole bunch of Alice in wonderland inspired Art and Art prints – some of which are really unique and unusual.  
This is one of many that I really love and I particularly like how the prints are made on antique dictionary pages!  Check out Alice Prints here!
---
That about concludes my Alice in wonderland bedroom ideas post for today…
Is there anything in particular you've been looking for?  Is there anywhere you can recommend for buying Alice inspired furniture and decor items?
Leave me a comment below!
All the best….

---
Other posts that may interest you…