Get Creative – Brilliant Drawing Books For kids!
If you have an artistic, creative and crafty child, chances are they are going to be wishing for plenty of art related gifts, whether that be for Christmas or their birthday.
This got me thinking about drawing books for kids- especially the sort that give some sort of instruction, guidance on how to draw and how to improve.  
My youngest son is only six and just getting to grips with drawing and finding his own style, but he absolutely loves to draw, so finding some great drawing books is the top of my list this year.  Here are some of my top picks…..   Enjoy!
---
"Drawing for the artistically undiscovered"  
    By Quentin Blake and John Cassidy.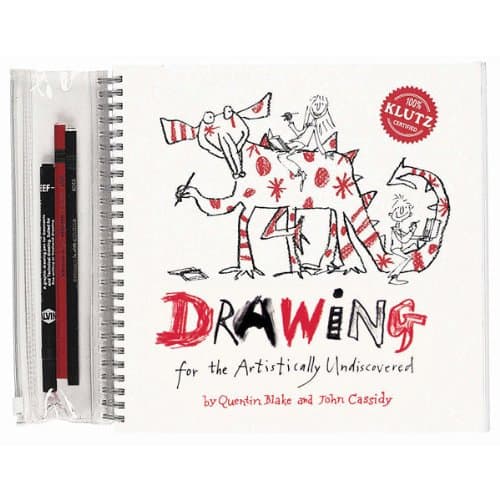 I came across this book recently in the gift shop of an art gallery and I'd not seen it before – despite it actually being released in 1999.  
It must have bypassed me, as I had only recently become more interested in illustration  – not just due to my own children's interests but also for developing skills of my own!
Quentin Blake is an absolute legend and who better to get illustration instruction from?  
The book is filled with really simple to follow instructions on how to create fantastic illustrations, as well as being filled with plenty of amusing Quentin blake creations.  
While created with children in mind, this book is an absolute winner for adults too, (I will be asking Santa for a copy just for me!).
Suitable for school age children – right up into adulthood.  It's an inspiring book for anyone looking to raise their confidence in drawing and begin to realise their artistic potential!  This book is a total gem.  As to be expected, it also has incredible reviews.  Quentin Blake, Amazon.
---
 "Make Your Mark – The Drawing Book For Children"
By Sarah Richardson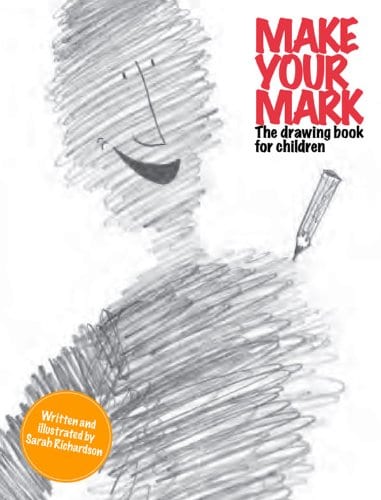 Both written and hand illustrated by award winning Sarah Richardson, this is both a manual and activity book.  
This book tries to steer away from too much heavy instruction and focusses on making drawing fun and unlocking artistic potential and enthusiasm!    
Plenty of emphasis is put on making drawing FUN.
A very wide range of skills are developed, from creating shapes, tone, texture, faces, landscapes – teaching perspective and much more.  
The book steers away from being too clinical and formulaic and instead focusses on inspiring you to be creative and wanting to learn through playful exercises.
 A great gift for school aged children – but plenty of adults will also enjoy this book! Sarah Richardson, Amazon
---
"Let's Make Some Great Fingerprint Art"
By Marion Deuchars
A super one for really unleashing some creative ability, a fantastic book to demonstrate how some wonderful artwork can be created by just using your finger and ink alone.
 Great for kids who love to experiment with their art and full of engaging activities that you can share with your child and join in!
Have fun creating a wonder of creatures and scenes – from dinosaurs, to landscapes and so much in between.  
Recommended from the ages of six years and up, but many parents report that children as young as 3 love this book.  
A perfect gift for any school aged child, right up into the teens, (but plenty of adults will have plenty of fun with this too). Marion Deuchars, Amazon
---
"Colour Away Your Worries"
By Leslie Ironside (author), Haia Ironside (author) and John Bingwood (illustrator)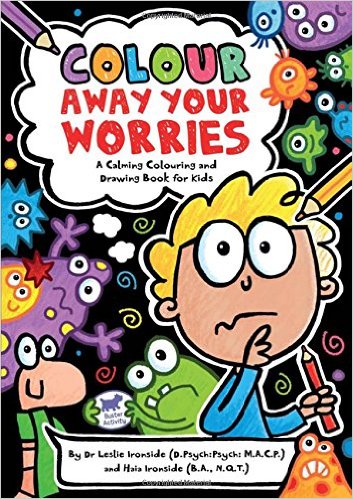 Not a book for art instruction, but a lovely way for children to wind down and relieve stress by doodling, colouring and drawing.
 There has been a big boom in colouring books for adults recently, but of course children can also benefit from the calming effect of colouring and doodling and it's nice to see a book explore that a little more.
My son has got to a stage were he is starting to worry about things, especially about his school life and being a bit of a worrier myself, I remember feeling very stressed out and worried during my school years and would often turn to doodling as a way to calm myself down.
Often children find it hard to talk about and express their worries easily.  
This book talks about worrying but in a light hearted and often amusing way, without trivialising the issues or emotions involved.  This book would make a really lovely gift. Ironside & Bingwood, Amazon
---

"Draw It Colour It Creatures: With Over 40 Top Artists"
Macmillan Children's Books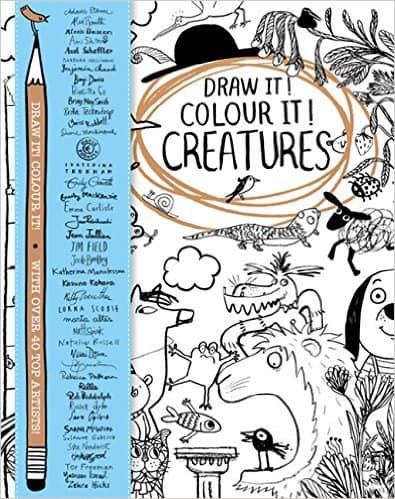 A fantastic collaboration by over 40 superb top artists an illustrators, featuring some of the most talented illustrators currently publishing children's books.  Each page is full of a different "creature" from monsters, to cats, to dragons!  120 pages, there's plenty to entertain children and adults alike.
An awesome book for kids who love to draw, from pre-school to teens, (to adults!) there is something every child would love.  
Packed with gorgeous illustrations and plenty of humour, any child would be delighted to receive it.  Super duper fun!  Only Macmillan, Amazon
---
"Learn To Draw Mickey Mouse And His Friends"
By Rebecca J Razo (Editor) and Shelly Baugh (illustrator)
If you have a Disney fan that loves to draw – how would they love to draw some of their favourite classic Disney characters?
 Including Mickey, Minnie, Donald, Daisy, Pluto and Goofy!
 The instructions are very clear and easy to follow, a great way to improve your child's drawing and confidence and inspire them to create lovely illustrations.
I have two huge mickey mouse fans here at home and they would be delighted if they could learn to draw Mickey Mouse.  
The instructions are really straight forward, with simple step-by-step guide per illustration.  
The book starts off by demonstrating that all it takes it to learn how to draw, is the ability to draw some basic shapes – this is the foundation you need to draw anything! Razo and Baugh, Amazon
---
"The Most Amazing Thumb Doodles In The History Of The Civilised World"
By Klutz Press.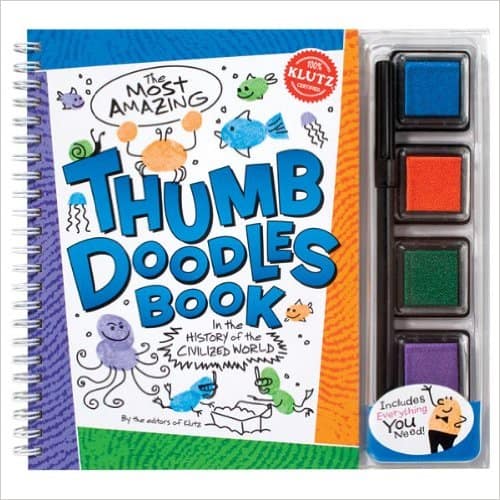 Another great finger printing doodle book – specifically thumb printing this time.  Great fun, inspiration, instructions and tips on how to easily create some fantastic thumb print picture creations!
Also comes with four ink pads and a pen included.
Worth getting some extra sketch paper, as your child will probably want to create more characters than the space provides and if you want to use up all the ink provided, you can create a large amount of drawings.  
Great for kids who like to get a little messy too! Klutz Press, Amazon
---
So, that concludes my top picks – drawing books for kids!
What sort of drawing do your children love to do best?  Leave me a comment below!
All the best…. 🙂

You may also be interested in…..