For the Spiderman Superfan – Spiderman themed bedroom ideas!
Is your Child's favourite superhero Spiderman?
For my youngest son, it's a close one between Batman and Spiderman!  
In his honour, I have been seeking out some cool Spiderman stuff and I thought I'd share it with you!
I used to love the idea of having a themed room as a child, but I never had a typical one.  The closest it came too, was having a sort of mystical room, with moon and star decorations, twinkle lights and wind chimes.  
Actually, it even had a mini waterfall in there, (one that was meant for actual gardens, not bedrooms!).   I loved it.
So, maybe it's because of the memories I have of that room and that it felt special to me, is why I love the idea of themed rooms now.
Creating a room around your child's favorite interest, character, book or hobby will be something they'll remember vividly forever – I may not have had a typically themed room, but my mystical room was my little retreat from everything and I felt very lucky to have it.
So, if Spiderman is the target, what sort of products are available?  Check below for some inspiration, followed by some Spiderman related furniture and decor!
Spiderman Bedroom Inspiration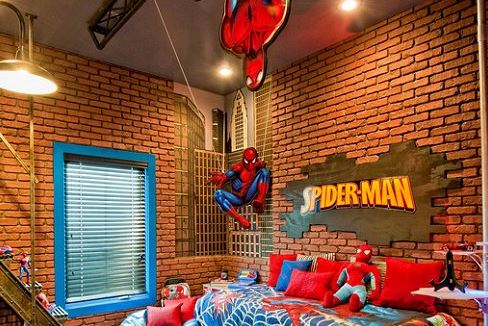 Image source – themerooms.blogspot.co.uk
This is a great design, with the bare bricks, Spiderman merchandise, toys and wall stickers.  It makes it clearer to imagine how simply a room like this could be recreated.
 I like the way there is string coming from the ceiling, representing his web and a Spiderman figure hanging from the ceiling.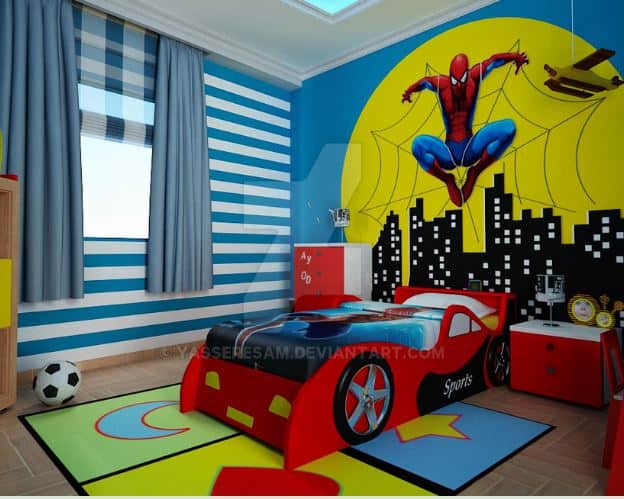 (image source – yasseresam.deviantart.com)
The amazing wall on the back of this Spiderman room, could be recreated with wall stickers and stencils/decals. 
It also makes great use of a car bed, by incorporating it into the Spiderman theme – which looks awesome.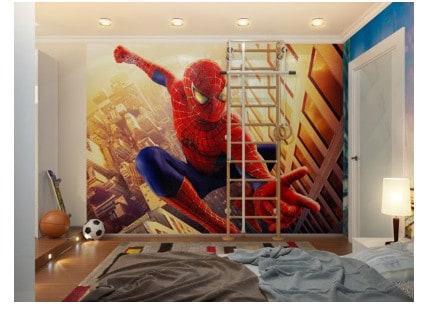 Again, above the room makes use of an image that spans the entire width of the room – plus a nice touch having a ladder that goes through a hole in the ceiling – very cool!
Check out some products you could use to create your child's dream room below….
Spiderman High-Sleeper Bunk Bed With Curtain And Slide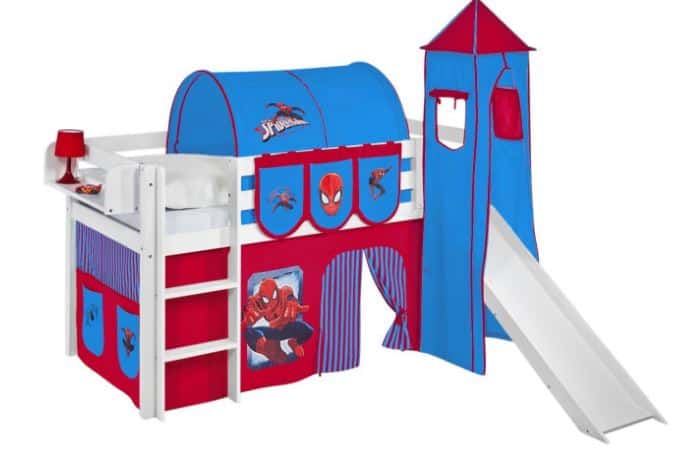 Didn't you always want a bed with a slide?  (Hmm, I think I'd still like one!).  This style of bed would have been a dream.  If you have the space, it would be a lovely choice. 
As the full bed isn't always available – what you can do is get the actual mid-sleeper bunkbed with slide, found here.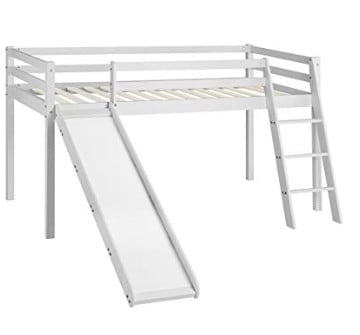 And then you can simply purchase a Spiderman themed bed tent, to put around it!  That way, if your kid gets bored of Spiderman, you can just change the bed tent too. 🙂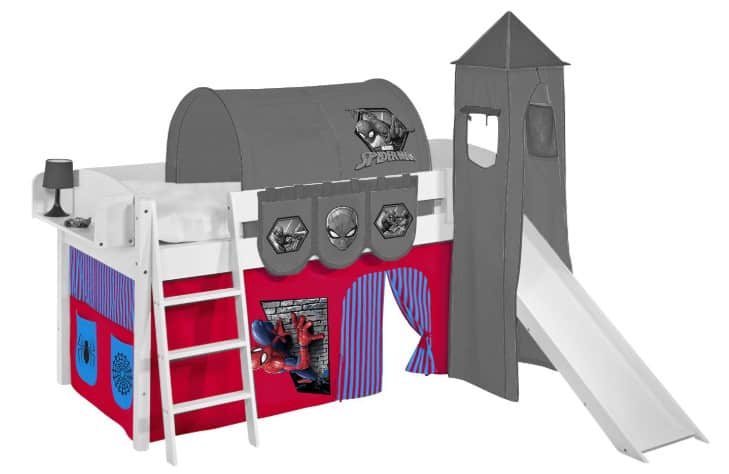 Spiderman Storage Desk And Chair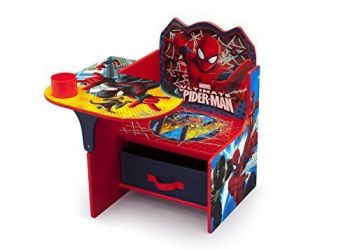 Here's a really sweet and compact spiderman desk with chair – great for drawing, playing or snacking!
Spiderman 3D LED Wall Light Mask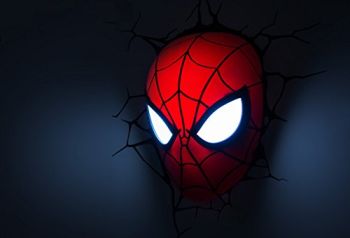 I've already mentioned this wall light before, in a post I did regarding my top 10 wall lights for kids.  
There are some great ones available, relating to different themes – such as Frozen,  star wars or minions.  
They're all great and I think add an extra special touch if you're going all out with a themed room…. plus, they're not expensive!  Bonus!
Spiderman Junior Readybed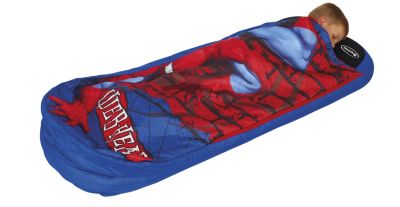 Great for when friends come to sleep over – what better than being able to provide a readybed that matches the theme of the bedroom?  
These handy little beds are great for taking on sleepovers too, camping or staying with relatives when there is limited space.
Spiderman Beanbag
Something comfortable and fun to sit on in your Spiderman themed bedroom!  Beanbags are always a winner.
Spiderman Storage Unit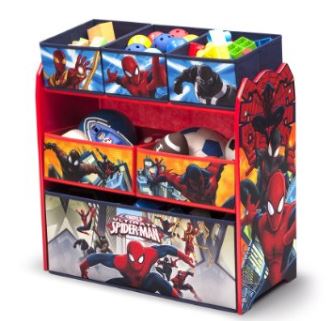 Storage is always essential in any bedroom and this easy storage solution, means that kids can, (hopefully!) tidy up their own toys easily – with these simple pull out boxes.
Spiderman Table And Chairs Set
We have gone through a couple of different sets like this in our house and they're great for playing games, drawing or eating.
Spiderman Foldable Pop-Up Bin/Toy Tidy
This could be used for multiple uses storage wise.  Always handy to have some extra storage available.
Spiderman Single Bedding Set
If you don't go the whole hog and get a Spiderman themed bed, then getting a spiderman duvet set is the next best thing. 
However, if you're going to go for a full on theme, a good related bedding set is going to be one of the essentials.
Spiderman Web Slinging Wall Sticker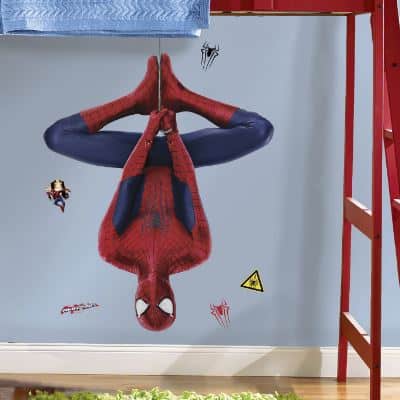 Using wall stickers is a cost effective way of giving a themed room a big WOW factor.  
So simple to apply and use and yet they can look amazing, they're usually really inexpensive to buy as well – which isS a bonus!
You can also check out other Spiderman wall stickers here.
Spiderman Projector Light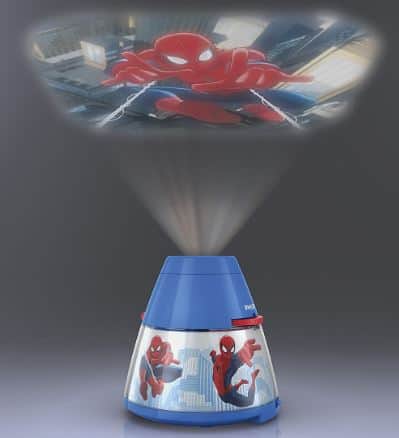 How about this?
 I didn't have gadgets like this as a kid, did you?  If your child worries about going to sleep in the dark, maybe having their favorite super hero watching over them would help!? 
As it's an LED light, it doesn't get hot and will be safe with them in their room.
I hope this post has helped you generate some ideas for your Child's Spiderman themed bedroom.
Please, leave me a comment below and let me know what you might be getting and share any of your ideas!
All the best… 🙂

If you enjoyed this post, you may also be interested in…..