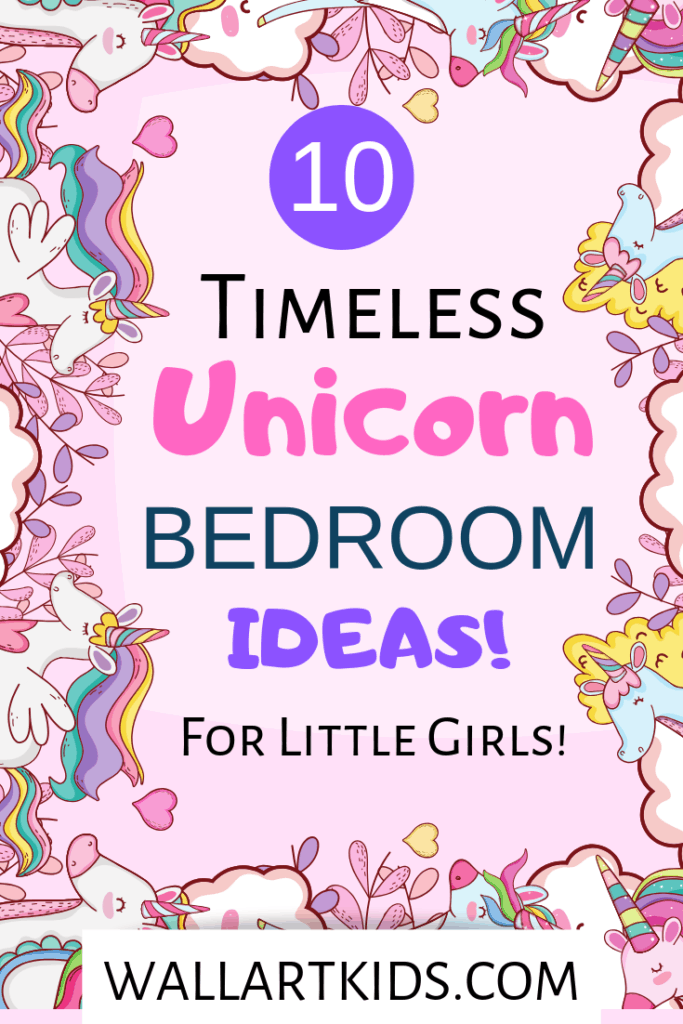 You can't deny it. Your little girl just loves unicorns!
But with so many unicorn- design ideas out there, when it comes to redecorating her bedroom with a Unicorn theme…
Where do you start?
How can you create the perfect atmosphere for your little girl without over-doing it or falling into the trap of gimmicks, over style?
In today's post, I'm going to reveal 10 timeless ideas that will help you create a room full of Unicorns for your little girl that will light up her imagination without looking tacky.
#10 Remember the Golden Rule of Colour:
Did you know that colours create emotional responses?
Yes, it's true. In 1810, Johann Wolfgang von Goethe studied the effects of colour on emotional wellbeing and discovered that different colours make you feel different things.
The big lesson to take away from this is that before you start ordering every other item on the list below, have a clear idea in your head about how you want your little girl to feel when she's in her room.
The colour chart below shows you which colors do what; so choose wisely. If you can't quite make sense of it, here's a quick snapshot:
Red & Pink: Power and Passion
Orange: Energy & Innovation
Yellow: Happinness & Creativity
Gray & Black: Relaxation & Serenity
Light Blues: Calm & Freshness
Dark Blue & Purple: Royalty & Luxury
#9 Light Up Her Imagination with Unicorn Lights: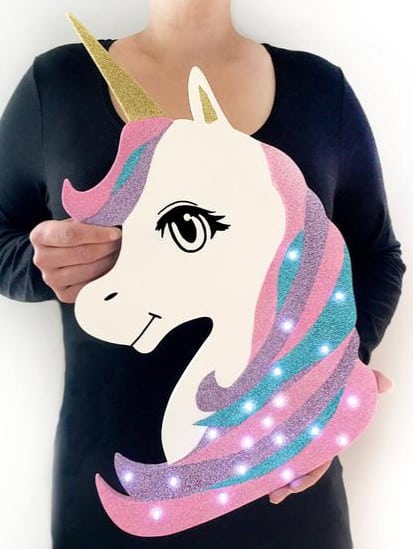 What bedroom would be complete without a small table light to add a gentle, calming, reassuring glow?
This Unicorn Table Light is the kind of table lamp that adds both character and a sense of fun to a room, without looking too contrived.
You can find this and other Unicorn lamps like it here.
There are lots of different styles to suit your little girl's bedroom so you'll never be without the perfect light for your room.
#8 Bright & Colourful Unicorn Wallpaper: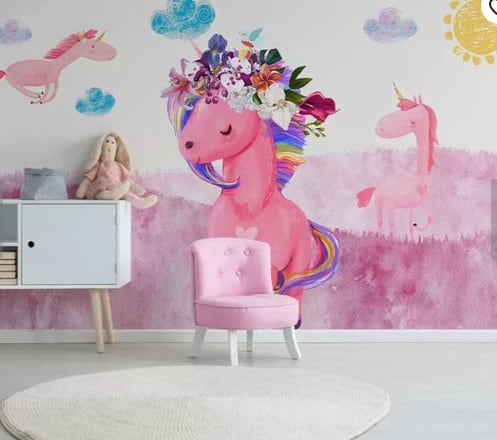 You have to bring lots of colour into your little girl's bedroom if you truly want to make it all about Unicorns.
Remember, Unicorns are sparkly and pretty and colourful and bouncy and happy and you'll need to find the perfect combination of colours and accessories to make your bedroom feel magical.
This beautiful Unicorn wallpaper from Murwall on Etsy is the perfect example of how you can combine happy and magical with fun and stylish.
The way the art has been drawn makes the room feel special, unique, and that's exactly what your daughter wants to feel every time she walks into the room.
#7 Customized Unicorn Mason Jars: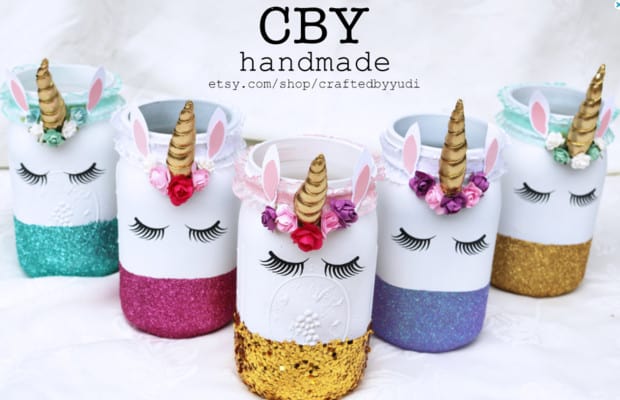 With so many keepsakes and special memories in your little girl's bedroom, you need to be sure you have somewhere magical to keep them.
These little customized unicorn mason jars are the perfect example of how you can make something look super stylish whilst keeping your costs down.
Whilst not exclusively a recommendation for mason jars, they do look cute and are easy to make at home or buy from one of the many reputable suppliers on Etsy.
#6 Unicorn Cushions:
You can't have a bright, colourful unicorn themed bedroom without piles and piles of cushions to make it fluffy and comfortable.
With this bright and sparkly collection of Unicorn cushions available here, you'll be spoiled for choice to find the perfect set for your Unicorn bedroom.
Of course, we'd always recommend you also try here because they have a fantastic collection of cushions in all kinds of sparkly, fluffy, colourful and cuddly styles too.
Let your imagination run wild if you really want to create the magical room of your little girl's dreams.
#5 Cute, Cuddly Unicorn Toys:
I'm not sure if I should have added this straight in at #1.
When you really need to boost the cute factor, you simply can't do better than mini unicorn cuddly toys with over-sized loving eyes and quirky little hairstyles.
Your little girl will go crazy for a pile of these and a pile of cushions to rest atop her bed like a mountain of unicorn cuteness.
She'll be able to bounce on her bed and lose herself in her pile of unicorns and you'll forget all the reasons why you thought buying loads of unicorn cuddles was a bad idea.
#4 Unicorn Blankets, Pillows and Duvets:
It has to be said that even if you have all of the other items on this list so far, the one that you simply can't afford to ignore for your bedroom is the unicorn duvet & pillow set (or blanket).
Nothing casts a spell like a perfectly sourced bed set. A good, clean, fresh duvet set will help you soak away your troubles as soon as you rest your head on the pillow.
If it looks as good as it feels, your little girl will be in the magical world of sleep and dancing unicorns before you know it.
There's a gorgeous selection of unicorn duvets and blankets on Etsy here and I can't even choose just one to recommend because they're all so pretty.
#3 Unicorn Signs:
Did you know that you can let people know they're about to enter a magical unicorn world before they even get into your room?
Build up their excitement with a beautiful Unicorn door sign and set the expectation of magic from the very get go.
With so many lovely door signs to choose from, you could find one to suit your daughter's room in a style that fits perfectly with her dream.
There are door hanging signs, wall hanging signs, even small door handle signs but all will look fab against the backdrop of an enchanted little girl's room full of unicorns.
#2 Unicorn Furniture:
If you really want to inspire imagination and creativity whilst sharing your daughter's love for unicorns, you simply have to add some stunning custom-made unicorn furniture.
This unicorn chair is a beautiful example of what you can achieve with a splash of magic and some artistic flair.
Not only does an item like this look absolutely fabulous, it will probably increase in value the longer you own it, making it the perfect heirloom for unicorn-crazy little girls.
#1 Unicorn Wall Art:
There is no better way to add a sense of magic and wonder to a room than by adding a well-positioned piece of unicorn wall art.
There are hundreds of unicorn wall stickers to choose from around the web, but remember the Golden Rule of colour before you hit the add to cart button on the first one you see.
Choose the right colour for your little girl's room to complement the atmosphere you want to create.
Custom wall art like this gives you the chance to personalise your art with your daughter's name, your favourite saying or an inspirational quote to really make your bedroom stand out.
Unicorns Are Real Now that we've revealed our top 10 timeless unicorn ideas, you have to admit that whether you've ever laid eyes on one or not, Unicorns are very real.
Your little girl said so!
So, do you think you're going to create a Unicorn themed bedroom? Let me know in the comments!