Super Minions Bedroom Ideas – For Kids!
We love all the Minions and the Despicable me and Minions films in our home – and can certainly see the appeal of a Minions themed bedroom!
While there isn't a huge amount of official merchandise furniture wise at all – there are definitely ways you can easily create a full blown Minions look. 
This can be done by filling the room with the tonne of Minion products and accessories available out there!
I've rounded up selection of Minion bedroom inspiration, related merchandise and decor to help you create your own Minions bedroom, for your child.
You can also check out a selection of Minion wall stickers here.
Minions Themed Bedroom Inspiration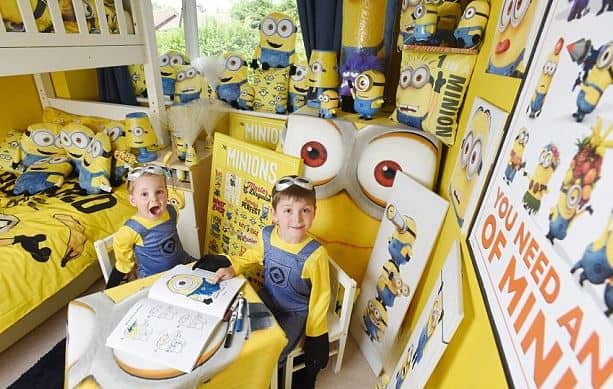 (Image source, dailymail.co.uk)
Wowsers… if this isn't a themed room, I don't know what is.  
Literally, this room has been "minionfied" from top to bottom…  I can't see a space, (other than the floor) which isn't yellow!!!
If your kids can handle that bright yellow paint, painting the room would be a sure way of making it stand out.
Plus, the room has been fully packed to the brim, with Minions toys, posters and merchandise. 
But what about the room below?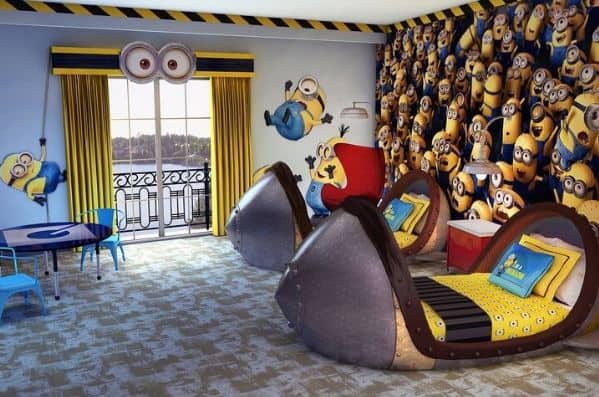 (Image source – amazinginteriordesign.com)
I love the style of this Minions themed room – unfortunately, those aren't beds you can just pick up at the local store!  
This bedroom is a special themed room, at the Loews Portofino Bay resort – at Universal studios! 
We were lucky enough to visit one of the Portofino hotels at Universal last year, but missed out on the Minions room for this time.
However full on – or toned down – that you choose your room to be….  
You will need some Minions related merchandise, toys and furniture to complete the look.
I've picked out a bunch of my favorites items below….  Check out this crazy bed!
Minions Cartoon Bed Mattress:
How awesome is this Minions bed – it's actually a giant sleeping bag/sofa bed.
I can only see this particular bed in the USA at the moment, but don't worry if you're not in the US – there is more to check out below!
Minions Bedding Set:
There is plenty of choice when it comes to Minions and Despicable me bed sets.
While this is a larger set here above – they come in all different sizes.
Using a correlating bed set is obviously a lot simpler and cheaper than going all out with a themed bed.
Minions Flip Out Sofa: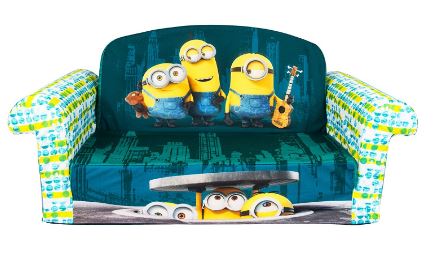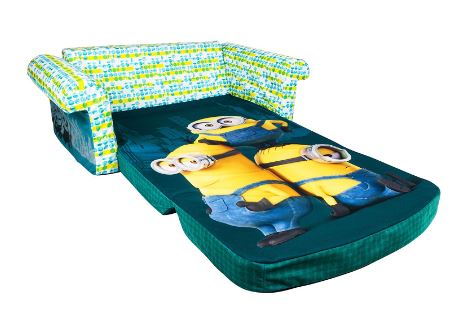 How about a Minions Flip Out Sofa?  
Pretty cool for chilling out on, or pulling out for sleepovers.
There are different styles, depending on location.  
Minions Bean Bag Chair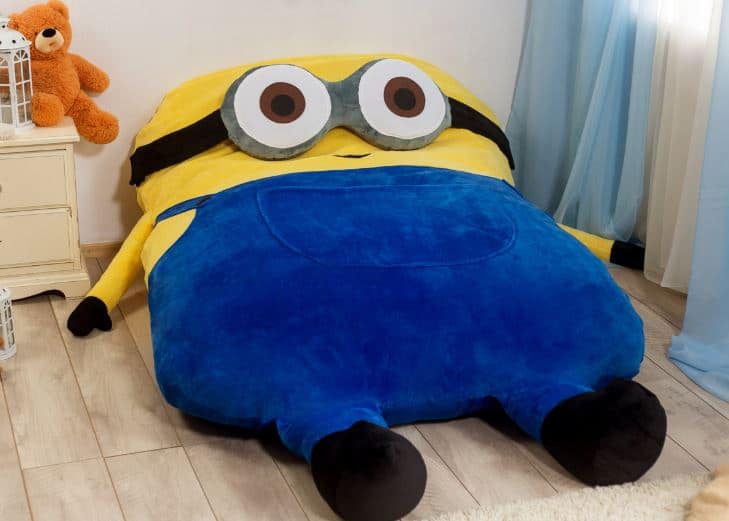 Super cute bean bag chair! This one is also super huge looking.
You may need a big space, but if you have the room – your minions fan would adore this.
He looks extra squidgy and comfortable – perfect for lounging around in their favorite room. 
Unfortunately, this has limited availability – but you can check if it's still around below…
Minions Wall Light!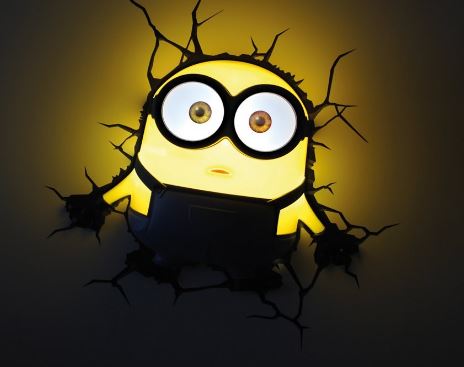 I explored a whole range of these fantastic wall lights in my top 10 wall light post here. 
These are so great and would add a real WOW factor to a themed room. 
The great thing is, they're not expensive and they don't even require a cable.
They're battery operated and there are no cables or wires to deal with.
They also don't get hot at all, so are very safe for kids.
Each light comes with a cracked wall sticker, so they look like they've cracked the wall – I love them.
There is also a selection of Minions available.
Minions Colour Changing Light
How about this cute little guy?  This Minion light doubles up as a mood light/night light.
It's only small – small enough that your child can have it next to them in bed, or on their bedside table.
Ideal if your child isn't keen on sleeping in the dark.
It would also be a good little light to take camping, or for friend sleepovers. 
Minions Wall Sticker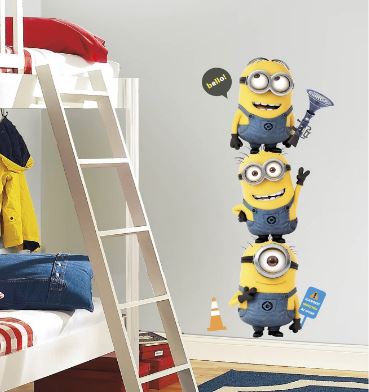 Of course, we love wall stickers at Wallartkids – you can find a selection of minions wall stickers over at this designated page.
Such a simple way to transform a room and you just peel & stick these ones.
Minions Giant Plush Toy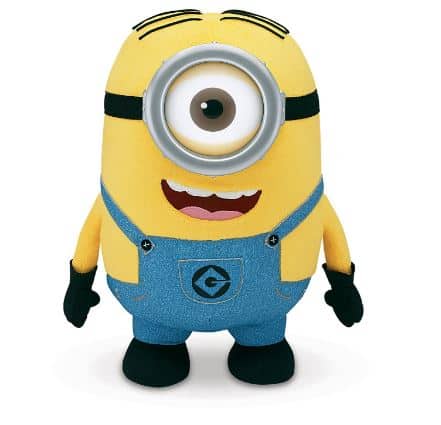 This Minions giant Stuart plush toy is 16 inches long!  
If you're going all out with a Minions theme, adding a few Minions toys around the room – or on the bed – would be a lovely idea.
If you push Stuarts left hand, he also talks!  
His eye also lights up and glows when he sings or talks.
There are different Minions available also, so you can pick your child's favourite.
Minions Activity Desk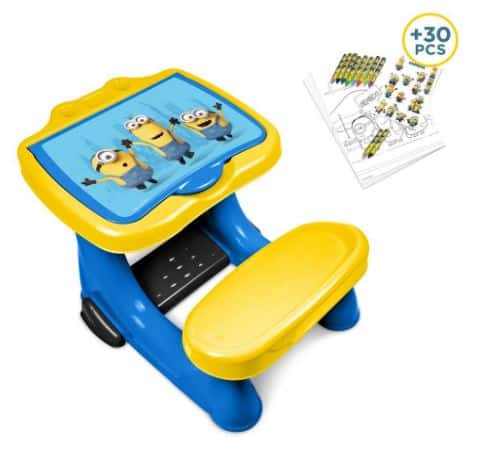 If you have some really little guys, who enjoy their arts and crafts – this activity desk would be ideal.
The top of the desk lifts up and creates some storage space.
The desk also comes with stickers, crayons and coloring sheets.
Minions Toothpaste Dispenser
Now, your child may or may not have their own bathroom, (I know I didn't growing up!).
BUT I just had to include this, because it looks hilarious.
This little guy may be a way to make brushing teeth more fun – those kids who moan about having to brush their teeth.
That concludes my post for today – I hope you now have plenty of ideas now to get started on your Minions themed bedroom.
But I thought I'd leave you with some amusing minions moments – via video!
Looking forward to the next movie… whenever that may be :).
Don't forget to follow Wallartkids on PINTEREST! 
All the best,

Other posts that you may like….